He that will not stoop for a pin up will never be worth a pound. (1X)
One (I, in this case) can never have enough pretty things. I'm glad I got this babydoll (even though the cups are a little big for me). It's cute and playful, comfortable and inspirational (by which I mean it inspires one [me] to dance around the house as if one [I] can actually dance).
Published:
Pros:
Underwire, Comfortable, Easy to put on, No hooks, Thong, Comes in many sizes, Machine wash
Cons:
Cups are a little narrow, Ruffles at bottom have no stretch, Sizing is a little off (for hips)
This babydoll doesn't strike me as something I would usually take a fancy to, but I couldn't help drooling over it the moment I saw it. It was definitely my favorite piece out of the "pin up" line.
I was a bit apprehensive about how this would fit, since I had to order this in a 1X (XL was not offered), and my measurements are smaller than all of the measurements in the size chart. However, I was willing to risk it.
This item came wrapped, like so many things, in hot pink tissue paper. The set came with the babydoll (of course) and a matching thong.
Babydoll and thong tags:
Machine wash-warm. Gentle wash darks separately. Tumble dry low. Remove promptly do not twist or wring.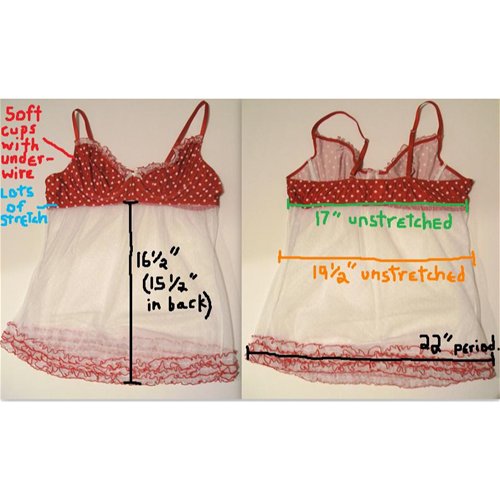 Here are the front and back views of the babydoll laid flat. For some reason I thought that this babydoll would have firm cups (it may have something to do with the model's ridiculously round fake boobs), but that is obviously not the case. I'm not saying I was disappointed. It was just unexpected. I don't know if anyone else thought the same.
I'd like to note that the red in this piece is not as warm a red as it looks on the product page. It's by no means a cool red, but it hasn't nearly so much orange as the product page.
I will get to the stretched measurements later.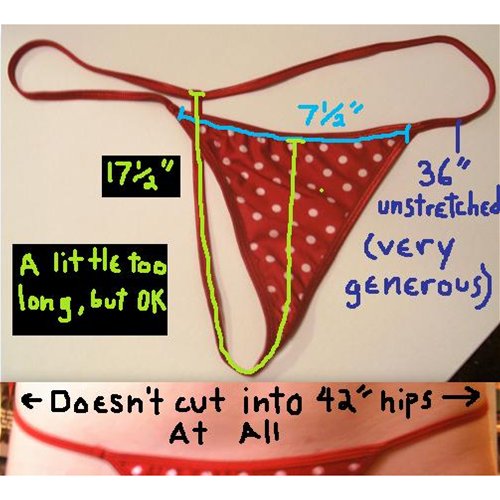 I'm impressed with how well this thong....almost fits. The triangle and butt floss string are just a little too long, but the band that goes around the hips is generous, indeed. It doesn't cut into my hips AT ALL, and I'm confident that it will accommodate 44" hips with no problem at all (the babydoll is not okay with hips being more than 44", so anything over that is of no consequence).
Sizing Information:
Fantasy Lingerie's size chart says 1X should fit:
Size 18-20
Bust 44"-47"
Waist 34 1/2"-37 1/2"
Hips 46"-48"
Me:
Size 16
Bust 42"
Waist 32"
Hips 42"
The bust seems accurate. Mine is 42" and the cups are just a little too small. They will definitely fit D cups and smaller DD's better than my C cups. I think the underbust will comfortably stretch up to about 42".
The waist is accurate enough, though it clearly doesn't have a problem if the waist is a little smaller.
THE HIPS MEASUREMENT IS INACCURATE. 1X WILL NOT FIT HIPS ANY GREATER THAN 44". THE RUFFLED BAND AT THE BOTTOM DOES NOT STRETCH.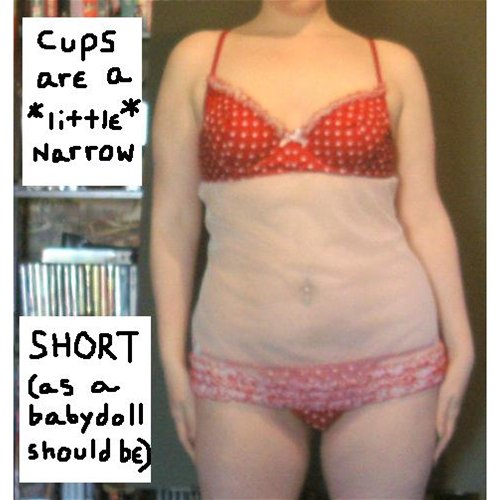 Front view. The cups are a little too narrow for my bust, but this may or may not be the case for others. I do know that I have a very broad ribcage, so that may have something to do with the way it fits me. I know that I can't adjust the straps short enough to make the cups more fitting to my breasts because, when the straps are short enough to pull up the cups, it pulls the underwire up and the wire is not wide enough to keep my breasts in the cups, so the bottoms of my breasts have no choice but to NOT be in the cups......it's hard to describe. In short, if your breasts are wide-set, you may want to pass.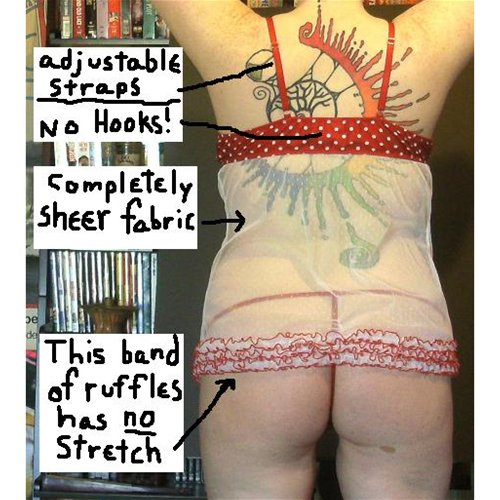 I had to hike up the thong a little high because it's a little long, but it's still totally wearable. '
I like that my tattoo can help illustrate the transparency of fabric (in case it's not obvious).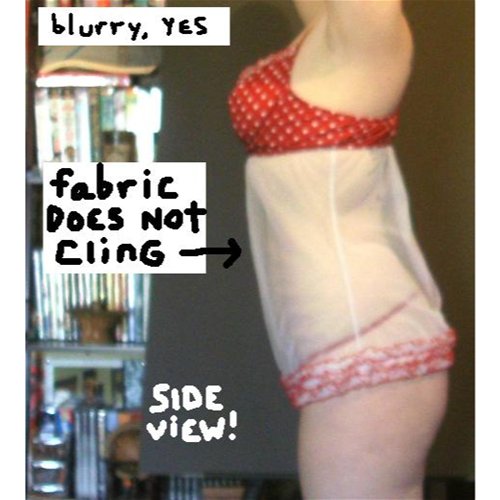 The customary side view. Note the non-clinginess of the fabric. It's rather like a fine tulle. It's a little stiff, but it's not itchy at all.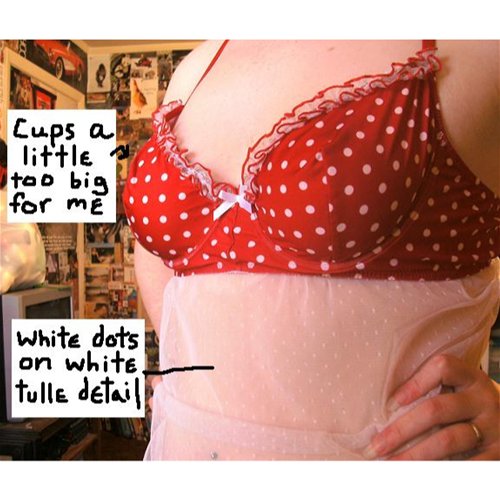 This picture shows the dots on the white fabric that don't show up much in the other pictures, as well as how the cups fit my full C-cups.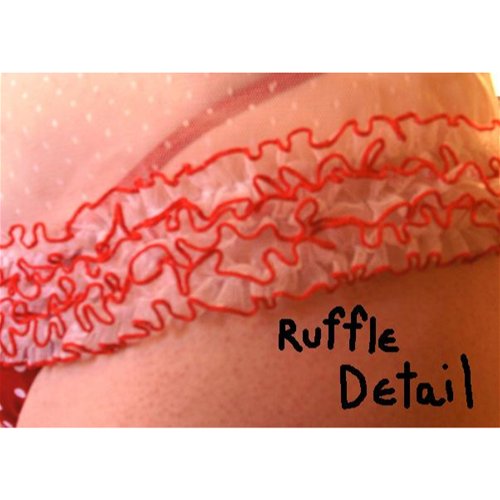 The ruffles were so cute I thought they deserved a closeup.
If I failed to include anything, feel free to ask questions in the comments :)
This product was provided at a discounted price in exchange for an unbiased review. This review is in compliance with the FTC guidelines.

Thank you for viewing
Perfect pin up babydoll
– babydoll and panty set review page!