Perfect? ... Not Quite, But Still Pinup Material
I love this set and will wear it as long as it lasts. It is sexy, comfortable and quite flattering since it doesn't hug your body. It is definitely well made and thought out, and nearly perfect. If the cups were designed a bit better to offer a tad more support and flatter the bust this would be a five star set for sure. If I could give this a 4.5 I would, and I do recommend this to anyone who wants to look dangerously sexy.
Published:
Pros:
Comfortable
Cute
Good Quality
Flattering
Great Thong
Cons:
No stretch at the hips
Cups very thin, no shaping effect
Narrow cups
The Perfect Pinup Babydoll by Fantasy Lingerie is a very nice set at a reasonable price. Is it perfect, no but the quality overall is still pretty good. I would recommend this to others and feel that it is definitely well made enough and flattering enough to be worth the price.
MATERIAL
The Bra portion of this set 92% polyester, and 8% spandex blend, as is the underwear. There is a white mesh portion that makes up the "babydoll" and it is sheer white with tiny opaque white polka dots all over it. For being mesh it is oddly comfortable. I do have a sneaking suspicion that it is because the material around the midsection is loose and not form fitting, so it is not constantly rubbing against your skin. The bra portion is very stretchy, and it does not have a hook and eye closure so it is not adjustable to band/bust size, but the stretch it has helps with this. The cups are very soft and pliable with virtually no padding so this will not shape. The underwire does offer some support, but if you have perkier smaller boobs they may point a bit, and heavier chests will have a bit of droopage since the cups are so thin. The top straps are adjustable in the same way a bra would be. My boobs tend to point in this a bit due to the thin material and I feel due to the fact that the underwire shapes these cups too be more narrow. The other very stretchy portion of this is the thong. This g-string would fit a very wide array of women.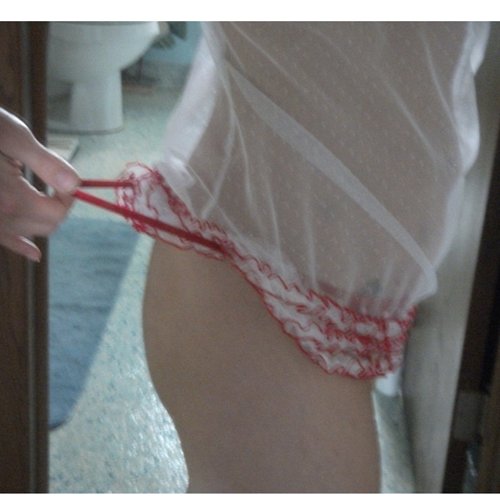 There are mesh ruffles that are accented in red around the bottom hem, and the set is not stretchy at this point. If you have very wide hips and are at the close to the next size as far as the hips are concerned then I would recommend ordering a size up so that this will fit you for sure. In the next picture you can see how the ruffle looks. On the backside of the set where the ruffled portion starts right by your rear end the fabric is ruched slightly which is a flattering touch I think. (Sorry I couldn't get a good pic of the ruched potion on the butt of this, despite like 30 attempts.)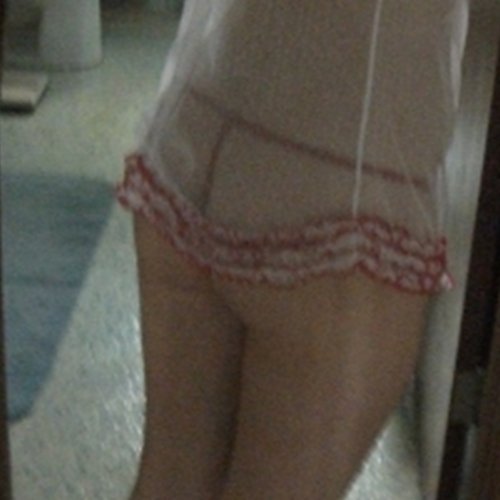 SIZE AND FIT
I ordered my set in a size M. I am 123lbs, a 34C, 5'2" with a 28" waist and 37" hips. This falls on me just the way a baby doll should, so it exposes ass cheek, but covers the tummy and the hips. It fits pretty well but is a tad big in the cups(which can be noted from the photos of the top where it is bunching a bit.) Though I did order this when I was 130 lbs, and the weight loss has changed the way this fits. On someone with a bust of 36 or bigger and a heavy B or C cup probably would not have that issue. The
SIZE CHART
is fairly accurate though I do think it runs a tiny bit small due to the hips and if you are close in anyway to the next size order up. I fit into the Small category on this chart and I am rocking the Medium well so if it is a tad roomy it will still look good. Here are the pics of the set and how it fits.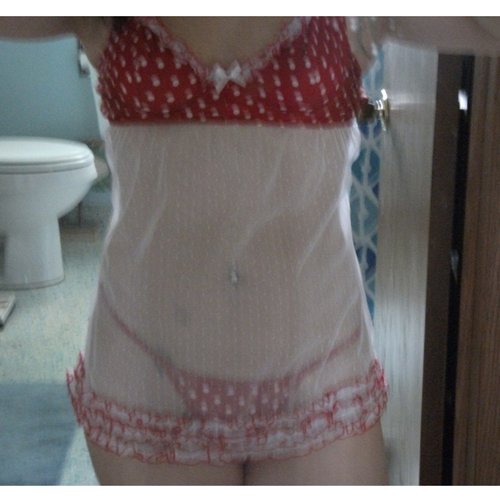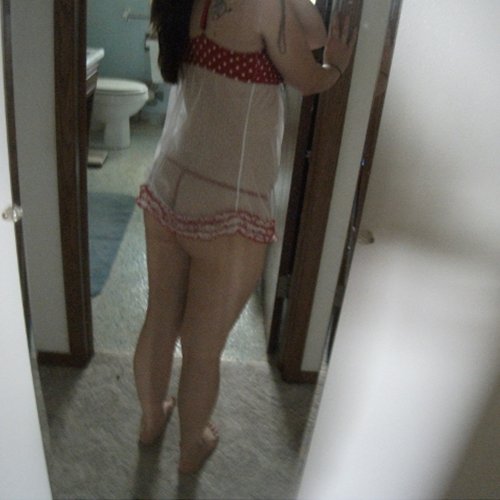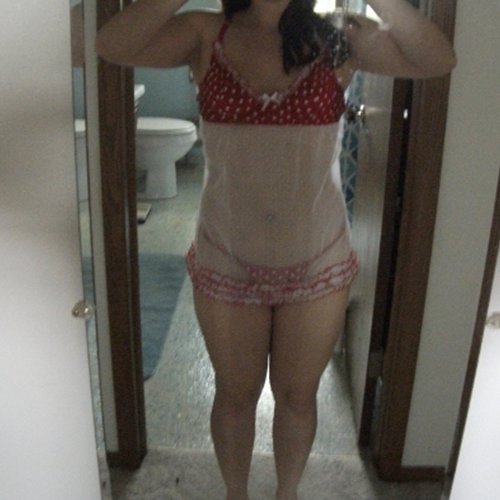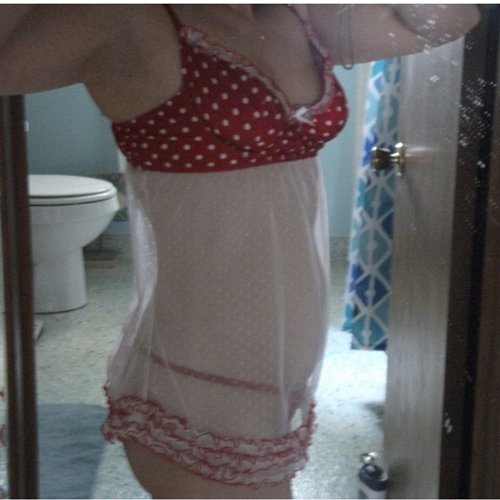 (NOTE THE BUNCHING ON THE CUPS)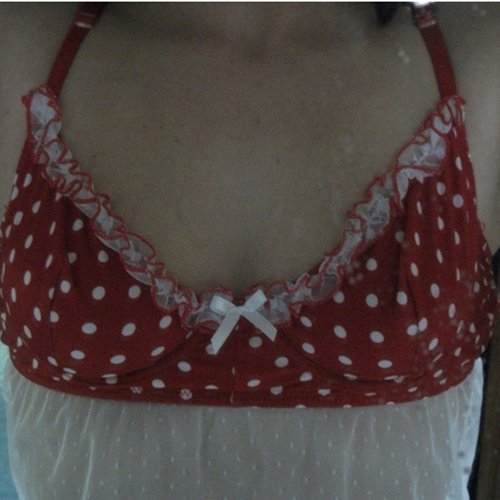 If I have one complaint about sizing it is not the set itself at all. It is the fantasy lingerie size chart. Unfortunately it gives an approximate bust size but doesn't specify cup size at all. So this does make it hard when selecting a size to select correctly so you get the right fit in the breasts. I erred on the side of caution and got the medium, but I think this would look a bit better if I had gotten a small and the cups were smaller and fit my breasts better. Who knows though, a size small might have approximately the same size cups with just a smaller band size.
Experience
THONG
The thing that accompanies this set is highly adorable and ridiculously comfortable for being complete butt floss. The material is soft and stretchy. Very stretchy and forgiving as a matter of fact. I can wear it all day with out any issues. It also (for once) is made with enough material and wide enough to cover my vagina and not let any lip show out of the side. Often with lingerie sets I find the underwear to have fabric that is too narrow which doesn't cover your kitty enough, leaving the wearer with a sort of reverse camel toe. I LOATHE THAT! These however are perfect.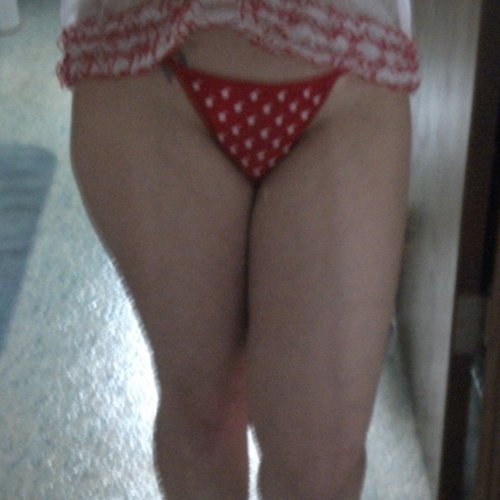 And drumroll please..... A COTTON CROTCH LINER! I must thank fantasy lingerie and give them credit for realizing that underwear with a crotch liner is not only more comfortable, it is healthier to have against your vagina. The crotch liner on this is a bit on the small side, but it covers what it is supposed to and work well.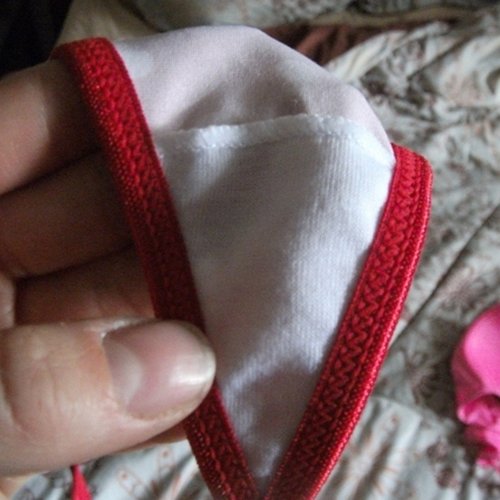 CARE
The tag on this set says that it can be washed in warm water on the gentle or delicate cycle and tumble dried on low as well. I personally will wash this with my delicates and have not yet had any issues, but I still hang dry it. It avoids the straps getting all twisted and I think this set will last longer if I don't put it in the dryer.
NOTE: The red in this has the potential to bleed. I washed mine in the sink the first time and did get a little bit of red dye out of the bra portion and panties. It did not stain the white portion at all. When I washed this with my other delicates after that it did not bleed at all. I do recommend that you err on the side of caution and hand wash this careful the first time so that your set does not become pink and white, since it is attractive in red and white.
PERSONAL OPINION
I love the way this looks on me but I was a tiny bit let down. On the product page the model has perfect round boobs that appear to be shaped by the cups on this. WRONG. Her boobs are just like that. And mine are just not. In fact this is more like a completely unpadded bra and offers no shaping. This still looks good on me, but I had wanted to wear it as a summer top potentially with shorts and red heels. There is no way this can be a top once I tried it on. If there was some support/shaping then probably. I love it and my man does too so I still recommend it and it is a definite keeper. It is sexy as hell. So due to the narrow and thin cups I am giving this four stars since it gives me fifties pointed boobs. It nearly got five though.
Follow-up commentary
30 days after original review
I like this but I wish it fit me in the chest better. I did lose some weight which made this fit more loosely, so the product itself is fine, It just would have fit my old self a little better. While I was disappointed to find that the cups were not at all supportive like I thought they may be, this is still sexy and something that I will hold onto since everything else about this set is perfect for me.
This content is the opinion of the submitting contributor and is not endorsed by EdenFantasys.com

Thank you for viewing
Perfect pin up babydoll
– babydoll and panty set review page!