Heart-Pounding Heart Nurse Costume
Take your partner's blood pressure and temperature after you've put on this sexy costume, and I guarantee it will be off the charts! This is a cute and basic costume that looks awesome on, comes with FIVE pieces and is inexpensive too! If you are looking for a very simple nurse costume to heat things up, this is it!
Published:
Pros:
Inexpensive
Cute
5-piece set
Cons:
A little flimsy
This heart nurse costume is bound to get your partner's heart pounding! I chose this because I loved that is there was so much included with it! A lot of bang for your buck! When I got it in the mail, I was amazed how much I liked it even more!
Packaging:
The Heart Nurse By Escante is an awesome complete package! You get it all with this purchase! You get 5-pieces in total, all neatly wrapped up in a charming box. The box is gold/brown and has a lot of product information on it. It also has some risqué images of a model on both sides, so it is not appropriate for all ages. It would be great for a bachelorette party though!
Contents: Hat, Bra, Thong, Arm Bands, and Stethoscope
Made in China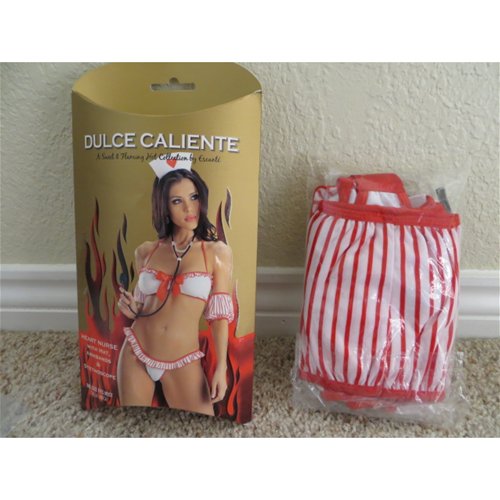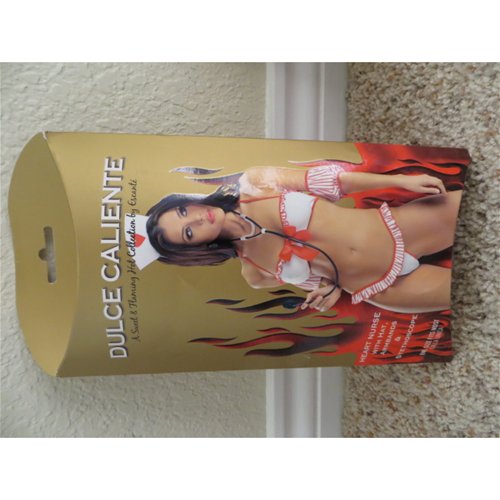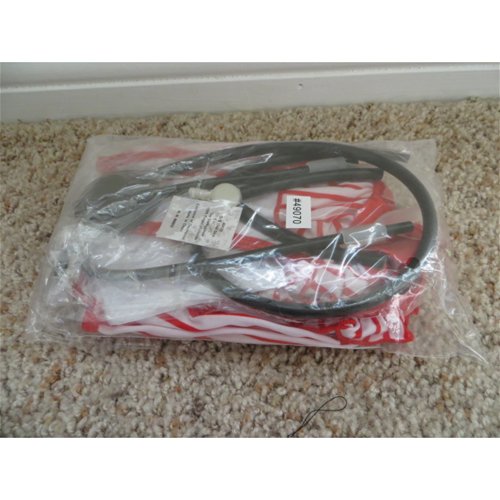 Care/ Maintenance:
This roll playing piece is not the easiest to take care of. Unfortunately it is hand wash only, no wring or twisting and line dry only. There are a lot of sensitive parts, like the bow and frills that need to delicately be washed. I have taken the advice of the tag and hand washed it only. I line dry it too. So far it is holding up well. Luckily I don't wear this often, so I don't need to wash often!
As for storing this, I opted to throw out the packaging and plastic bag and store in my own way. I put everything together in a large freezer-sized Ziploc and added it to a box that I have all of my costume pieces. I folded the bra and panties nicely and loosely put the stethoscope in it, so it would not get a funky kink. I just checked out the items in the packaging the other day, and they look as good as new! I highly recommend storing items this way to keep free of bugs and dust!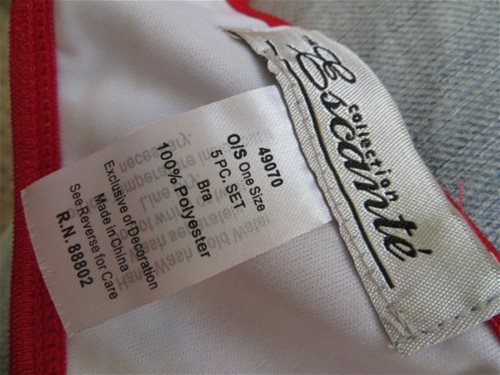 Size:
This costume is available in one size only.
According to the Escante size chart:
One size fits 3-12 (dress), 32-26 (bust), 24-34 (waist), 90lbs-160lbs and B/C bra cups.
Some of the measurements I took of the top bra piece:
Neck string – 21"
Adjustable top back string – 56"
The top is incredibly accommodating. I would say it is best for boob sizes B-C, but fits D too, just a little less supportive. A cups might look a little limp in this, there will probably be some excess room in the top. The adjustable strings make it great for small and large bodies.
I am typically a size small-medium. I wear size 4-6 in dresses and jeans. I have a 34D bust. The rest of my measurements can be found on my
profile page.
The panties fit perfectly on my hips. I wore them a little lower than they are worn by the model. You don't have to wear them that high if you are my size or above! The bra fit well too, and looked good on. There is very little support for a D chest though, but it did look filled out.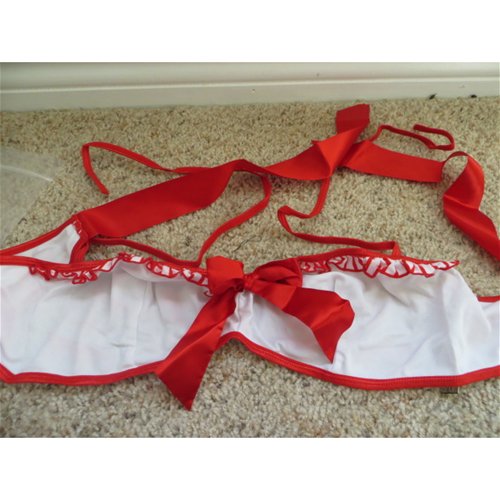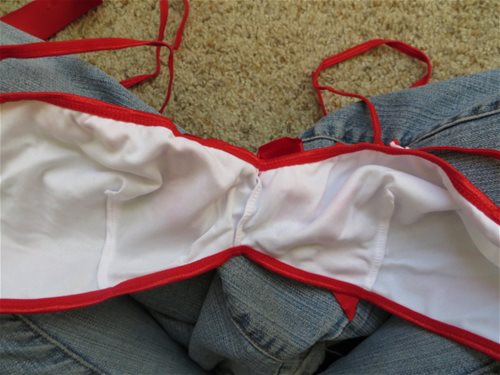 Material/Texture:
The material for the fabric items is polyester. The outfit is not the softest, but it is not uncomfortable either. The material doesn't breathe well, so luckily there isn't a lot of material, so hopefully you won't get too hot in it! The texture is a little rough, not smooth to the touch. The ribbon and bow on the top is silky and smooth.
The toy stethoscope is made out of a material called polyvinylchloride.
Experience
continued...
Design/Shape:
This is actually one of those rare outfits that comes with EVERYTHING that is seen in the picture! That's right there are FIVE total pieces - Hat, Bra, Thong, Arm Bands, and Stethoscope. I will break them down a little now:
Arm Bands - Patterned contrasting white and red stripes – reminds my of a candy cane. If you want to get technical, since there are two arm bands, technically this is a 6-piece costume! The sleeves have elastic on the sides so they stay in place well. They would be great for using in other costumes too – perhaps a pirate outfit?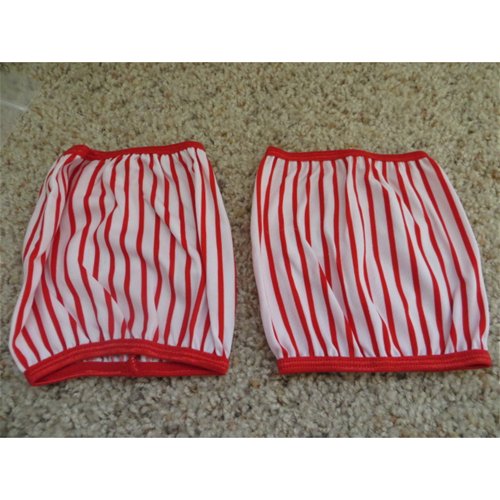 Bra – The bra top is a halter top style and ties at the neck and middle of the back. There is a giant red bow in the front of the bra that cannot be undone. It has no underwear and is not very supportive for larger breast sizes – I would say C cup is a good stopping point for support and fit. I am a D cup and I was a bit saggy in this! The red ribbon that goes around the back to tie is very silky and pretty.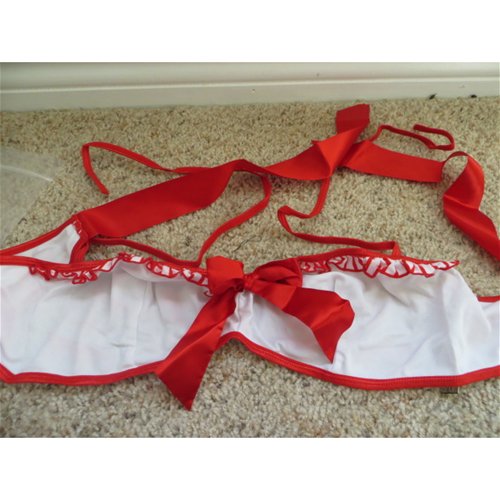 Hat – This hat is flimsy, and the cheesiest of all of the items, but it is still cute. I never could get it to fit right on my head. It looked a little ridiculous on me, not as cute as the model or the other reviewers pictures. It is very stiff and basically just a thin piece of fabric and string that you can't do much with.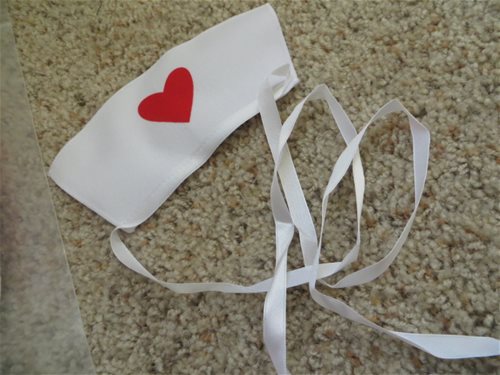 Stethoscope – This toy is a plastic, cheap toy. It does not work and is just for decoration. It can be pulled apart slightly and fits right on the neck. It also fits in your ears if you want to pretend and take a heartbeat.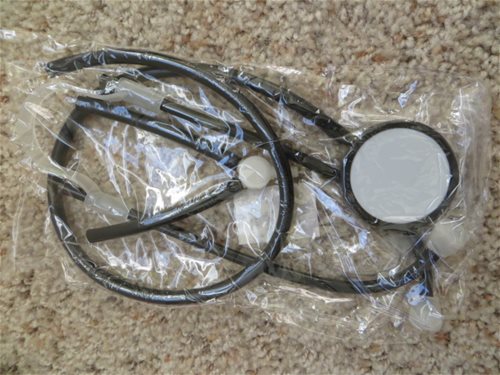 Personal Experience :
Although I am not a nurse in real life (I could never deal with the poop/puke/blood) I can pretend to be one in this fun costume! I can take care of my husband's every need in this flimsy little number. I am at his bedside, ready to serve him and take his vitals. We had a lot of fun pretending in this costume and it is a great, simple nurse costume that has a lot of items to work with!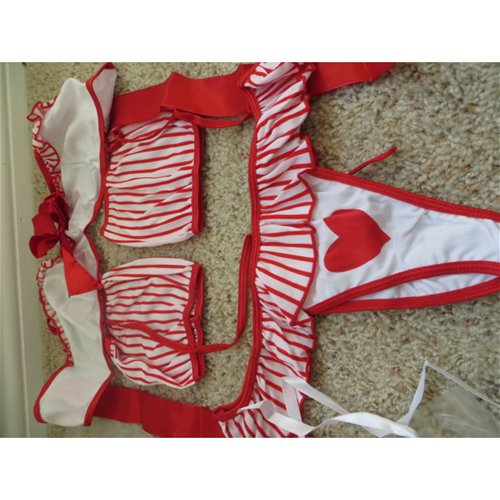 This content is the opinion of the submitting contributor and is not endorsed by EdenFantasys.com

Thank you for viewing
Heart nurse with stethoscope
– costume review page!