Hey there, fella! Ya in the mood for some jaaaaazz?
One word here: Perfect! It works well with my boyish figure (that was popular back then), but will also be flattering on those curvier jazz queens, as well! Everything that comes with this set is highly impressive! This costume is perfect for parties, too! It might not be skimpy enough for bedroom wear, but you can be that roaring 20's wild child seductress in it. "Meet me in the back. It's time for a little jazz."
Published:
Pros:
High quality, flattering on all figures, great accessories, can be worn in public
Cons:
Cigarette holder and necklace are just okay.
Ahh, the roaring 20's. A time of jazz, the speakeasy, and gangsters. But we can't forget the infamous flapper!
Isn't she adorable?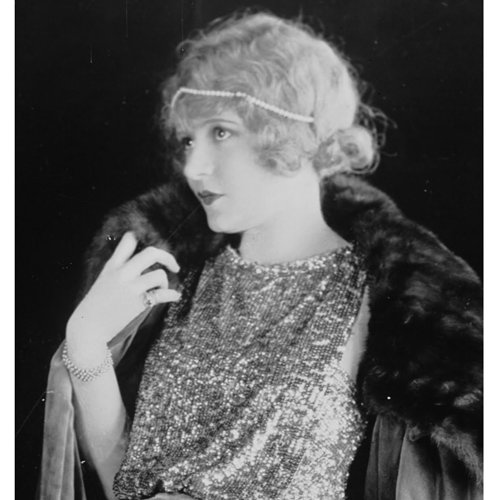 And here are some of her flapper friends: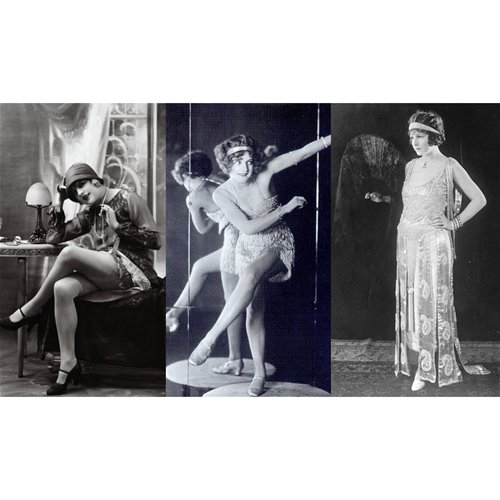 "Flappers were a "new breed" of young Western women in the 1920s who wore short skirts, bobbed their hair, listened to jazz, and flaunted their disdain for what was then considered acceptable behavior. Flappers were seen as brash for wearing excessive makeup, drinking, treating sex in a casual manner, smoking, driving automobiles and otherwise flouting social and sexual norms."
Sounds like a good time, right? Hell yes it does!
Summary
This costume is one of the more modest ones offered on the site which makes it a wonderful party attire because it's perfectly suitable for all occasions. Hell, why not go to the grocery store in it? It might be a little too conservative for the bedroom, though (unless your lover has a fetish for classy vintage wear). It does an amazing job of pulling off the style of the era without being too cheesy or over the top, and it's probably the only costume here that can be taken seriously.
You want accessories? Have a whole bunch! The set includes the dress, the feather headband, shiny satiny elbow length gloves, a beaded necklace (think Mardi Gras beads), and a cigarette holder (that is non-functional, sadly). The only thing you'll need is a pair of shoes. Hmm, low-heeled black pumps? Stockings are also quite fun. Stick with the basic black sheer ones. See? These are probably things you can find in your closet! You're good to go!
Design/Material
The quality? SUPER IMPRESSIVE, GUYS! I couldn't believe my eyes, and certainly not my hands. Everything is basically flawless and looks like you paid more than double what you did.
The Dress: I couldn't believe the weight of this one, actually. That's in a good way, though. The material is quite thick, but not too thick. The front is all sparky and such, while the back is solid black. When you think about it, it's actually practical. The sequins make it looks like you're wearing a crazy disco ball and catch the eye of anyone who crosses your path. Sequins and I usually have some disagreements because we have different ideas about whether they should stay attached, but these ones follow my rules. They have a little bit of swing to them instead of being completely flat against the fabric. Mix this with the lovely fringe and you have a perfect little jazz dance number. The dress hits me (a short lady) just a little below the mid-thigh area, and the fringe ends right on the knee. It's just so perfect!
The gloves are probably my favorite part of the costume. They're pretty thick and stretchy so they conform to your arm and look sexy and sleek. Not to mention, they're a piece you can wear with a bunch of other ensembles whether they be slinky ruffly things or other sexy costumes. I feel all proper and sophisticated with them on.
The headband is so much fun! The feather on it is super soft and fluffy. Not cheap looking in the least. It has a great curve to it so it doesn't stick up all silly-like. The band itself is covered in black sequins so you still get a little sparkle without blinding anyone. It's super elasticy and stretchy so it stays put.
The necklace . . . meh. It's a string of super cheap Mardi Gras beads. I'm not sure why they chose blue ones because they don't match at all. Black or pearl color would have made more sense. I tossed them out. No loss, really. You could probably find better ones for a few pennies.
The cigarette holder is totally awesome. Well, it would be if you could put an actual cigarette. For some reason there is a hole in the end of it but the way it's designed doesn't allow for one to fit in there and the plastic stick is solid. It seems kind of silly to carry around a cigarette holder with nothing in it, but I do it anyway. Pssh. Don't judge me.
The entire ensemble is made of nylon, spandex, and satin.
Experience
Sizing
I usually shy away from Small/Medium sized stuff. I'm on the very small side of a small so these things usually end up a little too big on me. Tiny girl problems. However, I had a hunch that this dress would work. Back in the 20's they were all about the boyish figures and dresses with straight lines. Luckily I brought one and the dress brought the other. It's not super form fitting and is actually a little loose on me, but you know what? It really works here. Victory!
You know, now that I'm looking at the size chart I'm way out of the range. My measurements are in parentheses.
Coquette Small/Medium
Dress Size 6 - 10 (0-2)
Cup Size B (B)
Bust 34 - 38 (30-32)
Waist 26 - 30 (24)
Hips 36 - 40 (31)
But then again, that's if you want it to be all tight and form fitting. I'd say that this would fit up to the middle range of the size chart knowing that it works for my little self pretty well.
The gloves fit my small hands pretty snugly, and I'm not sure if they size these up in the larger size. There's still a little room for stretch, but not much. I wear a ring size 5 and they were perfect on me.
The headband is a little tight for me, but that's understandable. I have a slightly larger than average head measurement. It slipped up a little bit until I talked it into staying in place.
Care
The dress shouldn't need too much washing, but if you have to wash it throw it (gently, of course) in the sink with cool water and a small bit of soap. Hang it up to dry. The gloves could probably be thrown in the wash on a gentle cycle and low heat dryer setting.
And now it's time for a pretty picture!! Here's me all flapper lady like (well, as much as I can be with an iPhone). The feather boa is from some other costume but looks lovely with it.
(My glove is off because my iPhone didn't want to cooperate.)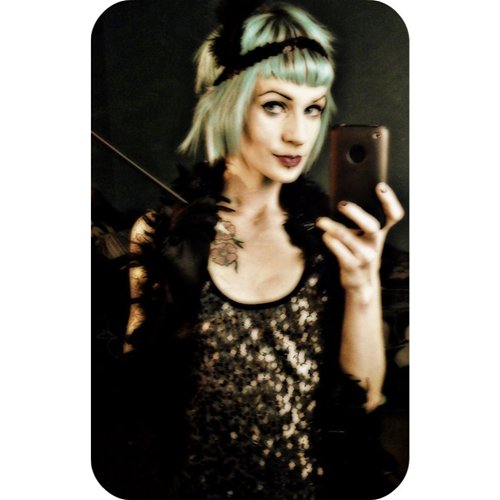 Follow-up commentary
7 months after original review
This is my go-to costume any time I need one on short notice. A few of my friends have borrowed it, as well! Everything is pretty much still in new condition. The sequins stay attached very well. The only thing I can say didn't pass the test of time was the crappy cigarette holder. The end piece fell off of it but I'm not too bummed about that as it would be easy to replace if I needed another one.
This content is the opinion of the submitting contributor and is not endorsed by EdenFantasys.com

Thank you for viewing
Flapper
– costume review page!