High Quality and Highly Cute!
This is such an amazing, comfy, sexy piece. You get all these sexy options for one great value, and that really bumps Seven 'til Midnight up in my book. This bustier is fully adjustable, comes with a sexy high-quality thong, and can be dressed up or down for a night out on the town. This is pretty much the whole package! My new favorite bustier, for sure.
Published:
Pros:
Great value
Good quality
Comfortable
Adjustable bodice
Removable bra straps and garters
Cons:
Hem is too short to be visually appealing
No privacy panel in back
Elastic hem is tight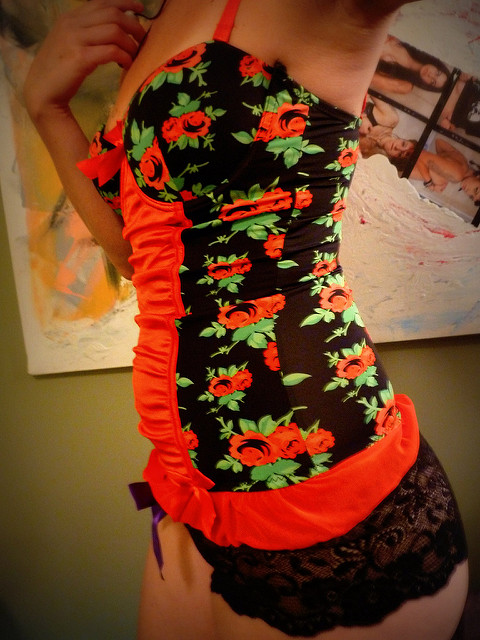 I knew this bustier from Seven 'til Midnight would be a showstopper at first glance. What I didn't expect was that at this price it would be so sensually comfortable, incredibly versatile and well-made to boot! From the Christina Aguilera-look-a-like model in the product photos, I knew this would be a very cute addition to my wardrobe, and perfect for accessorizing to wear in or out of the bedroom.
As a size 5-going-on-size-7 gal, I went with the medium. I'm growing, it appears, and recently I've bought a few lingerie pieces that have been too small for me. That's always depressing. I went for a medium and was pleasantly surprised that it barely fit. I certainly could've stood for a large; the piece runs small for sure. If a size 5/7 gal is wearing a large, something is wrong!
Fit
Out of the package, I was delighted to find that my high expectations were met. The piece was gorgeous, with brilliant colors, sensuously-smooth fabric with a bright red silk front panel and soft cups to embrace the breasts. My boyfriend had to help me put it on - the 16 eyehooks in the back were more than I wanted to risk pissing myself off trying to fasten. Also, I like getting pieces like this nice and tight, and if they're tight, I'm risking breaking the garment in an attempt to turn it around after fastening it in the front.
He fastened the top of the piece first, choosing the loosest of the 3 settings. A gal with less than my 36" bust would do fine in this. Even a 34" would be alright in the medium; the difference in width between the largest and smallest settings is only 1".
When he reached the bottom of the piece, at my 34" hips, things got more difficult. An extra inch would've been welcome, as the hem not only pressed into my hips due to their sheer size, but the hem is elastic as well. So it dug slightly into my flesh. And on top of that it was a tad bit short. I'm 5'6" and very proportioned in the torso/leg ratio, but this hit me too high up on the hips for my personal taste. I don't like my belly to show, and I wanted to wear this out. I knew I'd be tugging it down every few steps, which was pretty tough considering how freaking tight it was on the waist. Alas, I digress.
I had my boyfriend go back and tighten the mid-section, fastening the eyehooks on the next-smallest setting to flatter my 30" waist more. My most recent lingerie purchase was a cincher, and I was eager to cinch the hell out of my recently-growing belly. (This cat needs to start eating breakfast, and start going to the gym...)
Despite my apprehensions about the cross-fastening in the back, it did not make the back buckle any more than it normally would, or so said my boyfriend. Really all this means is that it wasn't enough for him to notice, but we all know how observant men are. So following his observance of no change in appearance when the waist, hip, and bust sections are fastened on different settings, you could potentially customize the fit of this to your own torso. A bit of buckling is bound to happen, but if you're wearing this out you can hide it with a cardigan quite easily.
The silky red panel in the front camouflaged my little belly nicely. Its folds and curves were masters of disguise.
The back panel featuring the eyehooks is a solid black soft cotton, instead of the patterned polyester/spandex of the rest of the bustier. This was disappointing as it took away from the look of the piece, and made it seem lower-quality than if there had been a privacy panel there instead to hide the inner workings of the piece.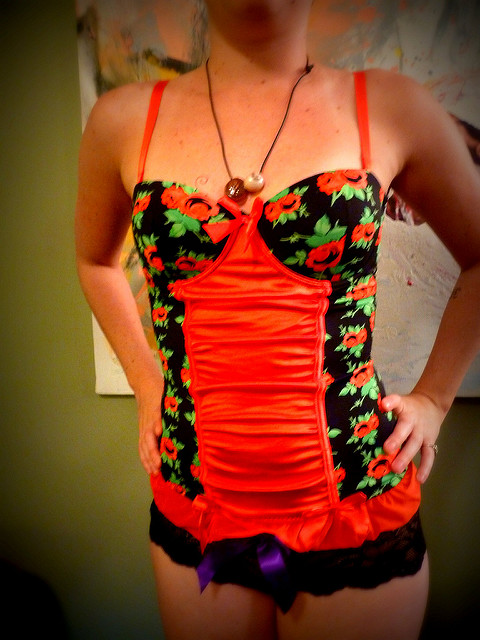 I did not try on the thong in this set, as I'm not into thongs at all. But it was a nice one as far as such things go. It featured an ample cloth pantyliner and the matching pattern of the bustier. It was soft and sexy. I'm just not into strings sitting up my ass crack. Thanks, but no thanks.
Comfort
I loved how soft this piece was! The removable adjustable bra straps are lined on the underside with a soft velvety material, something I've never seen on bra straps before. The outer layer of the straps is sleek silk.
The inside of the bodice is soft polyester/spandex blend. The front panel felt so nice that I loved rubbing my hands up and down it, as a child would a silky blanket, to fall asleep.
Experience
There is no boning which means that less shaping is achieved, but the piece is comfy for flouncing around the bedroom, or even going on a date.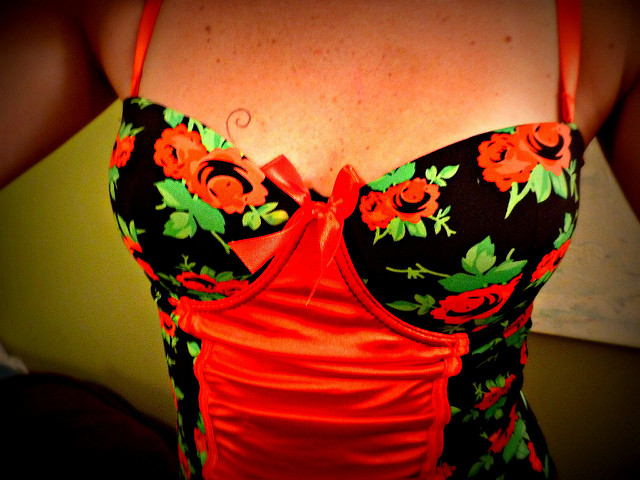 The bra was comfy enough and my gals were supported plenty. My A-cup top had a little wiggle room, but not too much. B- or C-cup boobs would be fine in this top. The cups are molded well and stand up on their own without much effort, but aren't overly padded. The underwire also didn't bother me like many do; as someone who never wears bras because they're uncomfortable, that's saying something.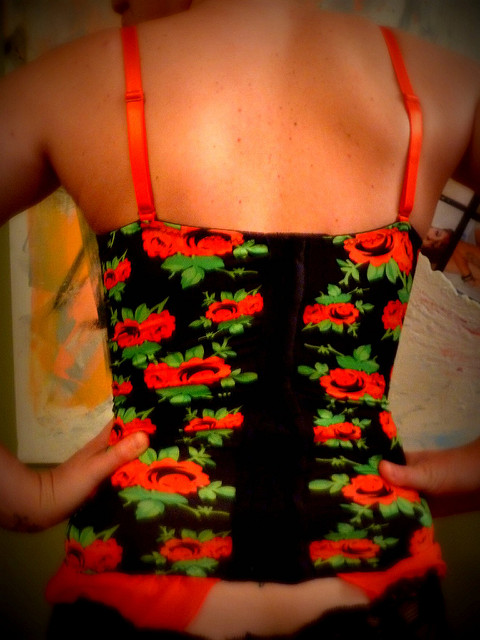 The back panel is lined on the underside with a very soft plush material, protecting your back from the poky eyehooks.
Design
A few stray threads were found here and there, but were not loose at all. I easily clipped them free and went about my day. The three bows sewn at the center of the breast and above each garter are fastly secured.
The removable garters are wonderfully versatile; you can adjust them to fit the height of your thigh-highs or remove them altogether if wearing the piece with jeans for a night out. The garters are flocked with a red ribbon accent, which is really a nice touch.
My main complaints about the piece are in the hem. The tight elastic is unnecessary and inhibiting, and the mesh of the hem looks cheap. Also, it's a mere 1.5" in length, and would've looked much nicer if even 1" longer. It appears a mere afterthought, especially from behind. The bare space below the hooks and eyes speaks volumes to the lack of attention to detail by the manufacturer. Still, this is a wonderful piece.
I love the versatility here. The bustier can be worn with or without the bra straps, for more or less chest support, or even just a different look. The bra straps can be crossed in the back as well, to amplify the chest. Garter straps can be removed for wear without thigh-highs. And you can easily pair this with sexy tight dark jeans and heels or a cardigan and knee-high boots and go out on the town! It's so super-cute that everyone will compliment you. Nobody will suspect that when you get home, your superhero powers will transform your blouse into a sexy bedroom bustier.
Care
Seven 'til Midnight has had this piece manufactured in China, for the record. It is made of 92% Polyester/8% Spandex.
The lingerie tag states to hand wash the piece in cold water and line dry. Do not bleach or iron it. I recommend hanging it in the closet, as the mesh and silky panels can snag on belts or bras in the lingerie drawer. I did notice it didn't snag nearly as easily as I'd anticipated, which earns Seven 'til Midnight an extra star from me.
For a video of the model in this during her photoshoot, go
here.
Or check out the
Seven 'til Midnight
website for all kinds of goodies!
This product was provided free of charge to the reviewer. This review is in compliance with the FTC guidelines.

Thank you for viewing
La vie en rose bustier
review page!