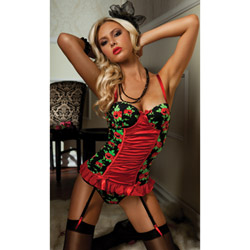 La vie en rose bustier
Bustier by Seven 'til Midnight
Perfect...if You Don't Have Hip Bones
I am so torn about this bustier. On the one hand, it is inexpensive, comfortable, well made, and looks sexy as hell—from the front. If only the people at Seven 'til Midnight had remembered that people have hips, and that in women, those hips tend to be wider than the waist. Instead, they've included a surprisingly inelastic elastic band around the bottom of the bustier that prevents it from stretching to the necessary 34", which seriously dampens my enthusiasm.
Published:
Pros:
Lovely design, removable garters/shoulder straps, comfortable, inexpensive
Cons:
Closure difficult to fasten, horrible elastic band around hem
This bustier has a lot going for it, so getting it seemed like a no-brainer. It's priced reasonably at just $25.99, and it's cute and different. Normally I'd say a floral pattern is a little more cutesy than I'd prefer my lingerie to be, but roses in full bloom are pretty erotic as flowers go, so I consider this a "pretty but sexy" outfit.
The packaging, on the other hand, leaves something to be desired. The bustier arrives in one of those plastic bags that Halloween costumes are typically packaged in—the ones that have hangers that you can't actually hang the garment itself on. Anyway, it was sort of crumpled at the bottom of the bag, and the paper stuffing meant to hold the cups' shape had gotten loose. The bustier itself was none the worse for wear, except for a few slightly smushed bows—no wrinkles, and the cups had no dents or other weirdness going on—but it did strike me as a little unprofessional; even my $18 pajamas from Seven 'til Midnight were packaged better.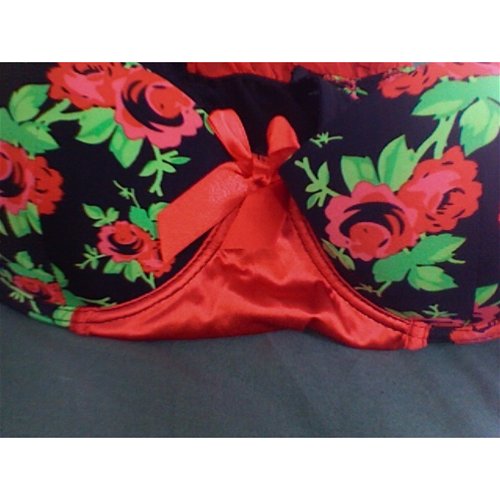 Squishy bow.
Nevertheless, the bustier itself is as pretty in person as it is in the product photos. The red is gorgeously vibrant—and less orange than it looks in my photos—and the piece is very well made—no loose threads or anything of that kind. Some thought was obviously put into the construction of this piece. For instance, the garter straps are detachable, so you could potentially pair this bustier with jeans for a night at a club. The shoulder straps are also detachable, but since I can't stand the way I look in strapless tops, I doubt I will avail myself of that particular option.
Other nice things: The cups are low-cut and slightly padded, which gives smaller breasts a more rounded look, though I imagine that women with larger busts may find the lack of space/coverage annoying (there is, however, an underwire). Also, women who are self-conscious about their stomachs will no doubt appreciate the ruched red panel in the front of the bustier—it should be able to hide quite a bit.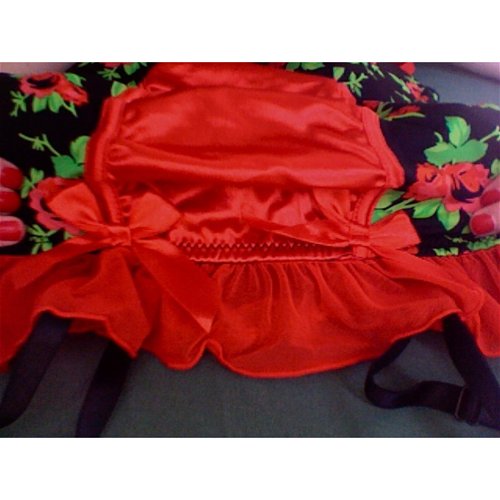 Red panel, bows, general prettiness.
It's also a surprisingly comfortable garment. The flowery fabric is a lot like swimsuit material—very stretchy—so it can easily expand to accommodate larger waists. And despite all the seams and stitching (just count up all the different panels, flounces, and bows and you'll see what I mean), it's not itchy at all, which is kind of amazing. It probably helps that the bustier is lined in two potentially problematic areas—there's a black mesh lining behind the front red panel, and a very soft black lining behind the hooks and eyes in the back.
Yes, the closure is of the hooks and eyes variety, which is sort of a pain. There are 16 rows of these in all, and not one of them wants to stay fastened. Incidentally, this will be a problem for you no matter how tightly/loosely the garment fits; the problem seems to be that the closure itself is somehow looser than normal, so when you twist the fabric ever so slightly to do up the next hook and eye, the one above/below it immediately comes undone if you're not extra, extra careful. There are also three columns of eyes and thus three sizing options, but be warned that this piece runs small; it's probably a good idea to order a size up. I got a medium and it mostly fits—with one huge caveat that I will discuss in the experience section, because yes, it is aggravating enough that I'm going to devote an entire section of this review to it.
The La Vie en Rose bustier is 92% polyester and 8% spandex, and should be hand washed in cold water, dried flat—you know the drill. In this case, though, I would pay attention, if for no other reason than that there's a good chance (or bad chance, whatever) that this garment will bleed. When I got it in the mail, some of the red dye had rubbed off onto the cardboard inset of the bag, which doesn't bode well, assuming you don't want everything you own to turn pink in the wash.
Oh, and there's a thong. I did wear it once and, yes, it was kind of uncomfortable, but no more so than any other G-string. It has a lining, which I suppose is nice. It also has a ridiculously long tag. Obviously you can just cut it off, but seriously, what is that about? It's practically as long as the entire crotch of the panties.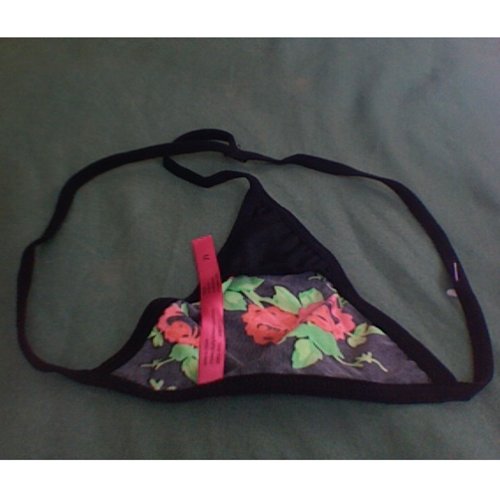 Some measurements:
Me
Dress size: 4-6
Cup size: 34A
Bust: 35"
Waist: 27"
Hips: 37" (34" where this sits)
Weight: 128
Height: 5'9"
Medium
Cup: B-C
Bust: 34-36"
Waist: 26-28"
Hips: 36-38"
Experience
First thing's first: This bustier runs small. Theoretically, my 35" chest and 27" waist fall in the middle of the size range for a medium, but I find it difficult to wear this on anything but the loosest setting. If I had someone else to fasten it, I probably could, but it would definitely be tighter than the size chart would lead you to believe. That said, on the loosest setting it fits very well through the chest and waist. It's fitted enough that I feel a bit "cinched" despite the lack of boning, and the low-cut, slightly padded cups not only fit (weird, given that I wear an A and a medium is theoretically a B to C) but flatter my smaller-than-average chest. It's all so close to a perfect fit, until you get to the hips, and the stupid, totally UNSTRETCHY elastic band that runs around the lower hem of the bustier.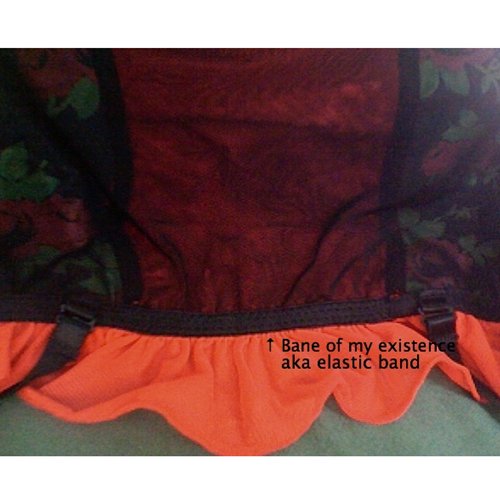 I'm aware that my hips are probably wider than average given my bust and waist measurements (although, I would like to point out, still within Seven Til Midnight's range for a "medium"), but here's the thing: This bustier isn't actually meant to sit at the widest point of your hips. At least, I hope it's not, because if it's supposed to stretch halfway down my butt then the length is a serious problem too. Anyway, it actually sits somewhere around where my actual hip bones are visible in the front, which is about 34" in circumference—a measurement that ought to pose NO problems. And because the problem is my hips rather than my waist, I can't just suck in my stomach and fasten the bustier tightly—you can't cinch bone! So while the fabric itself could probably stretch enough to fasten the last couple of hooks, the elastic band around the bottom makes this impossible. Even if I could get it to close—which would definitely require another pair of hands—I have no doubt whatsoever that the band would dig painfully into my hips.
I honestly don't know why the elastic band is even there. To prevent the bustier from riding up? The band makes the hem of the garment too tight to naturally sit at most women's hips, so it migrates up around your waist anyway. I'm hardly an expert on fabric, but the rest of the bustier seems clingy enough that they probably could have just hemmed it as is and it would have done a decent job of staying put.
So I'm in a bit of a quandary. I seriously doubt a "large" would fit me in the bust, and all else being equal, I'd rather this look good from the front rather than from the back. And it doesn't look TERRIBLE from the back—it's just that the fact that I can't close the last two hooks depresses me, and then the realization that I have bought into society's obsession with female body shape/size depresses me even more. The point is, it's just hard for me to feel sexy wearing this unless I know for a fact that no one will see me from behind, and I'm a firm believer in the notion that lingerie's most important function should be to make the wearer FEEL sexy and confident.
This product was provided at a discounted price in exchange for an unbiased review. This review is in compliance with the FTC guidelines.

Thank you for viewing
La vie en rose bustier
review page!