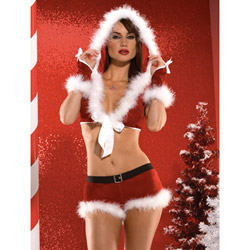 Velvet Santa costume
Costume
by Coquette
HO HO HUH?
This outfit is super cute, looks and feels gorgeous. The sizing is completely off however, and doesn't seem to be proportionate. It would be very tricky to accurately order the correct size since the sizing-guide is wrong. If you do have the unique measurements required, it would be a comfortable and pretty outfit.
Published:
Pros
Pretty, well made, high quality materials.
Cons
Feather discharge, hard to clean, sizing is horrible, cheap band for shorts.
Well, in the spirit of Christmas and sexy, I decided to get a little holiday outfit to make my first Christmas with my boyfriend even more special and memorable. I chose this Velvet Santa Costume by Coquette because I love and trust the brand very much. It was to my surprise and my boyfriend's disappointment that I was very displeased with this product. I wanted to feel super sexy, but it was hard to feel that way in this outfit and you will see why...

*Contents/overview:

This set comes with two pieces: shorts and a tie crop-top with an attached hood. Even though one of the pictures on the site shows an additional piece, it is not included (the matching wrist pieces). These wrist pieces can actually be bought separately, but not on Eden Fantasys. When looking at this set, it looks GORGEOUS! The vibrant and red velvet two-piece screams "jolly holidays!" The white fluffy trim is very pretty and the satin bow is oh so cute and sexy!

*Material:

This set is velvet, made of 90% polyester and 10% spandex excluding the white trim which is made of Marabou feathers. Marabou is a stork like bird that has prized feathers coming from underneath their wings and tail. These feathers are super fine and soft. They are fairly loose and will leave traces on other materials as the outfit is worn or handled. This can get quite annoying to try and clean up afterward. The feathers stick to everything.

*Design/craftsmanship:

The crop-top has a gorgeous hood, gathered sleeves, and satin bow tie closure. Along the bottom of the crop-top is a white lace trim as well. Along the hood is a Marabou feather trim. The crop-top also has a satin tie closure. The satin ribbon is at least 18 inches long on each side which provides a lot of room for tying as well as accommodating larger sizes. All the components of the top seem to be very well put together. I did not see any breaks in the stitching or unfinished seams.

The shorts are also made pretty well. I do have some complaints about the craftsmanship though. The attached spandex belt was falling apart a bit. There were little threads sticking out that if you pulled on them, unraveled even more of the spandex part of the belt. I cut these little ends and then sealed them with clear nail polish to ensure they would not unravel more. The front of the "belt" has a silver metal buckle that is non functioning. It does not adjust at all and is just for show. The notch on the buckle is not secured in place and can move back and forth. If it is left it the front position, it could stab your partner if you chose to lay on them. A little bit of super glue, fixes this problem or you could just remove the notch since the belt is non-functional. The shorts also have a Marabou feather trim on the bottom of each short leg.

*Cleaning/care/storage:

Caring for Marabou feathers can be tricky. It helps if you use cedar blocks around the feathers/outfit. This helps to protect them from moths and or moth larvae that could feed on the feathers and destroy the outfit. Make sure that when you handle the feathers that your hands are clean and free of oil, lotion, grease, makeup etc. Oils will permanently damage the feathers.

When storing this outfit, make sure to avoid storing it in places like attics, basements, garages, since perhaps you will want to put it away when it is not the holiday season. Places of that type have a higher chance of mold, mildew, and or insects. A closet in a cool and dry room, out of sunlight is your best bet for preserving this outfit. Feathers and velvet easily trap moisture, so it helps if there is good air circulation in order to prevent mildew and mold growth.

If the velvet happens to get anything on it, it would need to be spot cleaned. This outfit can NOT be put in the washer. I would even be weary of putting it in the dryer on a low delicate setting. Just use a non-abrasive, fragrance-free soap and water to spot clean the fabric. Air dry afterward.
Experience
*Sizing:

This is where the costume fails. I fit in medium, large, or one size fits all in Coquette products. I got the large since my measurements fit best. I weigh ~150 pounds (~size 8); curvy but fit. The large says it fits size 12-14. I figured it'd be big if anything. It also said it fit a size C 38-40 bust. I'm a 36 D. Since this has a tie closure, I figured I'd also be fine. I have 39 inch hips. The chart said 40-42, again, figured I was fine. I was wrong on every account!

The hood was perfect and so were the sleeves, but the rest of the top was off. The band size was too big. I had to keep pulling it down otherwise it rode up and didn't cover the bottom of my boobs. The breast coverage did not cover well. Even when pulled down, it barely covered my boobs. The sleeves were comfortable. When unstretched they were 12 inches around and when stretched they were 24. If you have large upper arms this would likely accommodate. The top seemed to be designed for someone with average boobs but a much wider middle.

The shorts were too small. The hips measured 30 inches when unstretched. The only way it accommodated 40-42 inches is if you stretched the band to the limit. This really cut into my 39 inch hips and was uncomfortable; made worse by the fact that the butt is really short. It is only 8 inches long. If you have a large butt, it will not fit without showing butt cleavage! The thighs were really tight. Since they have a feather trim, they can't stretch. I have large thighs from years of dance. They are 24 inches which is exactly how the thighs measure on the shorts. They cut into me and were hard to move in. The way the shorts fit made it hard to sit or bend.

I re-did the size chart as best I could:

Large:
Dress size 8-10
B Cup
38-40 Bust
26-28 Waist
30-34 Hip

Basically this would fit Barbie with no boobs or butt. It seems that in order for this costume to fit as a large, you'd need size B boobs, large band size, & no hips or butt. Seeing that I'm non of the above, it didn't work well for me. If you go by the chart, it won't for you either. If your measurements match the ones I listed, it would be very sexy and comfortable. The sizing chart needs to be changed for this product and or the product needs to accurately portray the sizing advertised.

*Conclusion: I'm giving 3 stars since it's well made and not of cheap material. Personally I would give it 2 but I'm only one person and one body type. I don't feel it deserves higher because of the cons and poor sizing. I hope someone with the unique measurements required, is able to use it because it really is cute!
Follow-up commentary
14 days after original review
I like this a little more, now that my boyfriend has spoken up more. He LIKES the fact it doesn't fit correctly! He likes that things poke out and don't fit exactly into place. Who woulda thunk lol.
This product was provided free of charge to the reviewer. This review is in compliance with the FTC guidelines.
Thank you for viewing
Velvet Santa costume
review page!