Hold em' back! Push em' back!
The Grip and Rip Thong is a great addition in the masculine lingerie collection. Like the stripper look? Now you can comfortably dance and strip for your lover. They look and feel great. They are comfortable enough to wear under your clothes all day long. This thong is also great for those who like the bulge look and gives easy access to tantalize your lover. This thong is sure to please you and your partner. Just rip it away, and your manhood pops out ready for his play time.
Published:
Pros:
Spandex, Velcro, Rip away, Sexy, Manly, Erotic.
Cons:
Thin waist band tends to twist.
Disclaimer -- Possible nudity of the outline of a cock may be included in this review!
Buying items to look and feel sexy is not just for women anymore. Move over Victoria's secret! EdenFantasy's carries hip and trendy lingerie for men. My husband and I were thrilled to find that EdenFantasy's not only had delicate sensual lingerie for me, but for my husband also. When we saw these, I thought his package will look so nice and hard tucked back in these during our play times.
The Grip and Rip Thong by Male Power gives a sleek look to your package to make your member not only look sexy, but feel sexy too. The thong features Velcro closures and a peek-a-boo strap that you can rip away to set your partners package free.
Take it from me, this thong is sexy on your husband. If you like the packed look of your partners hot package bulging with excitement, then these are surely for you. Both my husband and I are really obsessed with the bad boy look of his new thong and raging hard on package.
My husband is a bit more than average in the size of his package and even soft, the spandex stretches nice and snug around it. I just love the small space in the front when teasing him and kissing his tender area. Also, when his member stands tall.. it can be positioned peaking up and out of the top. It is totally hot and makes me long to take it out and play with it endlessly.
This thong would be great for a variety of uses. Let your man arouse you with a strip tease and you can even slip dollar bills in the side before you rip them away, exposing his package for your entertainment of sexual desire. In addition, these are not just for the bedroom. You can wear them discreetly under your clothes for maximum erotic sensations throughout the day.
Unfortunately, they are only available in Black.
EdenFantasys offers these in two sizes Small and LXL :
Small size: 6 - 8 waist : 26½ - 28½ Hips: 37½ - 39½
LXL size: 16 - 18 waist: 32½ - 34½ Hips: 44½ - 46½
Measurements not stretched :
Package area 8 inches
Waist 32 inches
Waist band 7/8 inch
Back of thong 1 1/4 inch
Velcro area 1 3/8 inch
Top hole size 2 1/2 x 3/8 inch
Bottom hole size 2 1/4 x 1 1/2
Measurements stretched :
Package area 9 1/2 inches
Waist 42 inches
Back of thong 1 1/2
Velcro does not stretch
Both hole areas stretch to 6 inches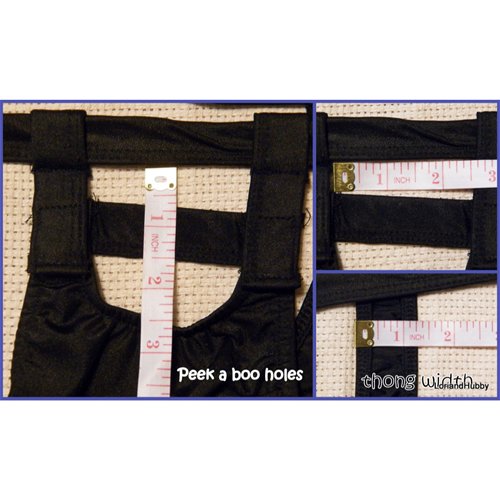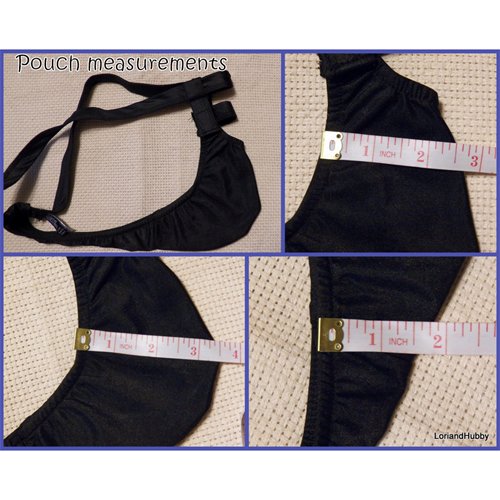 My husband has a 33 inch waist and his package is a bit larger than average. At 9 inches long and a circumference of 7 inches, His sack is also rather large. He measures at 10 inches from one side to the other when his balls are relaxed, and 8 inches when they are happy.
The straps that attach to the waist band are elastic. The straps can move on the waist band. The straps are looped around the waistband and not sewed on, therefore they move.
Material and Care
The thong is made of 85%
Polyester
and 15%
Spandex
.
There is a care tag which is attached at the back seam of the waist band, tucked neatly under the thong strap. It states machine wash cold water, no bleach, tumble dry, wash dark colors separately, cool iron, and do not dry clean.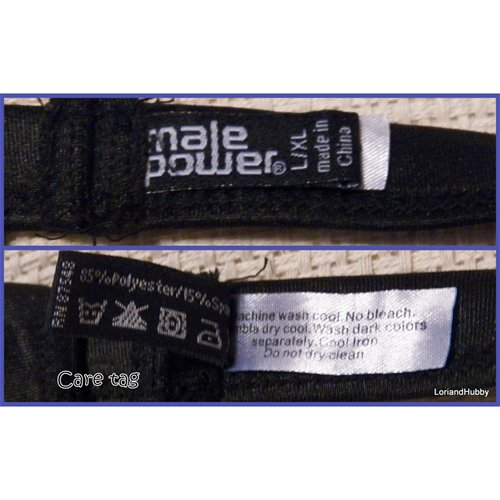 Packing
The thong came
packaged in a nice and trendy cardboard box. The box displays the thong being worn and on the back are four photos of additional styles that Male Power offers. Although the box may be used for storage, it is not very discreet and will not keep your secret well.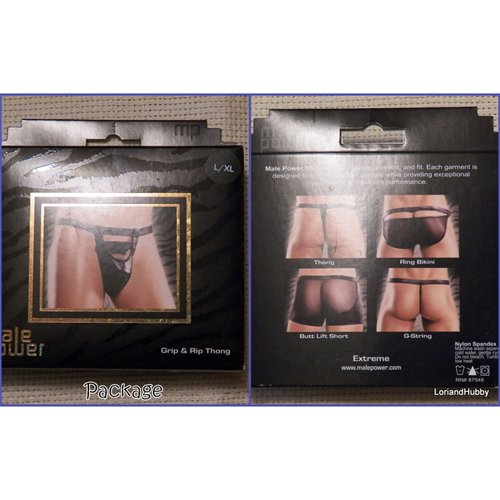 Experience
There is something erotic about restraining my husbands manhood a bit from full erection with mild pressure, that is absolutely amazing. When we saw this thong, we were thrilled to find a garment that would provide this bit of resistance against his bulging manhood. Although, the photo gives the impression that the thong would perform this way.. in actuality the larger size does not at all because the pocket that holds your member and his two friends is rather big and loose fitting. Nevertheless, his manhood looks amazing tucked away in these and my husband really likes the way it holds it. It makes his package look like a nice bulge between his legs.
All things considered, the Grip and Rip Thong is not a disappointment. When my husband put these on for the first time, I was excited to see how they would firmly hold his member and leave his ass exposed for me to play with. When I teased him with oral stimulation, the Peek-a-Boo holes sat just perfect on his penis. I could lick and kiss the exposed area easily. This drove my husband wild. He could only have a little taste of my hot mouth caressing his manhood and he wanted more. The tease was great for both of us. It really got my juices flowing to be restricted from his cock. When I rolled him over on his stomach, his ass in the thong really made me want to take advantage of him in a really sexual way.
Overall, I love the way my husbands package looks and the g-string back that exposes his ass for me to play with as I choose. Also, he loves the design of the thong. It does not give you a wedgie effect. These are playfully called his stripper thong. They are a nice addition to our new and exciting sexual encounters.
My husband normally wears a medium in underwear but we opted for the large size instead because lingerie tends to run on the small side. In foresight, we wish we would have ordered a small instead and plan to include one in our next order.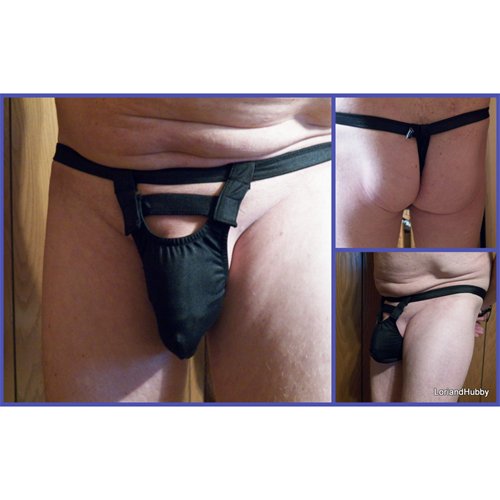 Follow-up commentary
2 months after original review
Hubby still loves his rip away thong. It has been washed several times and there is no sign of wear of tear. I have found that it is best to store these in its own bag to keep the hook and loop enclosure from gripping onto my other lingerie.
This product was provided at a discounted price in exchange for an unbiased review. This review is in compliance with the FTC guidelines.

Thank you for viewing
Grip and rip thong
review page!