"Holy" School Girl
Want to be able to look like a naughty school girl during sex? With this you don't have to remove any clothing! The bust-less and crotchless design leaves everything to be easily accessed. It is easy to put on and will fit many sizes, but it does run small for a one size fits item since the hips are off. Large hips will cause the back to roll up, but this can be overlooked.
Published:
Pros:
Cute, plaid colors, little tie, easy to put on, crotchless/bust-less, $
Cons:
Back rolls up, runs smaller than size chart suggests, buttons are annoying
This was another one of those lingerie pieces that I found sort of silly looking, but made the mistake of showing it to my boyfriend anyways, who predictably wanted me to get it. Being fairly cheap, I agreed. It didn't turn out so silly after all. It is a lose school girl design, so it can work for role play and sex at the same time. The one size fit, isn't the best, but it'll work for a decent amount of gals.

*Contents/overview: One piece

This product is made by Coquette. Basically, this is not a traditional teddy. It's a one piece garment that has attached crotchless panties. It ties the bust in the open back and has no other adjustable pieces. It is also one size, so make sure to look at my chart before purchasing.

*Materials: Pretty good, mixed

The main fabric is made of 80% Nylon and 20% Spandex (exclusive of trim). The material is pretty stretchy, breathable, and very comfortable. It has a slightly satin like smooth feel to it too. The plaid pattern is a mix of pink, purple, white, and blue. I really like this since these colors are pretty hard to find in a plaid. The white panel of the costume has an even smoother, satin feel to it and sort of shines a bit. There are a few white satin bows and the buttons down the center are made of plastic. The edges are unfinished so watch out for sharp ends.

*Design/craftsmanship: Decent

This is not a traditional teddy. Basically it is a mini skirt attached to a panel that attaches to a bandeau style cup-less top. The bandeau style top has holes cut out and lines with the plaid trim to allow for the breasts to come through. The top is just a band/string of plaid. It ties around the back like a bikini and has no bust support at all.

In between the breasts is an attached tie that is secured at the top of the bust area. The tie is stout at only 7" long, but this way it doesn't cover the breasts. It has a strange, stiff backing that can get crinkled and folded weirdly. It's hard to iron out if this happens.

Attached to the bottom of the bust is the center panel that attaches to the front of the mini-skirt. It is about 4" wide and has the same plaid pattern as trim. There are two non-functional buttons on the front. They have large rings on the back of them causing them to not lay flat against the fabric. They sort of flop about and look a bit silly. If you are up for altering your clothing, I suggest replacing or removing them all together. Not to mention they can be painful for your partner if he lays on them!

The mini skirt is only 4 1/" long! It is this way the entire way around. The front has pleating, and the sides have slits. Above these slits are little white ribbons. The back is just flat which causes a problem if the skirt is stretched even the slightest. It will curl up and not lie flat. I guess it doesn't matter since this doesn't cover a lot of ass area anyways. Even in the picture, the model has it tuckering in the back and she is very slim.

The crotchless pantie isn't really much of one and it is attached. Basically it is two strings that attach to the underside of the skirt and they go through the legs. It's kind of odd, but it works. If you have a long torso, this could cause problem with pulling up the bust portion. There is only so much room for those strings to go up your crotch or the creases in your thighs.

*Cleaning/care/storage: Easy, hand-wash, cardboard box

The tag is located on the inside of the back of the skirt. It says to hand wash. It is easy to do so and then can be laid down to air-dry. It comes in a closable box that says Coquette-Signature Collection on the front with a picture of the model wearing the outfit. The back accordingly has a picture of the model showing the back of the piece. It has a short description of the outfit in a few languages. It is good for storage, but since this piece doesn't take up a lot of room anyways and is only one piece, it isn't necessary and doesn't provide much benefit. I only store mine in the box because I have so much lingerie, that it is easier to find what I want when it has a picture of the item on the box.
Experience
*Sizing: One size fits most, runs a little small
Coquette's products from the Signature Collection are cheaper in price and usually one size fits most. They sometimes run smaller than the measurements but are decent one size. While this might fit a lot of people, the damn back of the skirt isn't going to sit right. Having said this, watch the hip measurement.
I weigh ~142 pounds (size 7/8); curvy but fit with size 34/36 D breasts. The one size says it should fit a 4-14 dress size, B cup, 34-40" bust, 26-32" waist, 36-42" hips. Everything fit well once I adjusted for the short torso and was done wrestling with the back of the skirt.
My girls fit in the top and I didn't have a problem with the band staying up. This of course will look best on fake breasts because of the complete lack of support, but my gals didn't make me feel self conscious. I really think that size B or smaller breasts will look a bit odd. It will probably make your breasts look smaller. C is probably the best.
I liked that because the bra is bust-less it allowed the middle panel to lay flat against my stomach when normally my breasts will cause there to be a few inches of space with this style. The thigh holes were large enough and not uncomfortable. I had to make sure they were on the sides of my vulva otherwise it made for some uncomfortable feelings when I'd walk. Vagina wedgies are NOT fun.
You don't have to worry about the waist since...there isn't one! You do have to worry about the hips. Mine are about 38". The band that holds up the skirt fit fine and didn't dig in, but it was obvious that the design wasn't meant to be stretched much since it caused the skirt to rol a bit in the back. It didn't bother me, but if you want this to fit perfectly, you'll need smaller hips or maybe a flatter butt.
MY RE-DONE SIZING CHART:
Dress: 4-10
Cup: C (smaller-might not hold up the straps, larger might not fit-could cut in)
Band: 34-42"
Waist: Doesn't need to be worried about
Hips: 35-37"

*Conclusion: 4 Stars
My boyfriend LOVED this one. His favorite part? That little tie! Yea, I was surprised by that one too. Second favorite part? He liked that my breasts and other naughty bits were easy access. I was pleased with this as well. I was only slightly annoyed with having to adjust the crotch and the back of the skirt. It was easy enough to put on, wash, and store.
What to pair with this?:
I've selected some things to make this a complete school girl outfit.
Stockings:
Opaque white thigh highs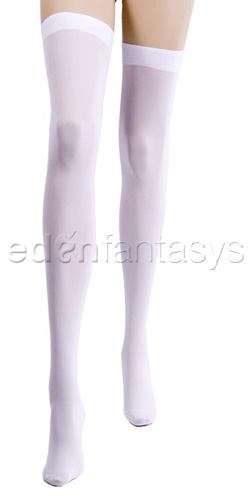 White heels: I've got
these
Kiss 209s in a handful of colors. White would be perfect for this.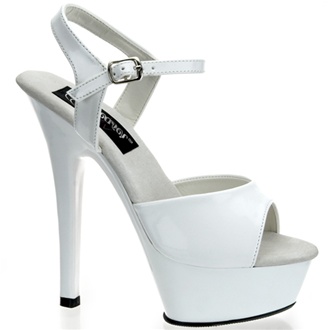 Follow-up commentary
3 months after original review
This costume has fallen to the bottom of the lingerie drawer, but it has not been forgotten. It's just not a piece that I feel like wearing everyday and it's not something I'd ever try to wear under clothes or to sleep it. Because of this, it will only get worn a few times a year, but it was still a great purchase. It's holding up well.
This content is the opinion of the submitting contributor and is not endorsed by EdenFantasys.com

Thank you for viewing
School girl teddy
– sexy costume review page!