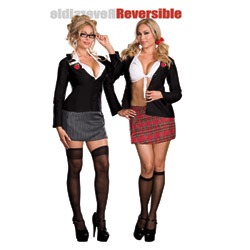 Trouble at School Reversible Costume
Costume by DreamGirl
Hot For Teacher AND Student!
Babes on a budget will appreciate this two costumes in one teacher/student set! You get a lot of items for the price, and the outfit itself will stop traffic!
Published:
Pros:
Lots of pieces to play with, great skirt, reversible!
Cons:
Some of the accessories are a bit lame, jacket sleeves are huge.
The "Trouble at School" set is one of many reversible costumes made by Dreamgirl. This set offers a lot of options to play with! First, the skirt is obviously reversible, as you can see in the photo, letting you be the teacher or school girl as the mood strikes. You also get the black button-down jacket, stretchy tie-front top, apple pin, hair bows, name tag and glasses. Score! Oddly, the pictured thigh-highs are not included. It seems a little strange to me that they went into so much detail with the other accessories, but couldn't be bothered to toss in some stockings, too? No big deal, as I have a giant box of stockings thanks to EF, but including some kind of stockings would have made this a totally complete set.
So, the first thing you look at when ordering lingerie is the size, right? I was trying to decide between the Large and XL, but when I pulled up the size chart for DreamGirl- huh! No XL listed! Thankfully there is a
chart
on DreamGirl's site. According to the chart, Large should fit size 10-14, C/D cup, 36-38" bust, 29-31" waist, 38-40" hips, 140-160 lbs. (Note- this is slightly different from the measurements on the EdenFantasys DreamGirl size chart) XL should fit size 14-16, D/E cup, 38-40" bust, 31-33" waist, 40-42" hips,160-180 lbs. According to the size chart, I am a total idiot for ordering XL instead of Large, since all of my measurements except the waist fit large better (size 11/12, 36-38 D, 33" waist, 39" hips, 155 lbs). Still, I went with the XL, since I was worried about the skirt being too small, especially since it is my favorite part of the set. Plus, I'm pretty handy with a sewing machine, so it would be easy to take in anything that's too big (much easier than working with a set that's too small). The set is also available in sizes ranging from small up to 3X/4X-- such a nice change from costumes that only come in one size/plus size! (I am NOT a fan of the fact that EF charges $2 extra for the plus sizes, though. I know a lot of stores do this, but given that there are only a couple of extra inches of fabric in the larger sizes, I find it a bit offensive.)
I'll start with the skirt, since it's the reversible part and thus kind of the star of the show here. It's made of and measures about 15" long, 41" wide at the waist when laid flat. With allowance for velcro, this will fit up to 39-40", but keep in mind it is worn more on your hips than your waist. Since it's reversible, there is no care tag sewn in, but a small cardboard one is attached (like a regular price tag on clothes) that suggests hand wash and line dry. One side is red plaid, the other is black with white pinstripes. It comes with a big safety pin-style pin that you can use as an extra embellishment.
I REALLY like the skirt. It fastens via velcro, and fit me almost perfectly. My *only* complaint is that since the velcro is on the striped side, you see a little bit of the red plaid peeking through if you wear it with stripes showing. Even though I'm pretty tall (5'11") it's on the border of being long enough for me to wear out as a normal skirt comfortably.
The "shirt" is made of stretchy white poly-spandex blend (89% polyester, 11% spandex) and is designed to tie at your bust. You can't really tell from the photo, but the top is a not a halter-style as I expected, there are arm holes and a fairly covered back. As far as bust support goes, there isn't much, but you can get a little if you tie it tight enough. My boobs did fit in the shirt nicely, and since it's stretchy larger chests could easily fit, too. The fabric is pretty see-through, especially if you have it stretched at all, which is awesome for the bedroom, but means you may want to wear a bra underneath if you're using this for a costume party. The lapels would NOT stay in place, and kept falling over, so you might want to use some double-stick tape there. Since it ties to close, you have a lot of room to fit larger or smaller sizes. Of course, due to the nature of the set, you can always swap this out for a different shirt if it doesn't work for you, or just wear a cute bra beneath the jacket.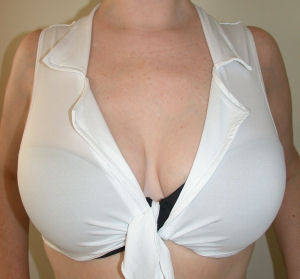 It's cuter without a bra, of course, but I'd rather not post my nipples all over the internet.
Experience
The jacket is black, and other than the cheap costumey material looks a lot like a regular suit jacket. The body of it fit me nicely, but the arms are ridiculous, way too long (and I have long arms!) and baggy. Of course, if you're using this in the bedroom, the jacket probably isn't going to be on long, anyway, so the fit isn't that big of a deal! (Side note- try as I might, I couldn't make the collar/lapels of the shirt stick out of the jacket the way they do in the pic!) I wish it had been made from a softer, maybe even stretchy material, it would have been much sexier. (It's 100% polyester) One thing this has going for it is that since it's a plain black jacket, you could really pair it with all kinds of costumes! This plus the striped side of the skirt plus a cute fedora would make a decent mobster costume, for example.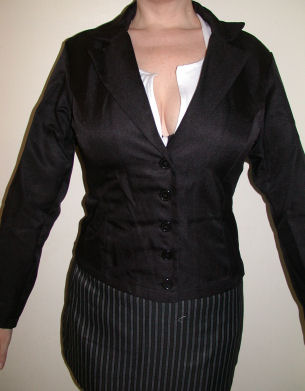 Comically large jacket arms.
I love that the set comes with so many fun accessories, but I was kind of let down by their quality.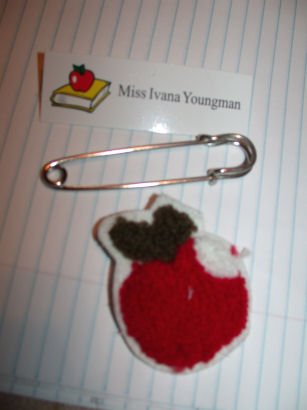 The glasses are the best accessory of the set! They're a very simple style, so they'll go with other costumes, but they have NO lenses, which was kind of a bummer. (I expected clear plastic lenses.) They're fairly cheap plastic, kind of on par with sunglasses you'd get for $5 at a discount store. Still, they're cute!
The apple pin was a big disappointment. From the picture I thought it was plastic, maybe kind of sparkly even? It's not- it's made of fabric, very folksy-crafty looking, like the needlework you'd see at a county fair. Mine had a big white felt border around the apple, which is totally different from what you see in the photo. They could have done SO much beter with this!
The name tag is made of thin cardboard that reminds me of those tags you buy for Christmas presents. There's a pin on the back to fasten it to the jacket with. It's a cute addition to the outfit, but since it's so flimsy I wouldn't count on getting to use it more than once or twice, unless you're super careful.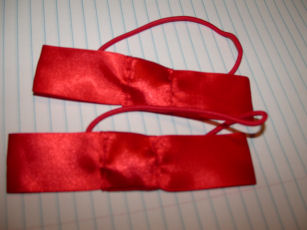 Two red hair bows are also included, and they added to my accessory disappointment. How hard is it to get hair bows right? But as you can see from the photo above, they're very rectangular. The bows in the photos are an actual bow-shape, but these are just odd. A little work with a needle and thread could probably save them, though. The elastics they're on are nice and sturdy, and should hold up pretty well over time.
The set comes packaged in a sturdy plastic bag on a hanger. There are plastic snaps on the bag, so you can use it to store the costume in if you want.
Even though there are a few flaws in the set, I'm still giving it 5 stars because it's such a great value for $50, and the things that are troublesome are minor.
This product was provided at a discounted price in exchange for an unbiased review. This review is in compliance with the FTC guidelines.

Thank you for viewing
Trouble at School Reversible Costume
review page!