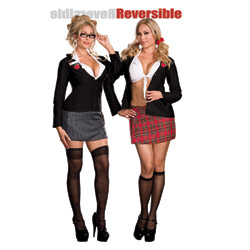 Trouble at School Reversible Costume
Costume by DreamGirl
Trouble with this reversible School Girl costume.
I love that you get the whole school girl and then secretary look all in one. This is very sexy however not really that impressive. Things could go for some improvement.
Published:
Pros:
2 for 1 deal and super sexy.
Cons:
Skirt Velcros shut, then there is a big safety pin to hold it shut. White top not for large bust.
Trouble at School Reversible Costume is a set. Included in this set is:
1 Reversible skirt with pin (giant safety pin)
1 Button front Jacket (Black Jacket)
1 Tie front Top (White top)
1 " Teacher Miss Ivanna Youngman" Name badge
1 Apple pin
1 pair of hair bows
1 pair of eyeglasses
The Reversible skirt is a skirt with no waist band that is completely split at one side. This is held together by Velcro. Then it comes with a large safety pin to hold the rest of it together. Since this is held together by Velcro, the skirt is not adjustable in the waist. One side of this skirt is a grayish blue color with pinstripes. This side creates more of the secretary, teacher, or librarian look. The other side is red, green, yellow, blue, black, and white. There is no tag or instructions inside to tell you how to wash this or telling you what the material is. Which is really disappointing to someone like me who really does not know fabric, let alone how to maintain certain fabrics. If I had to guess since this is a rough and scratchy material, I would have to guess it is polyester. Since there is not instructions I recommend hand washing only and hang drying. I would not put this in the dryer since the heat may damage the Velcro. You would not want that since this is what keeps the skirt together. If you choose not to use the safety pin then you have a very open slit, however who wants a huge safety pin on their side either. This to me is a major flaw in design. I mean why would you not just put in an elastic waist band and be all set?
The tie front top or what I call the white top. This is a white top with two straps at the midpoint of the breast to tie together. There is a collar to go around this top also. This is designed to show off cleavage and show off your stomach. This cuts off right under your bra line. This is really adjustable around. Unfortunately this is only available on one size fits all, so large and small breast will find their own issues with this top. There is an elastic band around it, then you can adjust the ties to your liking. You can wear this with or without a bra. However this provides no support. The tag says this is 89% polyester and 11% spandex. This is only recommended to be hand washed and lined dried. This is silky and very stretchy material.
The button front jacket/black jacket is a long sleeve button up jacket. There are 5 large black buttons. This is made of 100% polyester. This is a rough and scratchy feeling material that is heavy and thick. The tag says to hand wash in cold water and line dry only. This comes in the size you get, and will vary person to person on how it fits.
There are many props with this costume. There is a large metal safety pin, a fuzzy apple pin, 2 hair ties with red bows on them, a card broad name tag, and a pair of plastic glasses. These props are really silly, they are a cute addition, however not really something to use regularly.
This comes package just like a Halloween costume. I store this on a hanger in my closet. This is how I would recommend storing it.
Overall this is still cute, and worth the four star rating. I do think the images are misleading on the product page.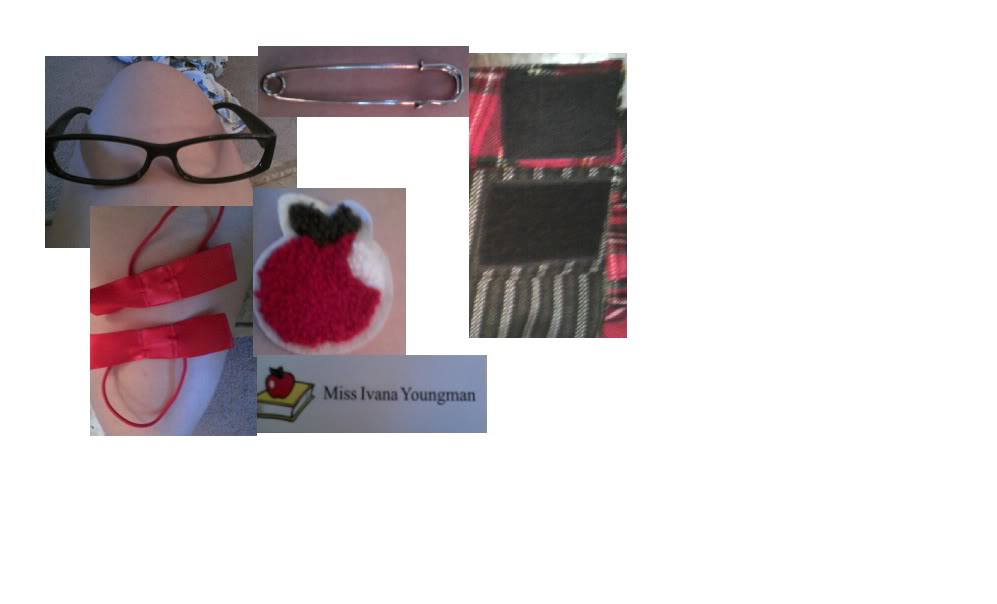 Experience
My first look at Trouble at School Reversible Costume, I knew I wanted it. However now that I received it I am disappointed. The images on the product page really made this costume look better than it is. In fact if there would have been true images of this costume I may not even of gotten it.

Sizing with this skirt can really not be adjusted. Since the Velcro is only in one spot and so big this can not be adjusted. So either this fits you or falls off of you. I ordered a 1x/2x, I have 40" hips and 35" waist. If I pull this up to my waist then there is a lot of room and it slides down. I would say there is enough room for about 10" more. When this is down lower on my hips there is only about enough room for 5". I think the sizing is pretty close to accurate since it says max of 48", if you are at the higher end of the scale I would go up one size. The length of the skirt varies on how high up you wear this. If you wear it at the waist than naturally this is going to be short, I find that it is short enough that my booty just hangs out the bottom at this length. When I wear it at my hips this skirt is about mid thigh on me. I am short so this maybe shorter on someone with longer legs.

The problem with this white top is that if you have big bust the cupping does not cover your breasts. I have a 40DDD, naturally thought this would not fit very well. However this did fit, just shows more cleavage and does not fit well length wise. I find it best to wear a bra with this top.

The black jacket on me is not very form fitting and on the short side. It is short because of my bust size. I find this really thick and hot to wear. So I refuse to wear it.
Follow-up commentary
3 months after original review
I was disappointed in this costume. I did not wear it very many times. There was no damage done to the material, even after some washing. Some of the props did end up broken, but those are replaceable. I did end up giving this costume to a friend, she likes it better than I did, but still thinks that have only on small piece of Velcro and a large safety pin to hold the skirt together, is a major flaw.

This product was provided at a discounted price in exchange for an unbiased review. This review is in compliance with the FTC guidelines.

Thank you for viewing
Trouble at School Reversible Costume
review page!