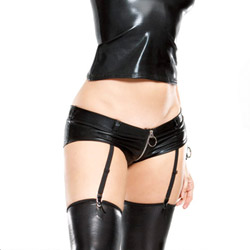 Wet look booty shorts
Shorts
by Coquette
Hottie Hot Pants - does a booty good!
How can anyone not love a sexy, well made pair of booty shorts with an easy access zipper in them?
Published:
Pros
Super sexy, well made, great features! Extra garter straps included, nice presentation.
Cons
Runs slightly large, not shiny "wet" but does have a great sheen.
I have a great rear end and I'm not ashamed to admit it. I work hard for it, it's mine, I sit on it, I love it. Every now and then I feel it's worthy of pampering and quite frankly there's nothing hotter than a great booty in a pair of shiny black shorts with a front-to-back crotch zipper!
It's obvious these sexy
Wet Look Booty Shorts
were bestowed upon the human race by the gods of multi-tasking fetish wear and I am completely in love with Coquette's lascivious design concepts.
Hey, your ass is shining!
Coquette's Wet Look Booty Shorts are a blend of washable nylon/spandex. The finish doesn't necessarily make them look "wet" though they do have a light reflecting sheen to them. There is a full length zipper that begins at the waistline and runs the length of the crotch to the top of your butt crack, in other words, very easy access. The polished metal zipper is well constructed, unzips smoothly and has a silver dollar sized pull ring on the end. The rough edges of the zipper are covered by a soft flap of material to keep it from cutting into your ..... ~ ordinarily I use sailor slang, today I'm practicing tact. These pants are made of light breathable material and the insert that covers the crotch doesn't feel like cotton, rather a brushed nylon poly blend. If you DO sweat, I assure you, it won't be because of the fabric in these pants. There are also belt loops on these shorts. Why? I have no idea; I can do it with or without them.
Ordinarily I wear a size three so I ordered the small and I almost wish an x-small was available. The small runs a little large so these shorts didn't cling as much as typical spandex booty shorts, at least not on me. The edges gap out ever so slightly, but it's still just as sexy. The tiny gap actually raises the bar making them "peep" black wet look zippered booty shorts – a far superior breed of pants.
These shorts also include four removable garter clip/straps. The garter clips are a combination of metal and soft plastic and they work better than several high end Victoria's Secret clips I own. I've worn these shorts with and without thigh high fishnets/fencenets and they even look great with full length fishnets under them, the downside to full fishnets? They completely defeat the purpose of unzipping and going at it.
Another thing worth mentioning, the manufacturer's packaging is fairly impressive. The hanger these came on is still in my closet along with the tag. I can't bring myself to throw away a cute hanger with sexy red designs on it, or a high quality tag that looks like a glossy mini fetish magazine! Perhaps Eden loves on us a bit more when we order their super sexy pants versus the plain ones, but I received these wrapped in red gift tissue as well. A+ for presentation!
If you aren't getting these for yourself they would make a perfect gift, even as a stand alone purchase. As with several other great products I have ordered, I would have gladly paid more for these simply to know I can have them, wear them, love them and sit on them (whenever I need that extra pampering).
Coquette - making it all too easy to be sleazy...
Hands down, I am completely comfortable recommending these for anyone who enjoys a bit of booty romance. The quality is outstanding (10+ successful wash/dry cycles and counting), the durability is impressive, the zipper is reliable and for gosh sakes LOOK AT THEM! They're SEXY HOT pants!
Follow-up commentary
7 months after original review
These booty shorts have continued to hold up well to washing and use. They have held true to their shape and the zipper still works properly while at the same time remaining shiny (no rusting or discoloration).

The garter straps are holding strong as well. I still havent used the belt loops yet, but they do make these shorts look nicer.
This product was provided free of charge to the reviewer. This review is in compliance with the FTC guidelines.
Thank you for viewing
Wet look booty shorts
review page!