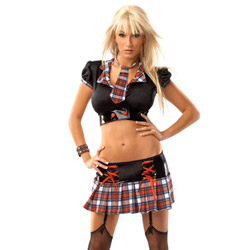 Darque School Girl
Costume
by Coquette
How Darque Are You?
This is a five star outfit. Not only is it hardcore, it's cute! This is a durable, beautiful garment that will probably last you a super long time, and that you and your partner will adore! Not only can you wear it in sexy ways, you can also wear the skirt in public with other outfits, and use the fishnet and garters as well with other outfits. This is a real deal for the money, and it was worth it for me. I love this outfit!
Published:
Pros
High quality materials made to fit well for almost any size. Goth touch!
Cons
Laundry tag only on the top of this outfit.
I was so excited about this outfit! I paced and paced waiting for the mail, and when it finally arrived, I was ecstatic! This outfit is adorable! I've wanted it for so long and finally it's mine! YES! Don't tell my husband, but he is going to love this! He's got a school girl fetish, and this is uber sexy.

I'll start from top to bottom. I ordered the Medium/Large school girl, and not only was it a perfect fit, it was comfortable and stretchable enough to fit my large 38C breasts- which are almost D's and are full of breast milk (I have an infant at home). The peek-a-boo bra, that looks like a bikini like bra, shows my nipples a little when I open the little flap-like opening, and this bra is comfortable, soft, and has a vinyl like material that is sweaty when it's hot, but cool when it's cool. I love the material-very nice spandex helps this outfit fit well, for many sizes in one outfit size, with vinyl and nylon material. It's shiny black vinyl, and red plaid, and there are cute little red bows everywhere to add a little girly effect. It's lovely! The bra, by the way, is a smaller triangle about as big as your hand-if it's a medium sized hand, and will cover your breasts, but will also leave a bit out if they are very large breasts, so it's a great tease bonus.

The panties are crotchless, and also have a peek-a-boo slit at the top like the bra does-They're a larger panty, for medium sized bottoms, and there is plenty of room in the crotchless space for any position imaginable. Doggy style, anal, missionary-These are so flexible, you can try anything! Every garment has a little tag with the size as well, but doesn't have laundry instructions.

The skirt is my favorite part. It's comfortable, stretchy, it fits perfectly! And if you order it in the wrong size-if the size is too big-It could easily be safety pinned. I wouldn't recommend sewing it smaller/hemming it though, because of the vinyl. But I suppose this could happen if tried. The plaid on the skirt is so pretty, and this skirt is really made well. The red bows coming down the two front sides of it, in front of the hips, are a bit in the corset style, and they are really a nice touch. It looks like the perfect skirt for a Goth girl like me-I won't just wear this as a costume-I'll wear it every day that I can! It's also got Velcro up at the top on the back of the skirt for easy dressing.

The top for this outfit is adorable! It opens from the front with Velcro that holds well and is easy to use. The tag inside of the top does have laundry instructions, although it's the only tag for them in the entire outfit! (It might have been nicer if they all had laundry tags somewhere) The sleeves are a bit tight, but are pleated, and nicely sewn. Someone went to a lot of work to design this outfit, and they did an excellent job! The top perfectly accommodates my large breasts, and yet is very low cut so I may need more support if I were wearing just the top-Although the velcro can also be tightened to make it fit better, to larger or smaller chests. This is a very convenient addition that makes this outfit super high quality!

A little plaid tie comes with this outfit, with a simple collar-like stretchable spandex band that holds it around your neck. It's very stretchy and will probably go over an average head. This outfit also came with fishnet stockings, really nice black stockings, and they match well. They also will fit almost all sizes of legs and are thigh highs. They're great. There's something about fishnet that I just love! It's got that bad girl touch.

Last but not least, in a little baggy I found the garters that go with the stockings and hold them to the crotchless panties under the skirt. There are four of them, to hook to the front and to the back. These are spandex as well and not only are very durable, but are classy as well. They don't have to just be used for this outfit! They'll stretch to about over a foot and a few inches long, but will get tighter as they stretch.

Here is what you will find on the black laundry tag with Coquette in red letters. This outfit is 20% spandex, exclusive of the trim on it. I don't know if that is useful, but there is always someone curious.

You should also hand wash this outfit.
This product was provided at a discounted price in exchange for an unbiased review. This review is in compliance with the FTC guidelines.
Thank you for viewing
Darque School Girl
– costume review page!