I am 5'6 and This Is Not A Dress On Me
I'm usually a sucker for animal print, and I usually love DreamGirl pieces... but this is just... no. It's way too short to be considered a dress on me. The thin material shows every flabby part of my body, the chest area looks ridiculous, The floppy boning pieces are useless, and the material is way shinier than I had expected. If you're shorter and want to give this a shot, maybe it'll work for you. For me though, I probably won't wear it again.
Published:
Pros:
silicone band to hold the dress up, cute garters
Cons:
way too short to be a dress on me, shinier than stock photo, boning is awkward, thin material
The Animalistique Leopard Corset Dress and Thong by DreamGirl is available in sizes S-XL. I purchased the size XL.
The outfit arrived on a DreamGirl plastic hanger, surrounded by plastic. The plastic did not have any photos or text on it. I don't keep the plastic coverings, but I suppose you could if you wanted to. I usually just keep my outfits on the hangers they come with. Attached to the dress was a cardboard tag that had a photo of a model wearing the outfit, the company name, size, and company website.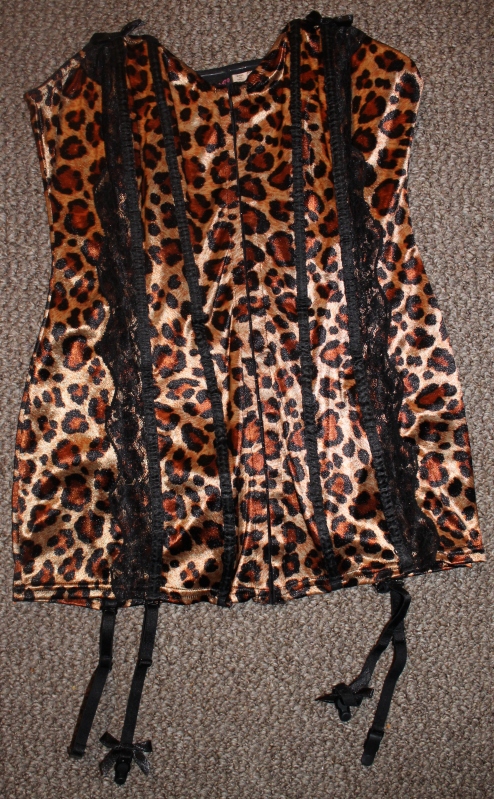 The dress is 93% nylon and 7% spandex. The thong is 92% nylon and 8% spandex. Both the dress and the thong are extremely stretchy.
I've taken measurements of the outfit laying flat, unstretched. If you need additional measurements, please feel free to send me a message and I can get them for you.
Thong
Waistband unstretched: 15 ¼ inches
Waistband stretched as much as I could: 31 inches
Widest area of material that covers your front area: 5 inches
Liner: 4 ½ inches
Dress
Chest (armpit to armpit): 14 ½ inches
Width of bottom of dress: 18 inches
Length (armpit to bottom of dress): 17 ½ inches
Adjustable, Detachable Straps
Garter straps length: 5 ½- 8 ¾ inches
Shoulder straps length: 9 ½- 18 inches
The dress does up down the centre front with hook and eye closures. There is only one row of eye closures, with 25 hook and eyes. There are 6 plastic boning pieces in the dress; 4 down the front, and 2 in the back. The boning is flexible and does not do any shaping at all. The boning also does not go down very far in the dress. The two boning pieces closest to the hook and eye closure centre are 10 inches in length, the two outside of these pieces are 12 inches in length, and the 2 boning pieces in the back are 8 ½ inches in length. The boning pieces that are 12 inches each (the outer boning pieces on the front of the dress) have cute little bows on the top of them.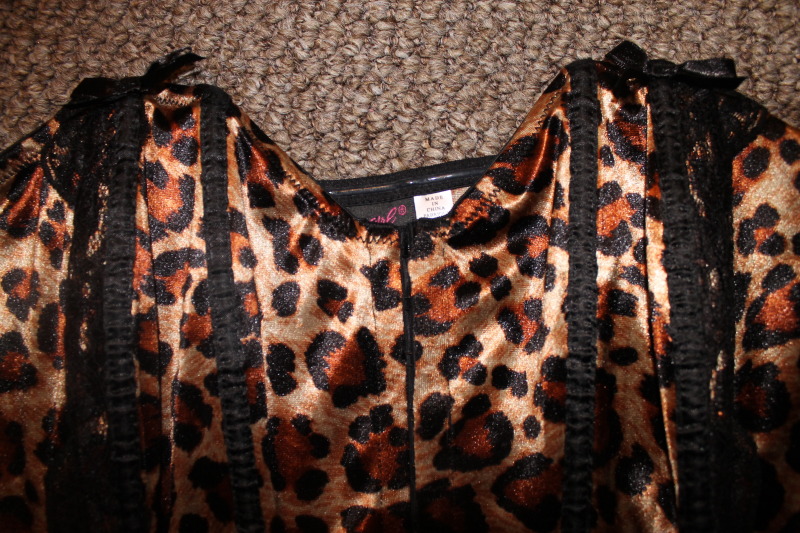 The material of the dress is ridiculously thin. Any curvy areas of your body will be seen in this dress. It doesn't hide my belly; it just makes it stand out even more. Also, if you have erect nipples, or any nipple jewellery, it will show through the material. There is no padding or underwire in the chest area of the dress. You can avoid this by wearing nipple covers with the outfit.
Both the garter straps and shoulder straps are detachable. The garter straps are really cute to this dress. They have little bows on them. You can see them in the photo below. The dress does not come with stockings, but you could pair the dress with any stockings you may already have. If you choose not to wear the shoulder straps, the dress will stay put because there is a thin silicone elastic trim inside of the top of the dress to hold it up.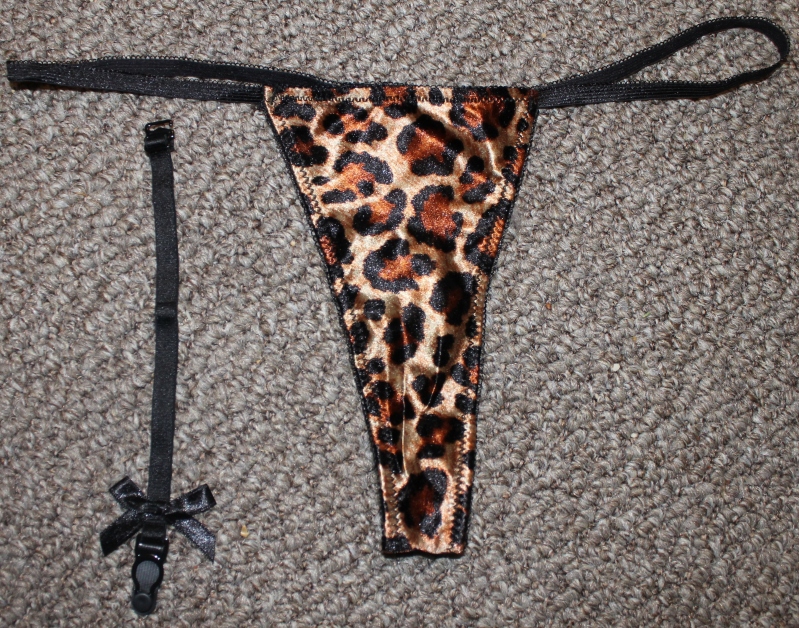 The thong fit well and was comfortable on. The thong has a liner in it.
The material did not bother my skin at all while I was wearing the dress. I did find the boning to be pretty useless in the dress. The boning is far too flimsy to do anything; it goes over the chest, and not down the entire dress. I feel that the dress could have done without the boning. The material below the boning also likes to creep up while you are wearing it. You could avoid this by wearing the garters with a pair of stockings.
The care tag on the dress states that it should be dry cleaned only. The thong tag states that it can be hand washed in cold water and line dried.
As for my experience, it really wasn't good. When I had first seen this dress, I was so excited. I thought it was going to fit me like another corset dress I had
reviewed
last year. I expected it to be short, but at least cover my bum. I'm 5'6 in height, and this "dress" is more like a long top on me. It does not cover my bum or crotch when I tried it on without pants underneath. After I took the pictures, I realized that the model on the product page isn't wearing the shoulder straps and has the dress a bit lower. I tried the dress without the straps and pulled the dress a bit lower but it only added an inch or two to the length; my private areas were still exposed!
Experience
...continued
The chest part of this dress does nothing for me. I wear a C38 bra and while it fit me fine, it doesn't sit on my chest like it does the models. Either the model has fake boobs, or she was blessed with a perfect chest. Either way, it doesn't look like that on me.
Sadly, my favourite part of this outfit is the thong. While the dress may make a nice outfit for someone much shorter than me, or as a bedroom piece, I probably won't wear it again. I could wear it in the bedroom, but I don't feel pretty in it at all. It fits awkwardly, shows all my chub, doesn't cover my crotch, and my tits look ridiculous. Also, it's much shinier in real life compared to the stock photo. Below are a few photos of me wearing the outfit with a pair of jeans.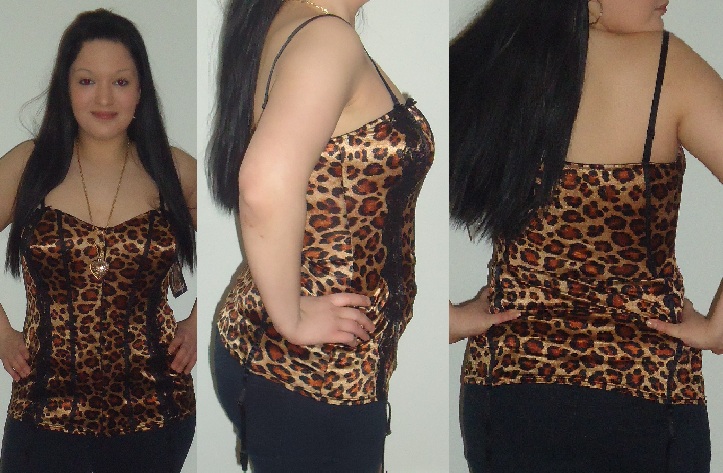 I've decided to give this outfit a 2 out of 5 for the reasons I had stated above. It didn't meet my expectations at all. This could possibly work for someone, but absolutely not for me.
Follow-up commentary
7 months after original review
I actually gave this to my mom yesterday. I was going through all the pieces that I own that don't fit me like I wanted them to and this was one of them. My mom will get much more use out of it. If you're shorter in height, you might just like the outfit but it was too short for me and what I wanted to do with it.
This content is the opinion of the submitting contributor and is not endorsed by EdenFantasys.com

Thank you for viewing
Animalistique leopard corset dress and thong
review page!