My New Year Resolution: Fit Better In This Dress!
This is a beautiful dress by DreamGirl! It is a short dress though, so if you are taller than 5'6 (my height), your bum cheeks will probably not be covered by the dress. Also, if you have a larger cup size than C (my size), there may not be any room for most of your chest. Even though I had to literally squeeze myself into this dress, I still love it, and it will motivate me to start getting in shape for the new year!
Published:
Pros:
gorgeous, quality, price, adjustable, detachable pieces, flattering.
Cons:
my chest is too large
When I seen this corset dress, I immediately fell in love with it. It's a beautiful outfit that I consider to be sexy and still have class. I ordered the largest size available, which is size 38. The dress also comes in sizes 32, 34, and 36. The one I fell in love with is the red dress, but it is also available in black.
The dress and matching thong arrived folded neatly in hot pink tissue paper. Attached to the dress was a small plastic package that held the stockings that are included. There was no other packaging, and the packaging holding the stockings was clear plastic with nothing on it (text, photos, etc).
I typically wear a size XL comfortably. When I held the dress up in front of me, I was almost certain that this dress would not fit my body. Luckily, with enough "sucking in", and adjusting the lace up part, I squeezed myself in. I'll get into my personal experience with it a bit later though.
The dress and panties are made of 100% polyester, and the dress has metal hardware for the hook and eye closures. The dress material does have a bit of stretch to it. The straps and garters are detachable, and have plastic pieces that attach/detach the straps/garters from the dress. There is boning in the dress from the top of the dress down to the waist, as well as on the back. There are ten pieces of boning in total. The boning is plastic and is a bit flexible. Even though the boning is plastic, it did a great job at holding everything in at my stomach.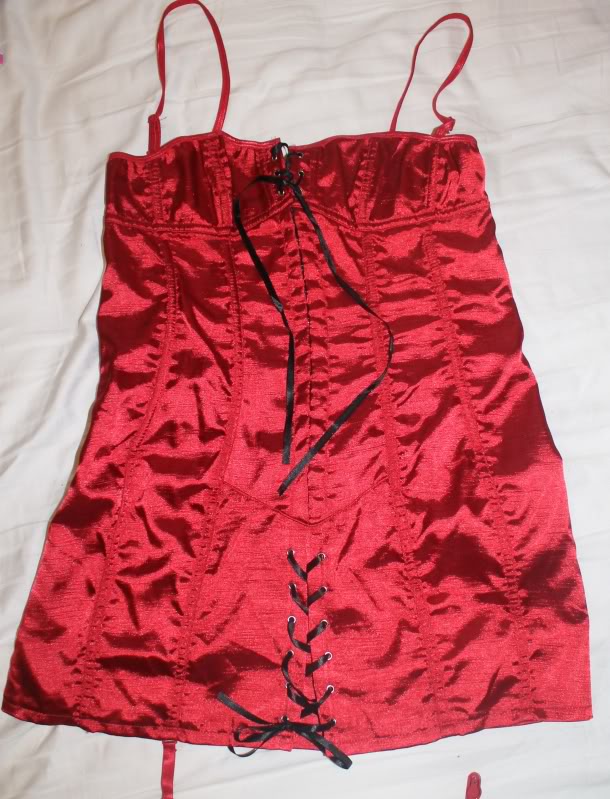 I've taken measurements of the dress lying flat, and unstretched:
(if you need additional measurements, feel free to send me a message and I can get those for you)
Underneath chest length: 14 ½ inches
Top of hip length (where boning stops): 18 ½ inches
Bottom of dress length: 20 ½ inches
Length of entire dress (from top of dress to bottom): 22 inches
Adjustable straps (which are detachable): 9 ½ inches adjustable up to 18 inches
Chest section (area your chest sits in): longest section 4 inches, shortest section 2 ½ inches
Entire length of lace that fastens the chest area: 38 ½ inches
So the dress is done up at the chest area with lace that fastens through three grommets (holes). Underneath this, there are12 hook and eye closures. There is only own row of hooks, so this area is not adjustable (to make it tighter or looser). The lace-up section at the bottom of the dress is just for show, so it will not adjust the size of the dress if you tighten or loosen the lace. The back of the dress has a laced section, which is 2 inches wide and 10 inches long. The lace in this section can be tied to make the dress tighter.
The garters are detachable, and there should be four included. I only received three, but I assume that was a mistake in shipping. Two garters go in the back, and two in the front. They attach to the stocking with a rubber piece that links into a plastic piece. I've taken a photo to show this, since it'd be easier to see then to read me explain.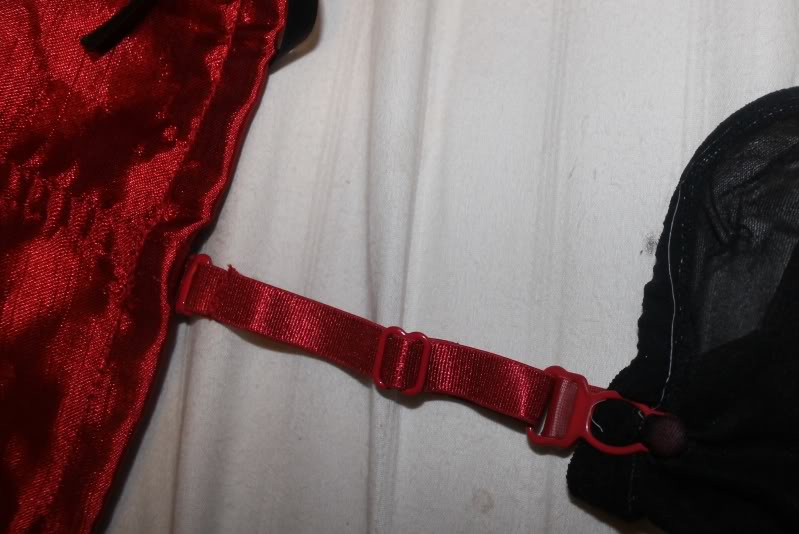 The thong that was included does not fit me. The part that should be covering my entire front area, only covers about half of it. The nylon stockings that are included are basic and simple. I will probably find a nicer pair of stockings to wear with this dress.
There is no padding or underwire in the chest. I am a C cup, and I found that my chest was far too large for this dress. I would be unable to wear this without the straps holding the chest area up. You'll be able to see it in the photos below. Also, since I only received three garters, I only attached the ones in the front. With all four garters on the dress, it would have not crept up as much as it had on me. Other than the outfit being a bit too tight, the material felt very comfortable on my skin.
Experience
..continued
I found the dress to be a bit too short for my personal taste. I'm 5'6 and if I were to bend over, my butt cheeks would be exposed. I've also never worn garters before, so this was a completely new experience for me. If I ever do wear this out, I will probably wear it with a black shrug, or a cardigan because I don't usually wear items that show this much skin in public. My partner loves it on me though!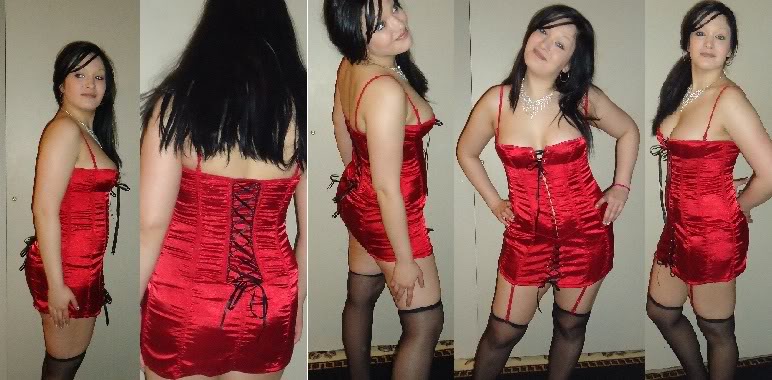 The care instructions on the tag of the dress and thong say to hand wash the items in cold water and line dry. I would suggest storing this dress by hanging it up in a closet to keep it from losing any shape.
I rate this dress a 5 out of 5, simple because it's gorgeous and great quality. I feel that it would fit size large and below much better than my size (XL). Also, it would fit those with a smaller chest much more comfortably.
Follow-up commentary
8 months after original review
The dress has held up well but sadly, I never did fulfil my new year resolution. In fact, I gained weight. The dress no longer fits me, which really saddens me. It's still absolutely beautiful though. I wish it came in larger sizes so I could still wear the outfit. I would still recommend it to others. I just love it and hope that one day I can fit into it again.
This product was provided free of charge to the reviewer. This review is in compliance with the FTC guidelines.

Thank you for viewing
Corset dress with stockings
– gartered mini dress review page!