Sexy Stunna Sista
This super sexy, versatile dress from Coquette may very well be THE hottest number I own. It's modest enough to wear out, anywhere, save for family functions, and sexy enough that I don't have to worry about turning heads all night. It's soft and cleans up easily, though sweat and other splashes on the material will show rather glaringly until washed off. Still, it's a very unique design and certainly shows off what I've got. I love it!
Published:
Pros:
Multiple ways to wear
Very sexy
Comfortable
Well-made
Cons:
No breast support
May be short for some
Needs a slip worn underneath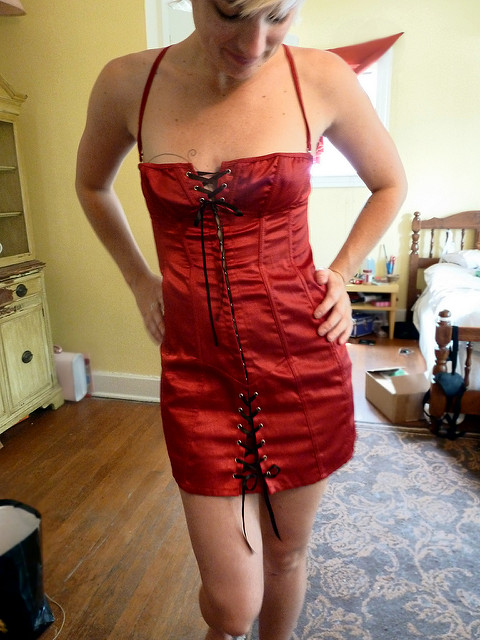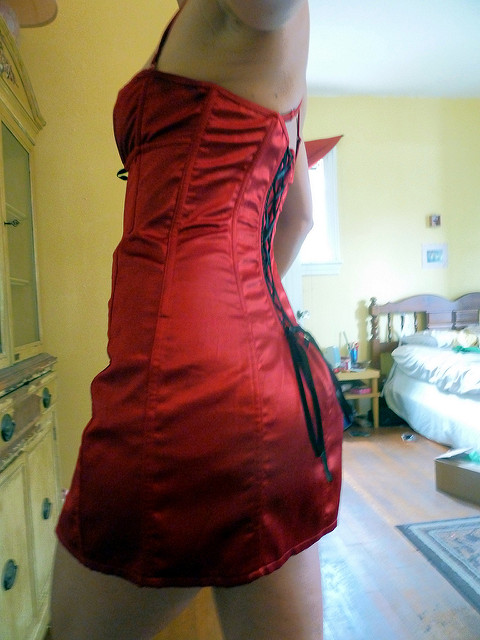 Coquette has once again made me feel like an absolute 'stunna.' As soon as I slipped this dress on, I felt sexy, chic, and ready to paint the town... well, red! This slick little number has me turning heads whenever I wear it. I feel confident, comfortable, and ready to take on the world in this thing! I'm thinking of making it my permanent outfit - like a superhero.
Fit
As I wear a 34B bra, I ordered the size 34 in this, and was pleasantly surprised that it fit me perfectly. Nowhere is this dress too tight or too loose - it's just right! My measurements are as follows: Size 7 pants, 130 lbs, 5'6", 34" chest, 30" waist and 35" hips. The fabric does have a bit of stretch, but not much. It's Polyester, not Spandex, and does feature light plastic boning in the length of the dress. Those with large breasts or those who are considered tall will want to steer clear of this dress - it will likely not hold your breasts, as the cups are merely demi, and the length is 'mini.' Sorry!
A bit of adjusting is permitted here - there are adjustable shoulder straps and a corset-lacing at the bust and in the center at the hem on the front and back. These close with black silky ribbons. They lacing is a little difficult to get started at times, because it's easier to just unlace while taking the dress off. Getting the ribbon back through the metal grommets requires a little bit of patience, and alot of ribbon-end-folding. It's not really much of a hassle, though. To look
this
good, I'll take it!
The breasts can be supported a bit by the included removable straps, or can flow free. If your girls are heading south, you may want to wear a pushup bra with this. Also, the center of the breasts is exposed, so either a strapless bra and/or a slip are going to be paired with this, if you're wanting to stay modest. The cups are demi, and don't cover the full breast. Those who wear cup sizes over a C may want to consider this when purchasing.
The plastic boning doesn't do much for holding in any belly pudge - the body you have is going to be the body folks see with this. Don't expect it to act like a corset, despite the fact that it has similar features. The boning does feel nice when you wear this, however, and creates the illusion of slimming. I
feel
slimmer, as the boning grazes my tummy and lightly presses against it.
The length of this is perfect - super short, but not so much that I'm left self-conscious. If I bend over in this, I still don't have to worry about my goods showing. The risk of panty-flashing can be reduced even further if you wear thigh-highs and the dress-garters included in this set. Your hem will never ride up if it's fastened to your thigh highs by way of sexy red garters.
The removable bra straps can be worn in a variety of ways. You can leave them off and go for a strapless look, wear them as a normal tank top or bra would be worn, or criss-cross them in the back, as I have. See the above photos. This I did in an attempt to boost cleavage. I still didn't have any cleavage. But that wasn't the
dress'
fault.
The thong that came with this was of a similar polyester, but with elastic lacing and straps. It does feature a cotton panty liner. Lying flat, it measure 13.5" unstretched, and I imagine it could fit gals of up to size 9 before digging into the hips much.
The stockings are the same cheap, thin thigh-highs that come with many lingerie sets. I never wear them, but rather keep them on hand in case of pantyhose emergencies. I would wear them on a regular basis, as they come fresh out of the package seeming to have tears or runs in them already. They fit well and are feature a stretchy legband.
Material
This corset dress is made of
Polyester
, which is actually pretty soft here. It is combustible but has a tendency to self-extinguish - good to know, since you're going to be hott as fire in this dress! The fabric resembles silk a bit, but is slightly rougher and the fibers may be felt individually throughout the cloth. Any liquid dribbled on this will leave a temporary mark, as will sweat, so be sure to be near a sink if you're planning on getting active in this. You can rinse or wipe this off easily and let it quickly air-dry.
Experience
(Continued)
The interior of the dress is lined with a soft material that feels similar to felt. This protects you from the boning, and from sweating on the easily-marred exterior.
Care and Maintenance
You can hand-wash this in tepid water with a light detergent. You can iron this, but only at low temperatures. The fabric does have a tendency to wrinkle, so this is good! Keep your iron handy before going out in this dress. I recommend hanging this to try, and hanging in your closet with your other sexy outfits.
I recommend pairing these with these thigh-highs, if you like...
Diamond Net Thigh High by Baci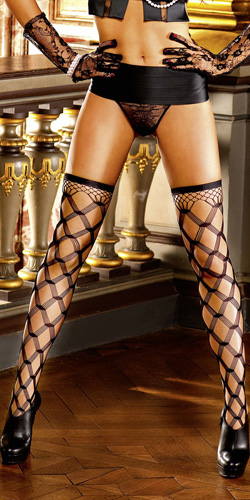 And the following bra, with straps removed, or a similar strapless black bra.
Black Four-Way Convertible Bra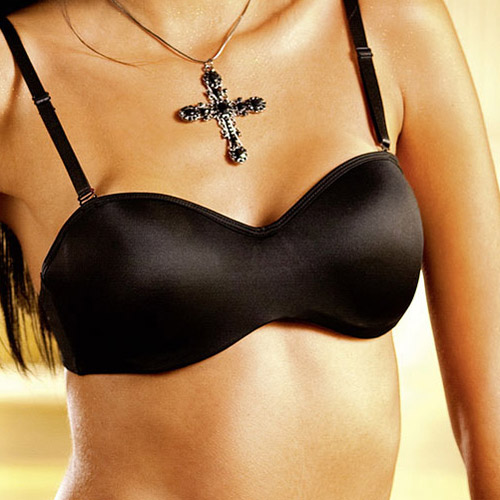 And perhaps this slip, or something similar. My slip was found at Goodwill, but this one is really nice! The ruffles peeking out the bottom will add a really feminine flair.
Barely There Slip by Fantasy Lingerie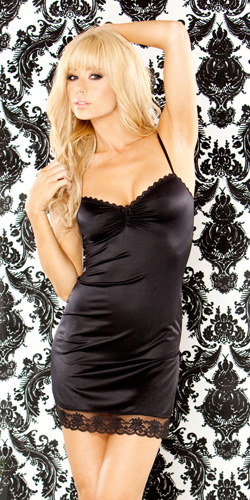 And once I wore these to a dance party with these boots by Pleaser. They weren't comfy at all to dance in, so I wore my thigh highs underneath, knowing that if I took them off, at least I'd still have decorated, non-nakey legs.
Pleaser 5" Thigh Highs in Patent Leather
In the photos above, I'm not wearing any of the accessories I normally do with these. You can see my skin through the gaps in the bustier-like hooks in front. This is remedied by wearing a slip under this. Also, my tits are so wee little that the top seems big. Coupled with a push-up strapless bra, this is no longer an issue either. I look super sexy! I hope you other similarly-framed folks enjoy this too.
This product was provided at a discounted price in exchange for an unbiased review. This review is in compliance with the FTC guidelines.

Thank you for viewing
Corset dress with stockings
– gartered mini dress review page!