I am The Flash, the Fastest Woman Alive
Flashy Hero is a wonderful outfit to show off your super-human speed, or maybe just your nerdy side. It's a great pick if you want something different than the usual costumes you see over and over again. It's decent quality and if you take care of it, it should last you through many adventures.
Published:
Pros:
Nerdy, stretchy material
Cons:
Difficult to stay in place, headband is not that great
The Flashy Hero costume from Espiral is a sexy and unique little piece of lingerie. No doubt if you're interested in this piece, either you or someone you or someone you care about is a fan of The Flash, the DC comic superhero, or of comic books in general. I believe this is a costume that people who are into geek culture are going to love, but those who aren't are going to be more indifferent towards it.
The outfit is one piece and is red with yellow trim. The bottom portion resembles boyshort style underwear and the top fits like a triangle bikini top with a little bit extra to cover up a bit of the torso too. It isn't very supportive on top, so larger chested women may want to pair a red or yellow bra underneath it.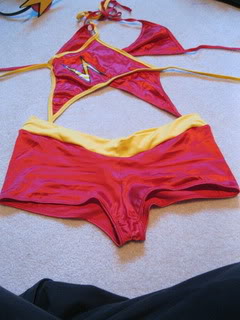 It's not the easiest outfit in the world to get on. It ties like a string bikini would except with a whole lot more strings. There are 7 strings that need to be tied to keep this outfit on. With some double knots it will stay on fairly well, just don't be surprised if you fall out of it some during wear. This is probably going to be a costume that is best kept in the bedroom. It is very skimpy and would be hard to keep on if it was worn to a costume party or comic book event unless you don't plan on moving around a lot. If you do choose to wear this out in public, double sided tape is going to be your best friend because you will definitely need it to secure the top.
I ordered a large and Espiral's size chart it as follows:
Bust - 38"
Waist - 29"
Hips - 38"
I was a little nervous when I bought this because I was a little unsure of the sizing. It can depend on the individual piece whether I can fit a L or XL. When I looked at the size chart I was a little discouraged because my 41.5" hips were too big for even an XL, let alone a large. I loved the outfit so much that I decided to try it anyway, and it was fortunate that I did because it fit great in my hips. I think this would realistically fit up to 43-44" hips, any waist size or band size, and
maybe
a C cup.
Here's a picture of me wearing the outfit. My measurements are 36B-31-41.5 So you can see even though my measurements are outside the size chart, the outfit still works fairly well on me.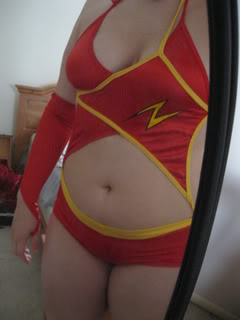 The matierial is made of 97% nylon and 3% elastic. It is very stretchy material. The red material is shiny and the yellow is not. The Flash symbol on the torso is screenprinted on the material and feels a little different from the rest of the piece. It is actually very well sewn together. I haven't found any places on the piece that are coming loose. To care for the material you will want to hand wash it in cold water and let it air dry. The piece is going to be too fragile to survive in the washing machine or dryer, possibly even in a lingerie bag.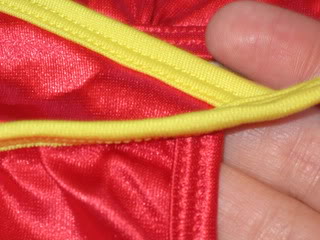 The armbands are made of the same material as the rest of the outfit. They are 16.5" long and for me they fit right above the elbow when it was looped around my thumb. It does tend to slide down if I use my hands or arms too much, but not to the point where they won't stay on.
The headband is made of black plastic and has some Velcro attached to it. The side pieces are made of soft foam and get bent out of shape really easily. The side pieces can get knocked off very easily, so you'll want to avoid messing with them too much while wearing them. The headband it about as comfortable as most headbands, it's not uncomfortable for wearing for a few minutes but it can hurt after longer periods of wear. It's not an awful headband, but it is probably the lowest quality part of the outfit.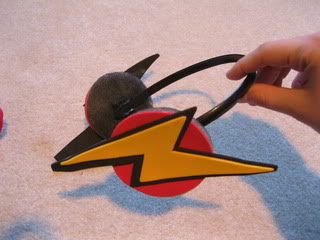 The packaging isn't anything remarkable, and really isn't something I would keep. It is clear plastic with an insert with a picture of a model wearing the costume. It looks similar to the packaging you see for most costumes in Halloween stores. I keep my costume folded in a drawer which works well so far and hasn't caused any wrinkles or creases from doing that.
Experience
I loved this piece. I'm kind of a nerd, so this was a costume that was right up my alley. I was a little concerned that it would look really bad on me since I'm not exactly a petite girl, but actually it turned out okay. It really does look pretty cool once it is on. I added a red cape that I had used for a previous superhero costume I had worn. I know The Flash doesn't wear a cape, but I just don't feel like a superhero unless I am wearing one and this isn't the outfit to wear if you're going for accuracy anyway. It wasn't my partner's favorite of the costumes I have worn for him, especially because he isn't too into comics, but he liked it okay.
Follow-up commentary
3 months after original review
I still think this is a fun outfit. It has held up pretty well after a couple of washings and hasn't started coming apart or anything. I got rid of the headband since it gives me a headache, but otherwise I love this outfit.
This content is the opinion of the submitting contributor and is not endorsed by EdenFantasys.com
Thank you for viewing
Flashy hero
– sexy costume review page!