I don't speak French
The elegant look of the Parisian Provocateur will suit anyone who is in the cleaning mood. The detail, accessories and forgiving fit are pleasing and will make you feel just as sexy as it looks on the model. If you are in the market for a maid outfit look no further, this is the one for you.
Published:
Pros:
Flattering, well made, accessories
Cons:
Sizing runs small
While I am not really big into costume play or lingerie in general, when I seen the Parisian Provocateur maid outfit by Dreamgirl I knew I had to have it immediately. When it comes to buying lingerie online I had my immediate reservations about it being a hassle trying to figure out size---so I must admit I bought this piece from a Halloween store during the recently past season. I am glad I had the opportunity to try it on beforehand because the size listed on the package is not what I have immediately chosen online---but more on the size later.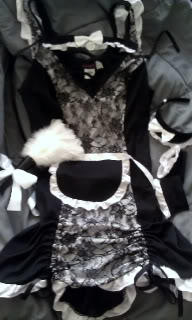 This costume is a 7 piece set consisting of a dress with adjustable hem line, a maid headband, an apron, a choker, a pair of wrist cuffs and a feather duster. All the pieces are well made and stunning when put together. Though I am sure a lot of these pieces could be used separately, because of their design they may seem out of context alone. I also kind of wish a pair of ruffly panties and stockings were included with this set, I feel it could have made this amazing set even better.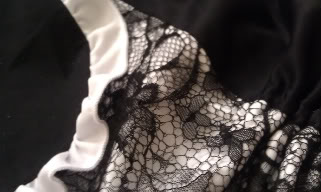 The dress, choker, apron, headpiece and cuffs are made of polyester. The dress itself is then covered with a lacy material which falls down the middle of the body. It falls on the body really nice, and has a bit of stretch to it. All of the pieces are in true maid form and come in black and white. What drew me in to this particular version of a maid outfit is how they used the black and white pieces. Instead of color blocking, the dress is really broken up with its color, giving it a more natural every day look. The only parts of this dress that are pure white are the ruffly pieces that line the bottom hem and the arm areas. While I could do without the ribbon that crosses back and forth over the breast area, it does not bug me in the slightest in this case.
I was actually surprised about how well made this outfit is to be honest. My impression of most costumes was that they would look cheaply made and not worth the high price. I am very glad I was proven wrong with this one. My favorite feature of this dress is that you can pull the hem length up to your own liking. If you are feeling a bit sassy you can rouche the dress all the way up and show off some leg. On the other hand if you are feeling a bit modest you can leave it down and still have a very elegant dress. To change the hem line there are two strings attached to the dress, with a simple push up on the fabric more string is shown. This is very similar to a draw string pajama pant. When you find the length you are looking for, all you have to do is tie if off. It is very easy, and does not snag going up or down.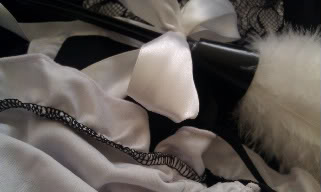 The reason I was skeptical about buying this outfit online like I said was the sizing issue. While I grabbed both a large and extra large to try on I was shocked to find out the extra large was the one that fit me. The weight for the extra large is listed as 160lbs – 180lbs, I am about 25lbs shy of even hitting 160lbs so this is quite a big jump. So I will assume that most Dreamgirl costumes run small and in the future always buy a size up from what I actually am. I usually fall between an 8 and 10 for most outfits, the bust area being my biggest problem area. While I have a larger chest 36-38d depending on the make, I was happy to see that this particular outfit complimented that area well. It doesn't come with any padding,thankfully---I found that a bra worked well under it while being completely undetectable from the outside. I also found this outfit to be really flattery on any problem areas, mainly my tiny pouch. Because of my curvy figure this outfit fit me snugly without being smothering.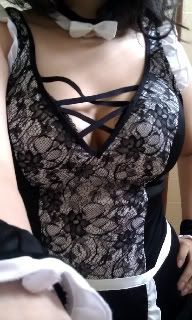 Experience
The accessories for the Parisian Provocateur are adorable. While I feel I might not always wear the apron---because the dress itself is so cute, it is really well made and simplistic. The apron itself is made of a matte fabric but the ribbon that ties around your waist is satiny. The headband, which I was initially worried about actually looks really cute on and compliments my curly hair. It did at first have some problems standing at attention but with some moving around it did stay in place quite well. I enjoyed having the wrist cuffs as part of this costume, they really added something extra to draw the eye to---which is perfect when you are holding the feather duster it came with. The feathers are fluffy and will come out with some vigorous "dusting" but are soft to touch and not pokey. And last but not least the choker is donned with a bow and clear jewel. While I am usually not a fan of chokers, this one really puts me in the spirit of cleaning.
Without the accessories this outfit does not immediate scream maid costume, it can be worn dressed down. As a practical outfit worn outside the bedroom I'm not sure this is as practical. It is extremely provocative and in my personal opinion screams lingerie, though if the occasion calls it is still a lovely dress. Although this outfit was purchased during the Halloween season, a costume was never my intention. I bought this with the bedroom in mind---and I must say it is very comfortable for even your every day romp. If that isn't your thing and you just want it to draw in the eye, this outfit will slide off the body easily giving you all the access you could want.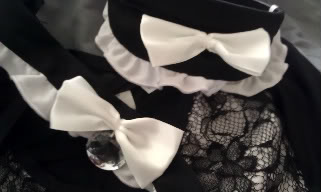 The entire outfit is dry clean only. So I would recommend hand washing them and hanging them to dry if you find yourself getting a bit messy. I have been storing this outfit back in its original plastic bag because the dress itself does not wrinkle. I store it in my Eden tote with the rest of my costumes and the front cardboard piece makes it easy to locate what I am looking for.
Overall, I couldn't be more pleased with this outfit. My boyfriend couldn't have been happier if I tried, and after he had problems wiping the grin off his face. This outfit is both effective and very well made and now that I worked out the size issue I will be buying more from Dreamgirl through the Eden website.
P.S. I planned on taking pictures of me in the outfit from afar but couldn't do that with my camera phone. When I asked for my boyfriend's help, he got too distracted to take the photo. So I apologize for those of you who wanted to see this outfit on someone other than the model.
P.P.S. I got the picture. I also got mauled by my boyfriend in the process, as expected.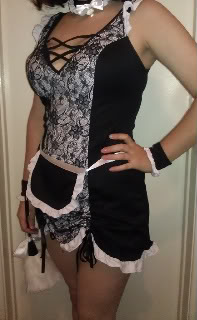 This content is the opinion of the submitting contributor and is not endorsed by EdenFantasys.com

Thank you for viewing
Parisian Provocateur
– sexy costume review page!