Paris Here I come!
Oui, Oui, I love this costume it's sexy and flattering. It is tight in all the right places and looks so grea on. It does run a bit big so potentially sizing down if you are closer to the end of your size. With a great foreplay tool in hand you are ready to dust the night away with this set. this cute set will have you cleaning with some other things all night long.
Published:
Pros:
Fits great,Well Made costume,
Cons:
Odd Hairpiece, Choker Frayed, Broke Duster
The Parisian Provocateur costume by Dreamgirl is a unique maid costume. It comes with several components, the main dress portion, headpiece, wristlets, choker, and lastly the feather duster. The set arrives in large plastic bag with two plastic clips to close it. The front of the bag has a large picture of the same women wearing the full costume as is on the product page. The plastic bag does come with a hanger so it can be kept in a closet for quick and easy storage. It doesn't look like the typical maid outfit, and shows all the right areas in the right ways.
Wristlets: The set comes with two black and white wrist cuffs, they come with no care tag. The cuffs fit lightly around where your wrists bend. There is elastic at this part and at the base about 3 inches from the other. Both fit snugly without being uncomfortable, a small piece of white fabric is connected by the elastic to the black portion, this flares slight over the top portion of the hand. It is roughly one inch wide. There are three seams on the wrist pieces one at the top one at the bottom and one down the side, none of these rub.
Headpiece: The headpiece pictured is the one you get but it can be a bit difficult to use. It comes on a headband so ladies with short hair will have issues making it stay in without piling your hair on top of your head. It is designed to hold into hair rather then be worn as a head band, so due to my pixie cut was unable to do this. I instead laid it flat against my hair, but didn't give the desired effect. It is consisted of a black fabric with white ruffled fabric around the edges and a nice white bow in the middle, it fits snuggly as a head band but the fabric does slide on it.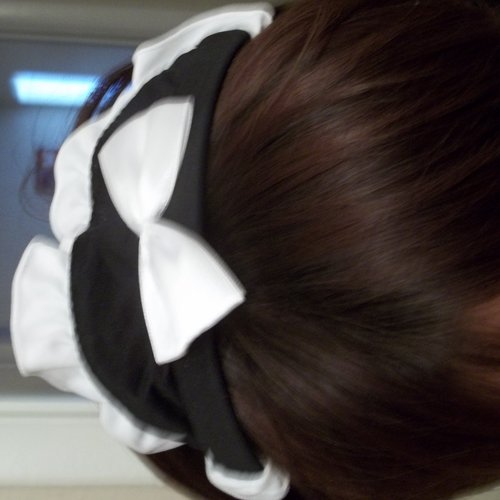 Choker: The choker is a simple piece made of a thick black piece with a white ruffled piece sewn into it, at the end there is two long pieces of ribbon to tie it around your throat. It has on the front a small white bow that has a large plastic gem underneath. It is reminiscent of a kitty choker in a cosplay costume. The edges by where the ribbon meets came frayed with the threads coming undone, so be careful with this.
Feather Duster:
Apron: The apron is simple yet effective with the costume. The apron is seperate from the costume and is simply tied around the waist for a quick maid like look.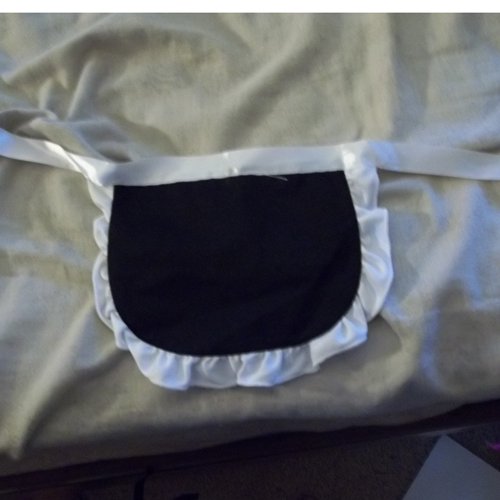 Feather duster: The feather duster is made of a black plastic handle, with white fluffy feathers. At the base there is a white ribbon tied into a bow that does easily become unattached. It is a cheap but cute duster that makes an excellent prop for the costume, or can be used for a bit of foreplay.
Costume: The dress for this costume is well made, its is sturdy and can handle being tossed around and pulled on. It also handled my demon kitty's claws very well, but I don't recommend aciddently locking a new kitten in a closet. The dress is made very elegantly and has a few features that make it look more or less like a maid. The dress has a lot of give and stretch to it to make it fit comfortably, and the top is made of elastic straps that help fit the bust well, without being restrictive. At the base there are four strings that you tie into a bow, but it will also cause the bottom to scrunch up depending how tight you tie it this is purposely done. The dress is a sexy slimming piece.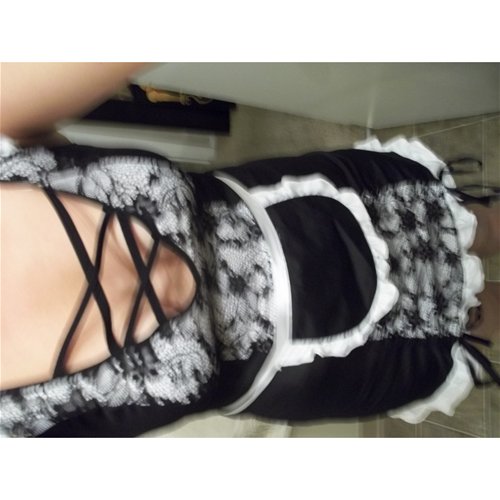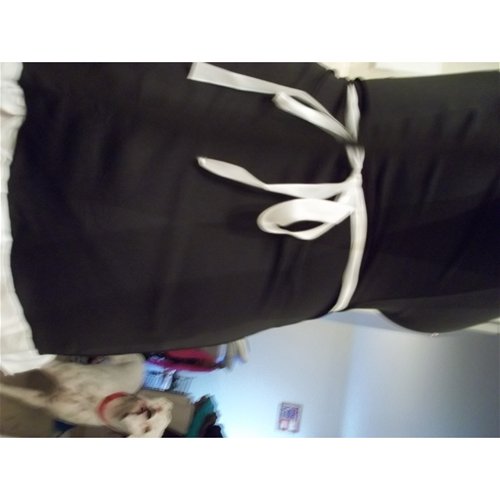 Care and maintenance: The set is made of 100% polyester, and the lace on the dress is made of 100% nylon. This means that it is a hand wash only piece in cold water then hang it up to dry. This may be a pain but washing it in the machine can cause the lace to rip and get those stringy pieces to hang off.
Sizing: I bought the small which is
size:2 - 6
cup size:A - B
bust:32 - 34
waist:24 - 26
hip:34-36
weight:90 - 120
I am about a size 8 now and this still fit me well it has a lot of stretch and gve to it without it being uncomfortable.
Experience
This costume is cute and sexy all in one! The dress fits snugly against the body showing off all the right curves without being so tight that it creates new ones. The seams on the dress are not severe so they don't cause rubbing and discomfort. The fabric is also very soft and comfortable to wear for extended period of time. There is no bust support, but I simply wore a bra under mine to give me the extra umph I wanted. The fabric is tough and can withstand small demonic creatures trying to climb up them. (kitten in closet).

The feather duster is a bit on the cheaper side and both my ribbon and the black connector piece broke. The feathers also easily get gunked up if you are using oils or lotions make sure to not let them touch or else it is near impossible to get them clean and fluffy again.

I ended up taking a lighter to the frayed edges on the choker to seal them and to rid of the strings, I also removed the gem from my choker just because I found it cheapened the look for me.
Follow-up commentary
4 months after original review
This wonderful little costumes has maintained it's spot in my closet. The wonderful feel of the fabric and sexy fitting nature has kept me coming back. I love to wear it without and with all the accesories. The sexy nature of the dress makes it great to wear as just a sexy lingerie piece. It fits so smoothly to compliment my body. Even after a few washings the ribbons are still intact quite well and have not frayed in any way. The feather duster was finally destroyed fully by my loving kitten who likes to pack it around my house and cuddle it. The rest of the piece still hold sturdy though and make it a wonderful little set.
This content is the opinion of the submitting contributor and is not endorsed by EdenFantasys.com

Thank you for viewing
Parisian Provocateur
– costume review page!