I'm a Bad B@#$&! (1X/2X)
The wetlook dress by Coquette is a dress to make you feel dangerous! I feel like a bad girl every time that I wear the dress. My partner knows that it's time for some spanking and paddles, when I get this dress out. I haven't worn it out in public yet, but I'm thinking of an idea for a costume to wear, with the dress. I really like that it's not itchy and uncomfortable. The wetlook dress would be great for both genders, and any age range.
Published:
Pros:
-Comfortable.
-Hugs Curves.
-Sexy.
Cons:
-Neckline sits a little high on my chest.
introduction
The Wetlook dress with hook and eye front, from Coquette, is a comfortable dress that has convenient hook and eye closures. The dress is more lightweight that I had imagined. It's very sexy on my body, and my partner loves it. He's sitting beside me as I type, and he said to type that he loves it on me. The dress is very clingy on my body. I don't like that so much. It shows all my curves, even the ones that I don't like. The dress is very stretchy. The dress is one piece. No garters or panties were included with it.
The dress shows everything worn under it. In the photo below, it showed my bandeau bra that is cotton with no underwires, and basically has no support.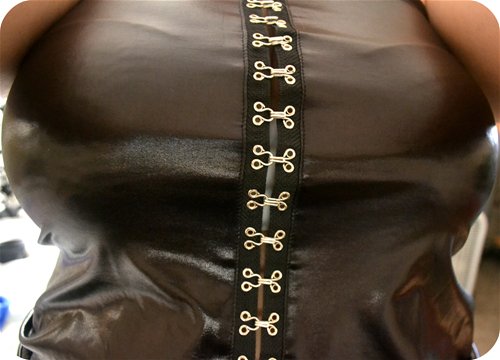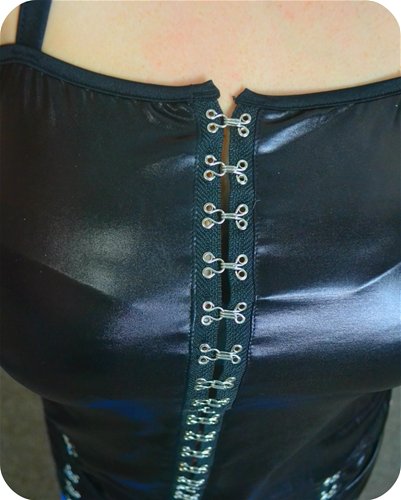 The dress itself, has no support for the breasts. The dress doesn't have any underwires. The shoulder straps are not adjustable, but they do stretch. They are thin, and larger than spaghetti straps, but thinner than cotton tank straps. They do not dig into my shoulders. They feel like a soft polyester material.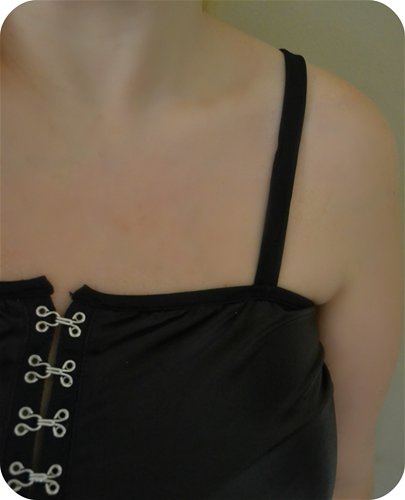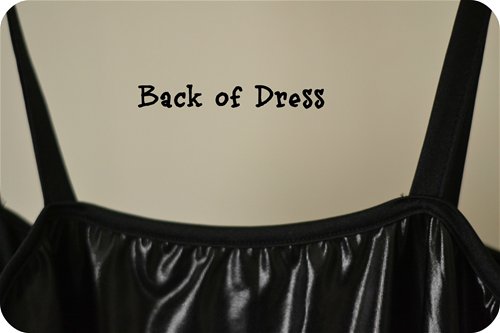 There are 17 hook and eye closures that go down the center of the dress. The closures are 7/8" away from the closure below each hook. The closures are on a nylon material that is sewn onto the wetlook material. There is gapping between the hook and the closure when fastened. The gapping is a little less than 1/4". The gap does show things underneath and skin.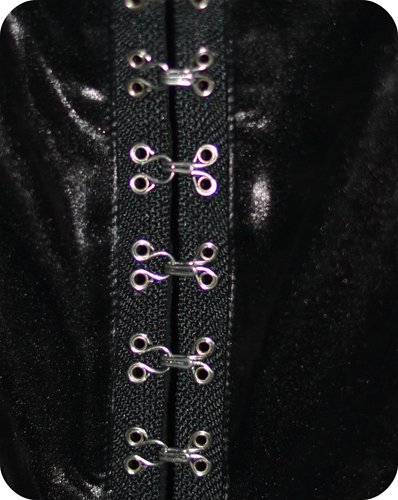 Each side of skirt portion of the dress has 9 hook and eye closures. The spaces are the same on the closures at the bottom of the dress, as the top. The closures at the bottom of the dress hit at the sides of my thighs. They can be completely undone to show a lot of leg. The material isn't as thick as some of the other wetlook products. The dress also showed the line to my g-string, and bra. My partner liked this, but I didn't. The material of the dress is not sheer or transparent, even when stretched out by hand. The material has a shiny appearance, but it's not totally glossy, like other wetlook materials. I have noted that the material has clung to itself.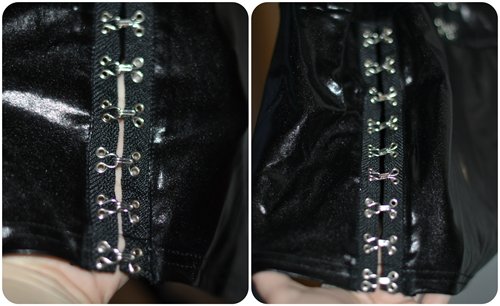 When I first opened the package, the dress seemed to be stuck together, in certain parts. I simply pulled it apart, and there was no damage to the dress. The dress doesn't hold wrinkles. It's a very smooth material.
On the waist of the dress, there is a faux belt. The reason that I called it a faux belt is because it's sewn into the dress on the sides. The belt also has a faux buckle on the front. There is no way to adjust it. It's also only on the front portion of the dress. The belt portion of the dress hung down on me because the dress was loose. If the dress fits perfectly, it should stay up where it needs to be. I would have been happier if I could have adjusted the belt.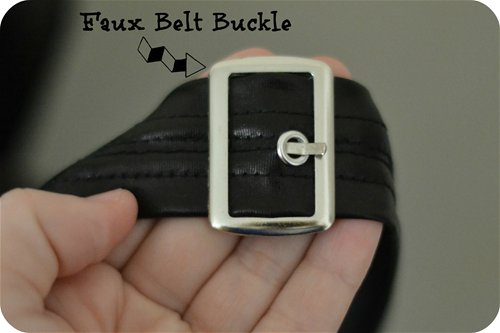 The back of the dress is plain. There are no detail or closures on it.
This dress can be worn for bedroom use or outside of the house, assuming that it's not so short. It would also be cute to pair with other things for a costume. The only shade on this dress is black.
I took a chance on buying this dress because other reviewers had said it was very short on them. I'm 5'2", so normal dresses are a little too long for me. When I found out this was shorter, I ordered it. It hits at mid thigh on me.
The dress itself, is big on me. It wrinkles up near my waist, because the waist is so large. A XL would have fit me better. It does run a little big. The chest area also comes up high on my chest. I had to keep pulling it down. Someone with a longer torso would be able to fit it better.
-Measurements-
Total width of dress: 21"
Total length of hook and eye closure on torso area: 16 1/4"
Length of dress from top to bottom: 25 1/4"" in front & 24" in back
Waist measured across stretched: 24"
Chest area measured across: 20"
Width of belt area: 23"
Shoulder strap length: 15 3/4"
Total length of hook and eye closures on bottom portion of dress: 8 1/4"
Belt width: 1"
Belt Length: 25"
Skirt portion length: 8 1/4"
-My Sizes-
Breast/Bra Size- 38 DDD or F
Waist- 36.5"
Hips- 42"
Height- 5'2"
Usual panty size- 7
Experience
(Continued)
-Material-
The dress is made of 80% Nylon, and 20% Spandex. Exclusive of trim. The hook and eye closures appear to be metal. The closures have a bright silver finish. The dress seems to be well made, in all areas.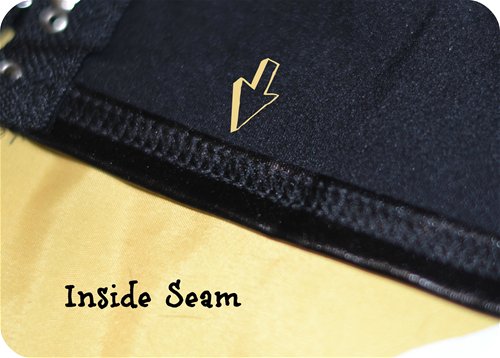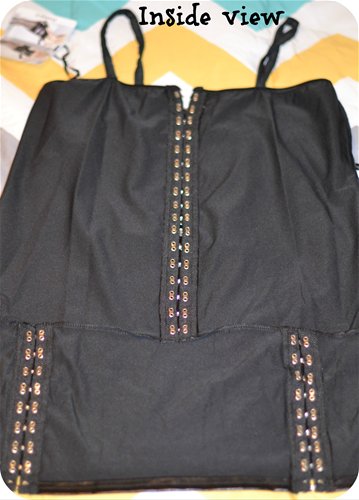 I've listed Coquette's size chart
here.
-Packaging-
The Wetlook dress arrived in a thin plastic bag that is completely transparent. There was a plastic hanger included that the outfit was hanging on. There was a tag included with the dress. It was pinned on to the dress, by a small safety pin. The photo on the tag showed a model wearing the dress, with a front view, and a back view. I have a photo below.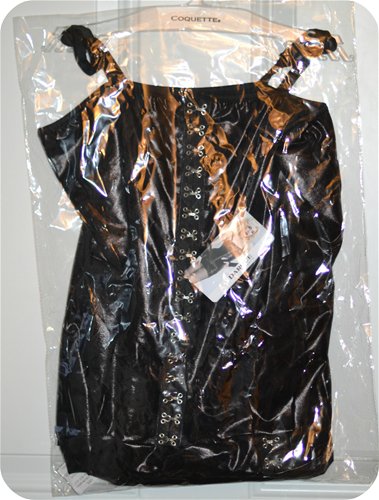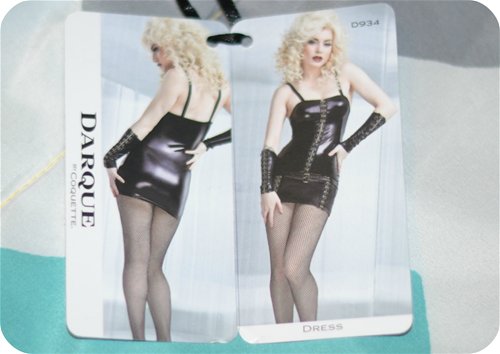 -Care/Washing-
To keep the dress stored, I keep it on the plastic hanger that it arrived on. I keep it in my closet, and not in a drawer. You can store it in a drawer with no problem. I just don't want it to get wrinkled, so I keep it on a hanger.
To wash the dress, I would definitely hand wash it like the tag inside states. I've never dried this material in a dryer, as I've read other horror stories. I just fill up my sink with my favorite Woolite or my
Dona lingerie wash.
I let it soak for a few minutes and then use my hand to wash it around for a few minutes. I don't twist it when I'm ready to rinse it. I just squeeze the water out, by squeezing it between my hands. I then run cold water over it, and do the same routine like when I was getting the water out the first time. I have a hanger that stays on my shower rod for my lingerie pieces. I put the dress on the hanger and it dries in a few hours, when the heat is on.
-Fit/Comfort-
The dress fit me comfortably, and did not fit tightly in any area. The dress will be shorter on people who are 5'3" or taller. If your torso is significantly shorter, the top of the dress may sit up high. The dress is available in sizes S, M, L, XL, and 1X/2X. It's only available in black. There are no patterns on the material. It's solid. The sleeves that are shown in the product photo can be found
here.
These sleeves would be a nice addition to the dress. I have size DDD/F breasts and there was enough room to fit at least another size or two in there.
-Rating-
I'm giving the wetlook dress 5 stars. Even though the dress sits high on my chest at times, and it's large on me, it's only because I should have ordered the XL. My guy really likes it on me. He called me a 'bad b@#$%' when I had it on. He kept asking me to be his dominatrix. I don't know why, or how, but he got a rise out of this dress. I've worn this dress for bedroom play several times, and nothing has been damaged on the dress. Everything has held up well, so far. I will update how it holds up, over time.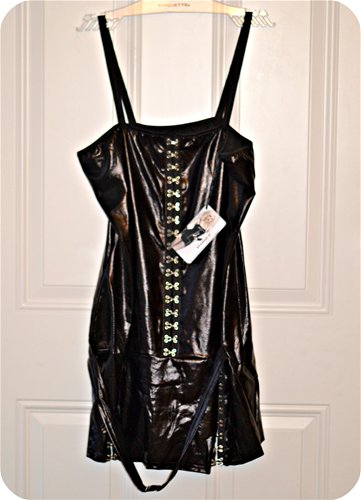 Follow-up commentary
2 months after original review
This is a very sexy dress with so much potential. It would be great for home or even on Halloween. I just love it!
This content is the opinion of the submitting contributor and is not endorsed by EdenFantasys.com

Thank you for viewing
Wetlook dress with hook and eye front
– mini dress review page!