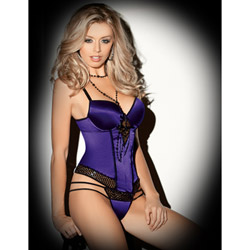 Sequin corset set
Corset
by Escante
I See Sextuplets...Boobs, that is.
I love this corset so much that I am going to actually perform surgery on it and hand sew areas for my breasts. I do not like the look of six separate breasts..neither does my husband. I do fold the cups under and use it as a cupless bustier, this is not uncomfortable and still allows me to wear this in our bedroom. I am going to adapt this to fit, I am just not quite sure where to start yet. Check my follow up, if my ideas work, I will include some pics with the final part of the review!!
Published:
Pros:
Beautiful.
Stretchy and soft.
Flattering for stomach area.
Cons:
38D and under only!
Underwires too short.
Padded, shaped cups are restricting for larger breasts.
The Sequin Corset set from Escante is very beautiful with a clear, brilliant royal purple material and black accents and sequins. It was packaged in a clear, plastic bag. The purple material is very shiny and satiny and has a small amount of stretch.

The bra cups are padded, shaped and comes with underwires. There is a see-through black mesh material under the lace-up design in the front. There are two sections of plastic boning in the front and two more in the back, these are covered in black material. The sides have a black mesh with sequins sewn onto the material. I have had no loose sequins yet, but have only washed it four times. The back is fastened by a band, like a bra strap, that has a series of three adjustments for the hooks to fasten into. The shoulder straps are adjustable and are not removable. There are no garters.

This does come with a sequined thong, however I do not wear thongs and will not include the thong in my review. It does look to be as nicely made as the corset and all the materials match perfectly.

The material is 90% Nylon and 10% Elastine. Hand wash in cold water, separately. Rinse thoroughly and do NOT ring out. Let this hang dry, do not use a dryer. I suggest turning the corset inside out to wash and take extra care when washing the bottom, sequined area. I have had no problem with wrinkling or fading.

This corset only comes in S, M & L. I chose the large and do not suggest this for anyone that has a breast size over a 38D. I wear a 42D and have some serious issues with the formed breast cups. For starters, I have not two--but SIX boobs!! There are the normal two, two in the front spilling out the top of the cups and two more on the sides. (This is why there are no pictures included with this review, I have no solution yet.) I am not sure how that works, but it is too funny looking. The only advice I have so far, is to wear a bodystocking under the corset. This can be a bit uncomfortable, but it does keep the breasts reasonably contained...well, down to four, anyways. The straps need to be shifted farther to the sides and the underwires need to be longer. I will let you know what worked for me in my follow up review.

The torso of the corset fit like a perfectly made glove. It was beautiful and very flattering while covering my stomach. I was a bit worried that it would be too short, but the length is perfect. It stops just shy of the top of the pubic bone.

This would look very nice paired with jeans and a short sleeved half jacket. However, for those of us with larger breasts, it works for the bedroom. Only if you can get rid of the excess boobs, though. I admit to folding the cups under and using this as a cupless bustier.
Experience
Size L Corset
My Measurements: 43D Breast - 30" Waist - 42" Hips - 28" Inseam - 22" Thighs - 5"2" Tall & 150 Lbs.

Escante
Cup Bust (in) Waist (in) Hip (in) Weight (lb)
Small 2 - 6 A - B 32 - 34 24 - 26 30 - 32 90 - 120
Medium 6 - 10 B - C 34 - 36 28 - 30 32 - 34 120 - 140
Large 10 - 14 C - D 36 - 38 32 - 34 34 - 36 140 - 160
XLarge 14 - 16 D - E 38 - 40 34 - 36 38 - 40 160 - 180
Sm/Med 2 - 8 A - B 32 - 36 24 - 28 34 - 36 90 - 130
Lg/XLg 8 - 16 C - D 38 - 42 30 - 34 38 - 40 130 - 170
1X 16 - 18 D 40 - 44 44 - 48 50 - 54 175 - 200
2X 18 - 20 DD 46 - 48 48 - 52 54 - 58 200 - 225
3X 20 - 24 D+ 48 - 52 52 - 56 58 - 62 225 - 250
Follow-up commentary
2 months after original review
I wear my fishnet tube top and lace camisoles underneath this corset to help hide the multi-boob effect. I ended up moving the straps to the side about an inch and also removing the foam on the inside 3/4 of the cups. This made a world of difference!!!

My husband loves the color and vibrance of this corset--however he will not let me wear it out of the house. Of course, I do see why, my two 'girls' are front and center, but still.
This product was provided at a discounted price in exchange for an unbiased review. This review is in compliance with the FTC guidelines.

Thank you for viewing
Sequin corset set
review page!