Sparkly night.
This is a very cute corset and it looks even better when you accessorize with some sexy black jewelry. This has definitely worked out well for me and I give this corset a high rating of 4 stars!
Published:
Pros
Color. Price. Style. Sequins.
Cons
Hmmm, there are none.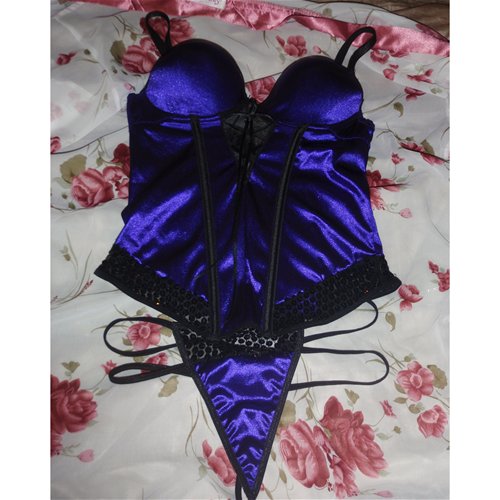 This sequin corset by Escante is a really, really pretty piece of lingerie. The gorgeous royal blue color has definitely proved itself to be very eye-catching and grand. The over-all fit and comfort of this corset is quite lovely, I have even worn it to bed a handful of times since it first arrived.
Another plus to this corset is the fact that you can wear it underneath your clothing; it is always nice to know you look sexy underneath your clothes, just in case you meet someone you want to impress ;)
I am not one of those people who has a ton of lingerie (not yet anyway) So I am not well-versed in knowing who has THE BEST LINGERIE OUT THERE, but so far, from what I have seen, Escante is definitely a leading provider and after purchasing this corset, I am quite confident that I will be getting more things from Escante in the very near future.
They have definitely proven themselves to be a high quality provider in my personal opinion.
Sizing of corset/ my measurements
This corset comes in the sizes Small/Medium/ Large.
I got the size small and it fits me quite well.
My personal dimensions:
Bust: 34
Cup: A
Waist: 24" inches
Hips: 33" inches.
This corset has very adjustable straps that can be used to adjust how far up you want your breasts to lie. As far as the cups go, I would say they are of average size, I buy a 34 A from victoriassecret.com and they (these cups) are a tad bit smaller than their "Bombshell bra". But if it is any other bra from somewhere like Victoria's secret, it is about the same. Though, with this in mind I would still say that this corset could fit someone with a much larger bust size then I, due to the adjustability of the straps. I would say probably even up to a large B-cup (36-38).
Though, if your waist is any larger than 28" inches I might steer-clear of the size small.
The boning adds for some light shaping to help accentuate curves, while the sequins lay right against the hips for some gorgeous sparkly shimmer!
This corset (top and bottom) is made out of 90% Nylon and 10% Elastane, which means that the material has a little bit of stretch to it. This material also has a very soft/satin like feel to it that has a gorgeous shine.
Wash/Care
I recommend hand washing and air drying this item since it has sequins on it and you wouldn't want to lose any of them. But if you were to throw it in a lingerie bag I am sure it would do fine. But I absolutely would not recommend throwing this corset in the dryer under any circumstances, the material could shrink and fade and that would ruin the look of the corset. So "air dry" only.
My top three first impressions about this product,
1. Gorgeous color.
2. High quality stitch work
3. Good fit.
Craftsmanship
This corset is definitely very high quality; each little sequin is sewn on tightly with three stitches across the top to insure that they won't come off during extended use. Every little stitch and seam is sewed on perfectly, which makes the entire corset look very high class.
I would definitely recommend this product to any woman who is looking to add a little bit of royal color into her lingerie drawer. I know that I am very happy with this sexy little corset and I'm sure you would be too!
Packaging
When I ordered this corset it came in a plain brown box, inside the brown box was my corset wrapped in a plastic bag on a hanger, very nice!
Attached to the corset with a pin was a picture of the corset being modeled by one of Escante's models, and next to it where a couple other pictures of lingerie similar to the sequin corset in color and design(Also sold by Escante).
Experience
My experience with this corset has been great!
The first night I showed it to my S/O he was very, very happy to see me in it, he said it was much nicer then my other lingerie (how is this possible? I have such a huge collection) Of course I had guessed that he would enjoy it since it was his favorite color. All in all I have to say that this corset was a definite pleaser for both the both of us and neither of us can wait until our next Escante order arrives!
This content is the opinion of the submitting contributor and is not endorsed by EdenFantasys.com
Thank you for viewing
Sequin corset set
review page!