I Wanna See Your Peacock!
The quality of this piece isn't perfect, but it isn't completely cheaply made. It's moreso the packaging that crumples the dress and feathers that make them look odd. I won't knock it down a star because it didn't fit me specifically, but it had a lot of stretch and a lot of sturdiness to it and I love the idea overall. The fit and material are slimming. It won't be everyone's cup of tea, but for what it is, it's an interesting idea and it's a visually pleasing costume to look at.
Published:
Pros:
Well made, Unique, Stretchy, Slimming, Vivid colors
Cons:
Handwash only, Packaging crushes outfit, Limited sizing, Low quality headband
I ordered this quirky little number for my Halloween costume, since it's coming up and I wanted something unique. Dreamgirl offers this in a size XS, but there's no XL on the size list. I generally wear an XL, but my sizes always fluctuate so I took a chance. I ordered the L and crossed my fingers that it had some stretch so I could fit my over sized everything into it. The costume is fantastic because aside from the head piece, it isn't overly peacock-esque. You could wear this as a dress to a party if you like sequins and tulle, but it works wonderfully as an understated version of a peacock that is delightfully feminine and workable if you want to modify it or add more feathers or accessories to it.
The costume arrived in a plastic casing that has a black hanger on the top meant for storing the costume hanging up when you aren't using it. There are snaps at the top to open the package and the dress is kind of shoved into the packaging with the headband and back tulle portion (the colorful bit) packaged separately in its own plastic casing. I pulled the dress it out and the tulle was kind of bunched up from the way it was packaged, and with a little maneuvering, I got it to lay as it should and started to put it on. It looks really tiny from the get go, but once you get it on, the fabric has some stretch and is really slimming in the waist area. I thought it'd look unflattering on me the second I ordered it, but I figured I'd take a chance, and this hides my tummy shockingly well. The back has a hook closure at the top, and if you're going to be a tight fit into this outfit, I'd suggest hooking it first. After that, it's a lot easier to zip it up. The zipper is sturdy and doesn't seem like after a couple of wears that it'd start to break or stop zipping. It was hell getting it closed and it held up to all the pressure my not fitting in this put on it, so that portion of the costume is well made. Underneath the tulle is a blue piece of fabric that you pull down and it covers your backside and upper and lower thighs so nothing shows.
The front bodice is covered with iridescent sequins that shine pink and blue tones when the light hits them. They're just as stunning in person as they are in the product photos. They don't really seem to come off easily, either. I lost one when putting it on, but I also nearly ripped it putting it on and it was so tight that I had to put it on backwards and force it around my body to get it on. Only one sequin being lost during that process is impressive, so they're sewn on nice and tightly. The "tail feather" portion doesn't come attached to the dress, which means if you are one of those who would like to wear this dress alone to a party and not as a costume, the back piece that mimics a peacock's feathers is detachable and optional for wear. It hooks onto the back of the dress via two plastic snaps and requires a little bit of fluffing to look right. It also has hooks in the front for the included blue straps to be attached, and the straps are rolled into a coil and packaged in plastic in the casing. I love the dress with straps, as it gives the bodice a little more support in the breast area. There's no boning at all in the bodice portion, but the material alone being tight fitting makes it slimming and fitting to your body. The bodice was loose fitting on my 38C breasts and wearing a push up bra with the dress and attaching the straps made it look way more flattering on my chest. If you're on the fence and don't feel like this will fit you, I'd say try it, because I'm not the most proportionate gal and my stomach is rather round, and I was able to squeeze into this size.
My Measurements:
Hips: 42"
Waist: 39"
Chest: 38C
Height: 5'0ft
The outfit is made of Polyester with a lot of intricate pieces, and I'm sure you guys can tell that it needs to be hand washed and hung to dry only. There are a lot of sequins and tulle and parts of this costume that could get warped and damaged in a washer or dryer.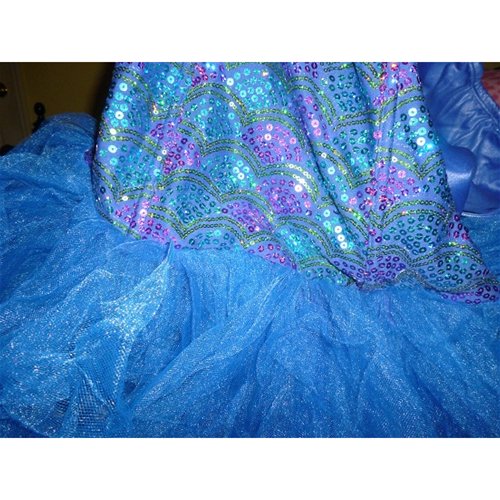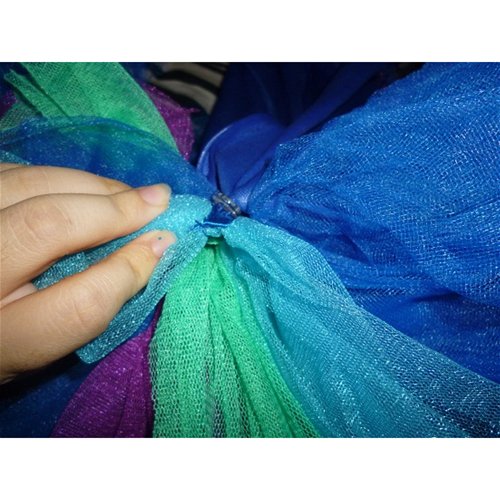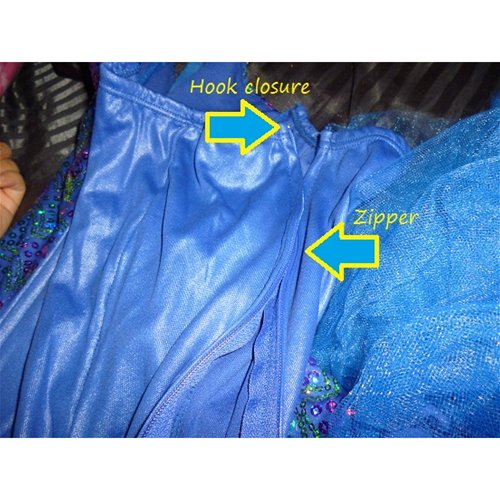 Experience
I had to lay flat on the bed to get this zipped, as it didn't fit me whatsoever, but I made it fit. It's tight and slightly uncomfortable, but with some stockings underneath, it's wearable for Halloween. Because it's so tight on me and I'm wider than what it allows, it comes shorter than it should on my legs and shows my ass a bit. I liked the costume overall and felt that even on my body, it was flattering despite being ill fitting. It's a decent made costume, but the headband isn't really what was expected and looks as over the top as it appears in photos, just not as well made.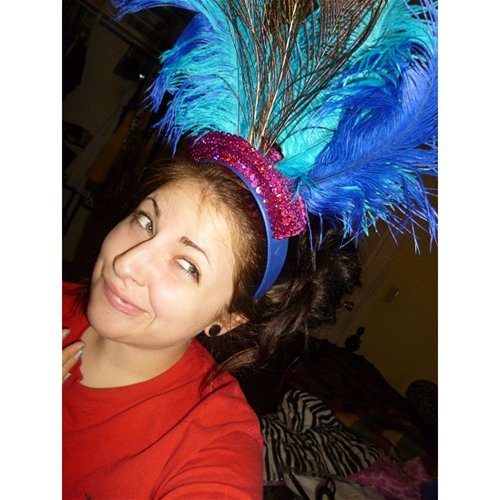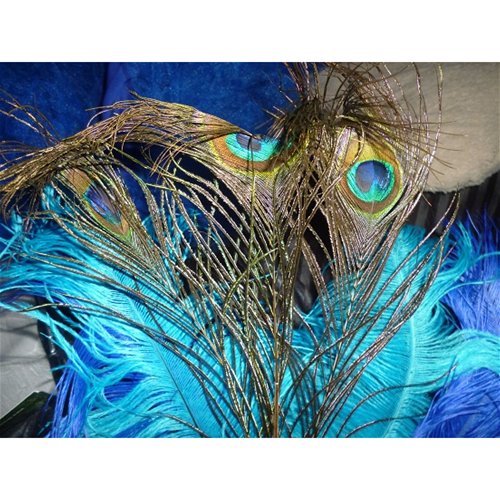 I didn't like the packaging because it crushed the tulle and subsequently, the feathers on the headband. I couldn't fluff them out to make them look any better, and the tops kind of split in half so they look like half peacock feathers. I'm just going to attach some extra feathers on the headband and in the skirt to give a more apparent peacock look. The feathers definitely could've been a little more extensive throughout the costume, but I understand that Dreamgirl wanted the "idea" of a peacock more so than the literal thought of a peacock.
I didn't include pictures for you guys of me in it just yet, because it's hell to get on and I'll probably acquire some photos during the week of Halloween that I'll post in the review then.
Follow-up commentary
8 months after original review
I never got a chance to wear this out, as I gained more weight than the stretch of the costume would allow! I also didn't find it really to be peacock-esque enough for people to get the meaning of the costume. The head piece is really shotty quality, so if I had worn it for Halloween, I would have made my own headpiece to go along with the outfit. I might wear it in the future when I drop another 10lbs or so.
This product was provided free of charge to the reviewer. This review is in compliance with the FTC guidelines.

Thank you for viewing
Peacock dress
– sexy costume review page!