Showgirl at the Peacock.....
Look like a Vegas showgirl in this peacock inspired outfit. Rated for ages 14+, this is a nice public costume and will look very pretty if you add shorts or leggings to protect YOUR tail feathers from showing. The Peacock Envy has a very full, but short tulle skirt reminiscent of a tutu, but the colorful bustle in the back is a very elegant touch. The cost is a bit high for the quality, but trick or treat--you will definitely stand out in a crowd!!
Published:
Pros:
Public appropriate.
Adjustable shoulder straps.
Very pretty.
Cons:
Price vs. quality.
Short skirt.
Cheap headband.
Packaging:
The costume arrives in a clear, sturdy, plastic bag with snaps on the back. The dress has a cardboard piece inserted inside the bodice and the skirt is folded. There are small bags containing the shoulder straps, the headpiece and the bustle inside each one.

This looks like a basic costume and would be appropriate for anyone to see. It does not need to be hidden. While the insert shows a picture of the model wearing the outfit, it is tasteful and looks like any other costume packaging. It actually has an age grade of 14+.

Accessories:
**Headpiece- The headpiece has a basic, plastic headband covered in the same blue polyester material as bodice of the dress. There is a styrofoam base covered in raspberry colored sequins that is 1" tall and 6 3/4" wide on top glued to the top of the headband. There are 3 peacock eye feathers centered in the middle with one aqua dyed ostrich feather on both sides, then a sapphire blue dyed ostrich feather on the outside. These feathers are inserted into the sequin covered base and are 12" tall.

**Shoulder Straps- The shoulder straps are sapphire blue, stretchy nylon and are removable and adjustable.

**Bustle- The bustle snaps on to the back of the dress at the bottom of the waistline. It is centered and the snaps are very tight and secure. This bustle has six strips of colored material and is sewn together about 4" from the top. The colors are raspberry and lime green as the two middle strips, followed by sapphire blue matching strips on each side of the two middle strips and matching aqua blue strips on the very outside.

Material:
**Dress- The dress is made of Polyester. There are sequins adorning the front and tulle strips are attached to the underskirt. The bodice material in the front is a basic fine holed polyester, but the back of the bodice has the appearance of the wet-look material.

**Headpiece- The headpiece is made of plastic, sequins, styrofoam and real feathers.

**Bustle- The bustle is made of strips of tulle material. The snaps on the back of the bodice and top of the bustle are clear, but sturdy plastic.

Details:
The dress is very cute and will fit many body shapes. It does have a corset/bustier type look and fit. There are four pieces of plastic boning in the front, two running down the bust area and the other two at the sides. The back zips up and has a small hook and eye at the top of the zipper for security. This keeps the zipper from unzipping when you least expect it.

The front of the dress is adorned with many sequins. There are two rows of small, green sequins in swooped rows, and fan shaped areas of alternating, larger, raspberry and aqua sequins filling in the swoops. These form the peacock feather pattern to carry out the theme.

There is an underskirt which has three rows of 8" tulle sewn at 2" intervals. Below the last strip of tulle, there is about 5" of material for covering pertinent areas. I do admit, this did not cover my butt. I would pull it down and get it situated perfectly and it would ride up as soon as I moved. You may want to add a pair of shorts or matching leggings to this outfit if wearing it out. The tulle really puffs out and made me feel like I was wearing a tutu.

The quality of workmanship is decent, but not long lasting. For use as a costume, you could get a few years out of it, but as a role play or bedroom outfit it will start to come apart after a few times wearing it. I am already losing a few sequins and I wore this walking around the house for about one hour.

Care Instructions:
**Dress- Hand wash in cool water with mild detergent. Air dry only! I turned this inside out to wash it to keep the sequins a bit safer and that seems to work out pretty well. I had another outfit with sequins and if it was washed sequin out, they fell off very rapidly. Hang up or fold and store in original packaging.

**Headpiece- Use a blow dryer on low to re-fluff the feathers. Do NOT get the feathers wet, it will cause them to clump and look awful. I store this in the original bag with the top open. I keep it on the top of my dresser to prevent it from getting bent or damaged.

**Bustle- Hand wash this with the dress and also let it air dry. I store this in the bag with the dress.
Experience
Fit & Sizing:
I ordered the M/L, and it fit pretty well. I felt it was a bit loose once it was on--however, pulling it up over my 42" hips was a bit on the tight side. It sounded like it could rip, even though the material is pretty stretchy.
The back, in the zipper area had huge bulges poking out, which makes me think the bodice could have been a bit smaller. No matter how much I adjusted, the lumps were still present. These made me look like I had a few more inches than I actually do, but if the bodice will fit you snugly, you should not have this issue.
As stated above, the length left a bit to be desired. I am 5'2" tall, and was definitely flashing some tail feathers--and I am not talking about the ones on the headband!! Of course, hubby loved this surprise 'treat', but I felt a bit tricked.
My Measurements: 43D Breast - 30" Waist - 42" Hips - 28" Inseam - 22" Thighs - 5"2" Tall & 150 Lbs.
Size: M/L
DreamGirl Sizing: (Copied and pasted from the sizing charts.)
Cup Bust (in) Waist (in) Hip (in) Inseam (in) Rise (in) Weight (lb)
Small 2 - 6 A - B 32 - 34 24 - 26 34 - 36 34½ 7 - 7½ 90 - 120
Medium 6 - 10 B - C 34 - 36 26 - 28 36 - 38 35 7½ - 8 120 - 140
Large 10 - 14 C - D 36 - 38 28 - 32 38 - 40 35½ 8 - 8½ 140 - 150
Sm/Med 2 - 8 A - B 32 - 34 24 - 26 34 - 36 35 7½ - 8 90 - 130
Med/Lg 8 - 14 B - C 36 - 38 28 - 32 38 - 40 35½ 8 - 8½ 130 - 160
1X/2X 16 - 18 D - DD 40 - 48 36 - 40 42 - 48 36½ 9 - 9½ 165 - 225
3X/4X 18 - 20 DD 48 - 54 40 - 44 50 - 56 37 9½ - 10 225 - 275
One Size 2 - 14 B - C 32 - 38 24 - 32 34 - 40 35 7½ - 8 60 - 160
Queen One Size 16 - 20 D - DD 40 - 54 36 - 44 42 - 56 36½ 9 - 9½ 165 - 275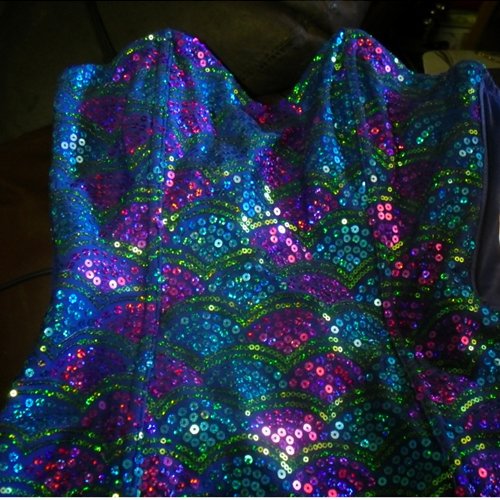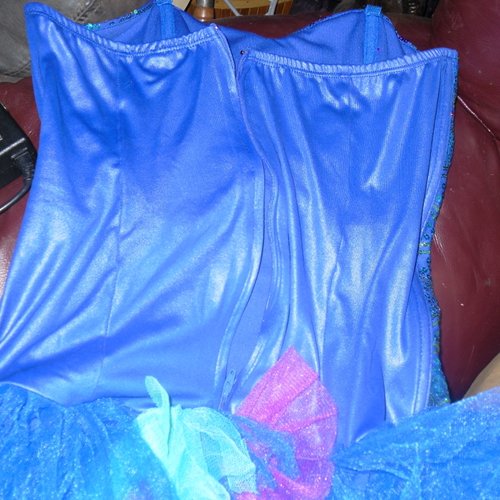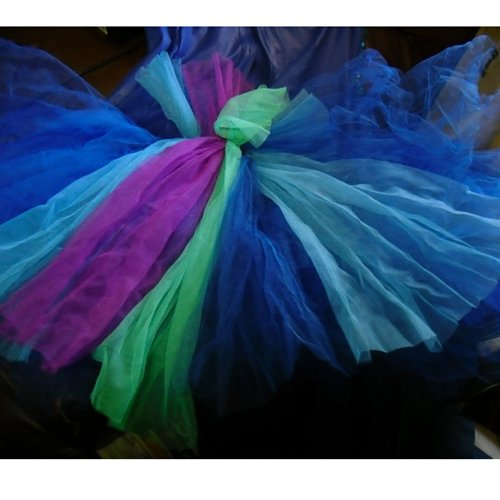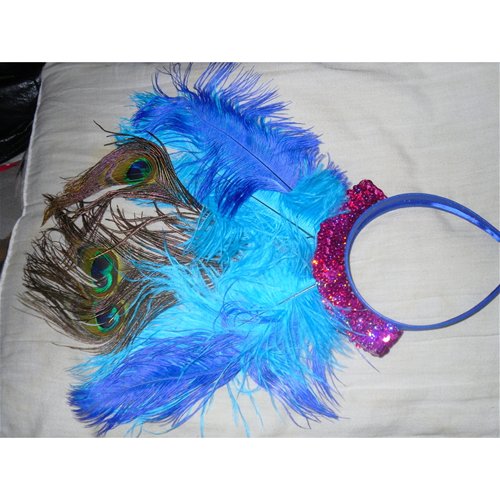 Follow-up commentary
14 days after original review
The Peacock Envy outfit has lost a few sequins. I notice them in the bathroom, bedroom and in the tub after washing. I am not sure where they have come from yet--but am working on tracking the spots down so I can repair the loose threads.

The headband has taken up residence on my dresser since I have no desire to look like a Vegas showgirl. This would make a cute costume for Halloween and is fun in the bedroom as well.
This content is the opinion of the submitting contributor and is not endorsed by EdenFantasys.com

Thank you for viewing
Peacock dress
– costume review page!