Ibiza Princess (L)
Oh, if this dress only had a proper back so I could wear this without fear of a wardrobe malfunction! It's so fun and summery that I really want to wear it out when the weather warms up. There's not enough coverage for a bra, but I think if I pair it with a little shimmery shrug, I might feel daring enough to go out in it, boob jiggles and all.
Published:
Pros:
Flirty floaty fun!
Sequin bands look gorgeous
Can double as a skirt
Cons:
Halter neckline
No bust support
Backless
Only one colour
What it is … how to wear it
This is sold as a dress, and though the fabric is opaque and the skirt long enough to be worn in public, I believe most women would consider the top too revealing. I certainly do. However, I think with the addition of a shrug, it would be acceptable. In addition, I discovered by accident that it works quite nicely as a skirt.
It comes with the obligatory matching thong. I never wear thongs, but I actually found a use for this one! By safety pinning it the inside of the outfit, I was able to close up the peekaboo hole below the sequinned band.
Packaging
The dress came wrapped in pink tissue paper.
Material & Care
Design
The showpiece of the dress is the sequinned band just under the bust, with clear sequins and silver beads sewn onto a white background in a geometric pattern. This band only goes across the front. Below the band, a gathered skirt is sewn on, which continues around the back with an elastic waistline.
Above the sequinned band in the front, two triangle pieces of fabric are sewn on to cover the breasts. At the top of each triangle is another sequin detail, and then there are self-fabric ties for the halter top.
At the centre bust, below the sequinned band, there is an inverted triangular peephole accent.
Sizing & Fit
I am pear-shaped, with a rather large belly and hips compared to my bust. Empire waist designs like this are ideal for my shape, as I don't like having fabric stretched across my wider parts.
My measurements:
5'3" height
150 lbs weight
40B cups
41" bust
38" waist
44" hips
For this piece, I recommend going by the bust measurement in Dream Girl's sizing chart to choose your size. Because the dress flares so much, the waist and hip measurements are completely irrelevant. The underbust line runs a bit large, but the triangular cups are somewhat small and provide no support. The way it's designed, I can't imagine any bra at all being able to work with it, other than the individual support cups that attach to the breasts with adhesive. Even my B cups were sagging in it.
Specific Measurements
center top of front to hem
21"
underbust
31" (unstretched circumference)
top of cup to top of sequinned band
7.5"
width of cup
8.25"
If you would like any other measurements, please mention it in the comments, and I will be happy to add them for you.
G-string/thong description
I do not wear thongs or G-strings, so I am providing the measurements only.
hip
28.5" unstretched circumference
leg width
24.5" unstretched circumference
panel length
14" front to back
panel width at widest point
4.75"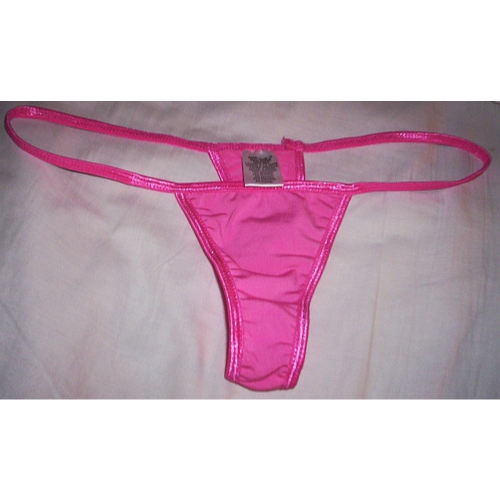 Close-up photos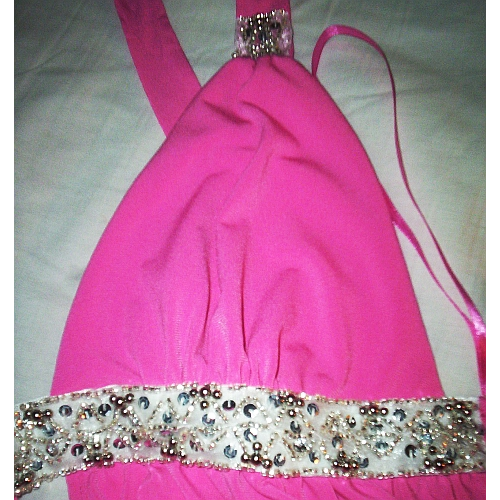 This shows one of the all too skimpy top triangles, and a closeup of the sequins.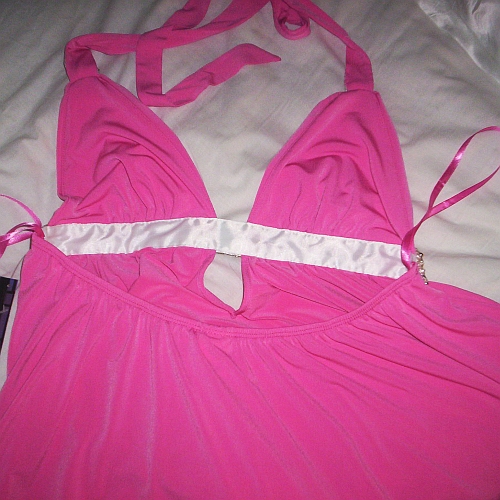 The inside of the top is fully lined, and there is a satin band covering the inside of the sequins and providing extra support. This view also shows how non-existent the back is.
Modelling the Garment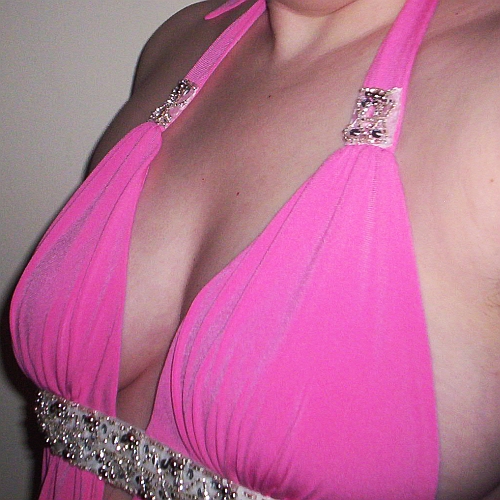 Hi girls! Did you want some help staying up? Too bad!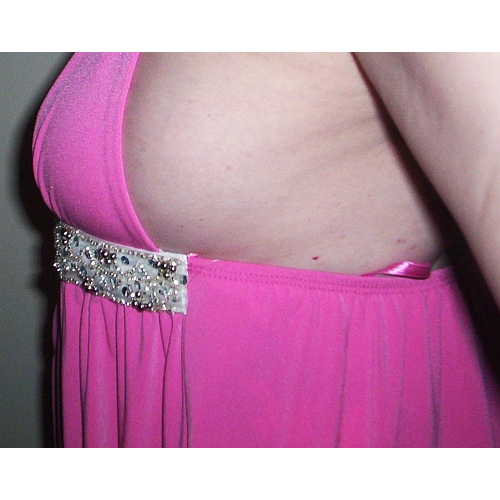 Way too much skin showing here for my taste.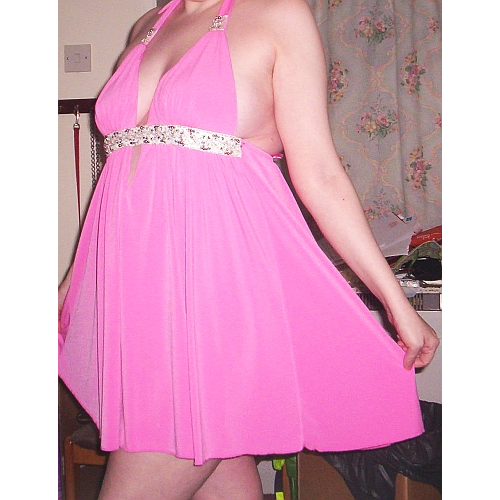 3/4 view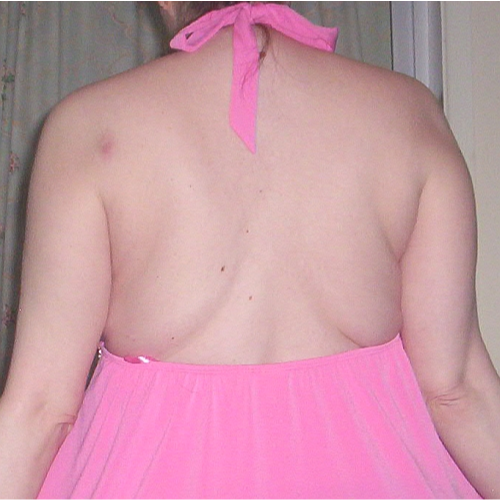 Back view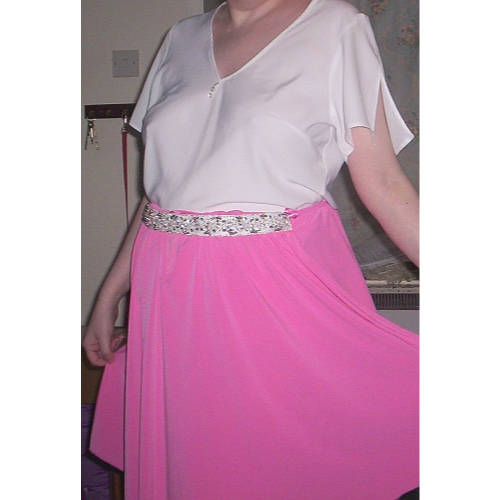 Worn as a skirt
Experience
Outfit
I got the
Boudoir Princess Ruffle Panty
to go with this dress, without being sure if the colour would match. The dress is a lighter shade of pink than the panties, but it is still a pleasing combination. The rhinestones go well with the sparkly accents on the dress. To add to the outfit, I ordered
Fantasy Lingerie's Thigh High Stockings
with a rhinestone backseam in white. I only need some silver shoes and a sparkly shrug to pull the whole outfit together and complete my Ibiza princess look!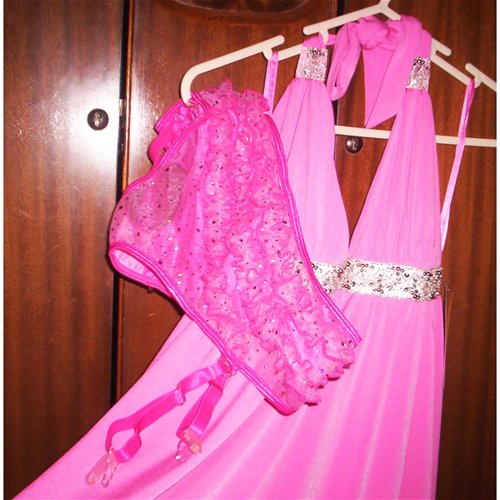 Comfort and Wearability
I really wish this had a proper top that could be worn in public. It wouldn't take much - just a little big of a band to go from the cups under the arms and around the back, and it'd work with a bra. That would make it a fun and flirty summer dress that didn't require a shrug or cardigan to be wearable in public. I do like that I can wear it as a skirt as well, but I'd give that option up to make it work as a dress.
As a skirt, it looks nice, but I haven't quite figured out what to do with the halter ties. I have to tuck the entire top inside the waistband, and if the ties are left loose, they'll fly out below the hemline. If I tie them, then there is the potential for odd bulges appearing when I sit. I'll work something out though.
Of course if you don't want to wear it in public, it will work nicely as a bedroom dress. The lack of coverage might then be seen as a feature rather than a bug. Because of the sequins, I would not recommend sleeping in this.
Final Thoughts and Rating
This is close to being a five star dress, but loses out because of the lack of top coverage. I could forgive it being a halter top (not my favourite style) and being backless, but without more bust coverage and support, I can't give it that fifth star.
This product was provided free of charge to the reviewer. This review is in compliance with the FTC guidelines.

Thank you for viewing
Wild in Ibiza dress
review page!