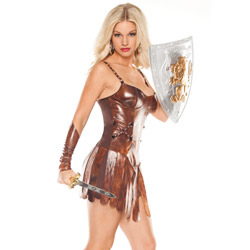 Dragon slayer
Costume
by Coquette
Ideal for seducing a gladiator....
If you're like me, Halloween is your absolute FAVORITE holiday and you have contemplated your costume for several months. If you're a woman who would like to go as something that likes to display strength and confidence on Halloween night, then you should give the Dragon Slayer outfit by Coquette some serious consideration.
Published:
Pros
Adjustable straps, not necessary to wear a bra, skirt isn't too short.
Cons
Not much stretch in the outfit, the back of the outfit looks nothing like the front.
I have spent months trying to figure out options for Halloween costumes this year. A good costume can be a representation of parts of your personality or your imagination, so I try to come up with costumes that not only make me look sexy, but also confident and strong. Two years ago, I was a football player, because, let's face it, I wouldn't want to cross someone that could tackle me. Last year, I was a doctor, while my boyfriend and his two roommates were my naughty nurses (it was fun being domineering towards 3 guys who are bigger and stronger than me). When I was browsing Eden and came across the Dragon Slayer outfit, I felt as if I hit the jackpot.

When I got this outfit, it came packaged the same way most Halloween costumes do: a plastic hanger bag with a cardboard photo of a model in the outfit. Not that this has any effect on how the costume actually looks, but the model didn't accurately present what a dragon slayer should look like. When I think of Medieval Dragon Slayer, the image that comes to mind is the character Aneka from "Krod Mandoon and the Flaming Sword of Fire" (a stupid show from Comedy Central, but she did a good job playing a fighter) *see photo*. My goal I set when I actually saw the model picture from the costume, was to actually look better than the model.

The outfit itself is made out of nylon and spandex. It has kind of a wet look, with shaded details to make it look like it's made out of leather, which is created by the nylon. The back and underskirt are made of dark brown spandex, so, from behind, it doesn't even look like the same outfit. Both materials create a little bit of a stretch, but not much. I'm 5'2'' and kind of stalky/chesty. Generally, if I buy a medium shirt, it fits just right in my stomach area, but it's too tight in the chest area, and if I buy a large, it fits just right in the chest area, but is baggy in the stomach area, so I decided to go with a small/medium, as opposed to a medium/large (although the medium/large probably would've been a better fit for me. I was also using the costume as a tool to get me motivated to work out). It fits fine in the chest, but you can actually see the outlines of my belly button through the nylon, which is incredibly unappealing. I would actually rather show my midriff off and have nothing covering it than have my belly button show through the outfit.

Despite some of my discomforts with the fit (which was purely my fault), there are some pluses to this outfit. First of all, the straps on the costume are adjustable. The front of the straps have metal rings before it continues into a bra-strap, which goes from about 12 1/2 inches long, to about 20 inches long, so there is a big window to make it optimally comfortable. Another thing I really like about it is that it has some padding in the boobs so you don't have to mess with a strapless bra underneath (unless you want to take the extra precaution so there is no wardrobe malfunctions). However, if you decide that you do want to wear a bra underneath (at least if you have the same build as me), you should probably go a size up in the costume. There isn't much leeway in the costume. Another thing that I really like is that it isn't too revealing. The underskirt starts about 6 inches above the knee, but there is pieces of thick fringe on it that go all the way down to the knee (that is, assuming that you are also 5 foot 2 inches tall). These two things make it really hard to "reveal" anything you don't want to be shown in public.

This outfit, from the front, is really detailed. There are little metal rings that cross in the front to give it a really Medieval look and is a far-cry from the cheap-looking spandex outfits. It actually looks genuine in the way the color and the shading is. It also has the wet-look that makes it look like real leather. I really like the way the outfit is put together, however, I chose the wrong size. It also comes with the wet-look sleeves that are made out of the same nylon that the front of the outfit is made of. These have little-to-no stretch at all, so if I were to go out on Halloween night in this outfit, I probably would skip on the sleeves, as they would probably cause some discomfort after a while.
This product was provided free of charge to the reviewer. This review is in compliance with the FTC guidelines.
Thank you for viewing
Dragon slayer
– costume review page!