Ignite Your Man's Attraction With This Ravishing Red Lingerie!
Regardless of my issues with this lingerie's fit and cotton crotch, I still love this lingerie set. I feel very attractive wearing it. I selected the set to be used for celebrating Valentine's Day and they were received very well. I can honestly say my man enthusiastically enjoyed the appearance of this lingerie. I believe this is, without a doubt, a nice addition to anyone's lingerie collection.
Published:
Pros:
Sexy, well-made, discreet, modest.
Cons:
Best for B-D Cup sizes, sizes fit a little large, crotch sewn-in only at 4 points.
It is said that the color red enhances a man's attraction to a woman, and the
Coquette Flocked Heart Mesh Wire Cup Cami & Short
provides no exception to that statement.
The packaging for the lingerie is neither cheesy nor outdated. The model is sexy and wears the lingerie well, the box is embellished with a romantic gift-box feel. This is important because a customer would not feel ashamed to gift this lingerie set to a lucky lady.
This Coquette lingerie is available in sizes small, medium, and large. It features 2 separate pieces: a heart flocked mesh cami with underwire cups and matching tanga shorts. Both pieces are adorned with a very subtle flocking heart design on the mesh itself, ruffle detail, and what appears to be a soft, stretchable, satin-like material for the lining of any elastic. For the most part, when washed, both pieces held up well.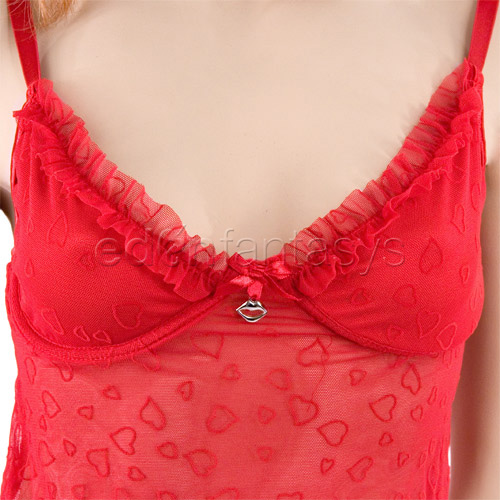 The top itself seemed to fit me larger than most size medium lingerie does. Also, I have small breasts and I felt they weren't enhanced at all by the underwire design. The underwire seemed too bulky for my small breasts to hold beneath the cleavage, and so I dealt with adjusting the cups of the top to prevent "riding-up". Despite this, I still felt attractive and sexy and overall liked the piece. I feel that the lingerie would actually be better suited for a woman with larger breasts than me (I have an A cup). I also recommend purchasing a size smaller than you normally purchase. Perhaps if I had a smaller size, the underwire cups would fit better, but I don't know. The top also featured the tiny but pretty detail of a silver hanging lips charm placed right below the small satin-like bed bow to make for a flirty centerpiece of the top.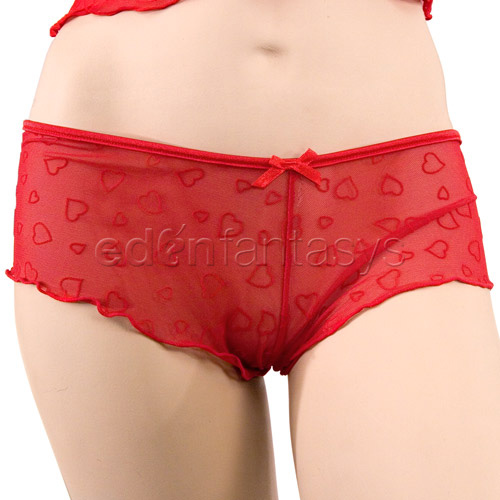 I am not really a fan of thong underwear as I personally see it as a health risk. I seek out breathable panties with cotton crotches, and the Coquette Tanga short is just that. Again, I found that these bottoms fit me a bit larger than most sized medium panties. However, I found the tanga shorts to be just adorable and complimentary in appearance. The tag is well-placed in the center back. I hate when clothing has the tag placed right above the crotch or where it can become lodged in your buttcrack! My biggest complaint regarding this lingerie set is that the cotton crotch of the panties is only sewed to the shorts in 4 little points instead of being sewn securely in place. After washing the panties several times, one side of the cotton crotch has already detached itself from the panties. I am going to have to resew in the cotton crotch myself so that I don't have to deal with wearing a shifting piece of cotton placed right outside my vagina. I have no doubt that the cotton crotch would eventually come off completely after a few more washings and wearings. These shorts also feature another small, satin-like bow placed at the front, center, top of the garment.
I find the design, color, and cut of this lingerie to be sexier than a lot of lingerie I already own, and I own a lot of lingerie. This set is also revealing, but modest. I love that I can discreetly wear this set under a lot of different clothing. The secret that I am wearing really sexy under garments under ordinary clothes drives me wild with desire. The see-thru mesh design provides just enough coverage to drive the imagination wild. This set is sure to please both your partner and yourself.
This product was provided free of charge to the reviewer. This review is in compliance with the FTC guidelines.

Thank you for viewing
Mesh cami with tanga shorts
– camisole set review page!