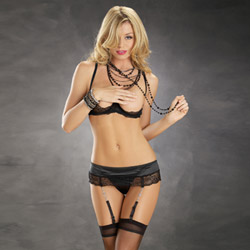 Black jeweled garterbelt set
Bra and panty set
by Escante
In a word? Meh.
While there are many things that I like about this set, the things that I don't like about it seem to matter more. This set just wasn't a hit with me, especially since my favorite part of it broke the first time I wore it!
Published:
Pros:
Lace pattern is really pretty, Comfortable, Stretchy, Garter skirt is adustable
Cons:
No real sizes, Garters broke on me, Poor quality, Bra shapes boobs in a strange way
Basics:
This piece is made by Escante, and it is available in both black and white. I purchased the black version, though I had intended on purchasing the white version if this set had worked out for me. Unfortunately, I will not be purchasing the white version due to my experience with this set.

This is a four piece set. It includes a cupless bra, g-string, garter skirt, and sheer thigh high stockings.

Material & Care:
The bra and garter skirt are both made out of 95% Nylon and 5% Elastane. The g-string, on the other hand, is made out of 92% Nylon and 8% Elastane. Finally, the included stockings... well, it doesn't say what they're made out of, but I would assume that they're made out of 100% Nylon.

Let's start with the bra. The little cups are a floral lace material. The lace is stretchy and comfortable, though it's not a very soft lace. The underbust and back of the bra are made out of a shiny material, which feels very satiny to the touch. It is a bit rougher on the inside, but again, it's not uncomfortable.

The garter skirt consists of the same shiny black material on the top half, with the lace covering the lower half. The included g-string does not have any lace detailing; it's just the shiny material.

The included stockings are thin, cheap, and essentially throwaways. They might be okay for one wear, but they're not meant to last (then again, this set just doesn't seem to be meant to last -- as you'll see in my quality section).

To care for this set, I'd suggest hand washing it in cold water and then allowing it to line dry.

Sizing:
Escante's sizing tends to be a little strange for me. I'm typically a large when it comes to lingerie, but there are times that Escante's large seems to be a little too big on me. Still, there other times that their mediums seem to be too snug on me. So, for this one, I went with the large, figuring that I could return it if need be.

According to Escante's size chart, a large would fit someone with the following measurements:
Cups: C-D
Bust: 36-38"
Waist: 32-34"
Hips: 34-36" (does this seem ridiculous to anyone else?)

Here's how I compare: I wear a 34d bra, and have a 32" waist. My hips are 40".

All in all, this set fits me okay. The bra band was loose on me on the tightest setting, but the little cups that there are do fit me perfectly -- this is essentially a cupless piece though, so that's kind of irrelevant. The garter skirt and g-string fit my hips okay, too. I'd say this set could fit someone who is a little bit larger than me all around. Someone smaller than me could wear this set, too, but they might find that the band is way too big if they're smaller in that area.

Design:
Let's break this down by piece...

The bra provides a cupless look, but it does have tiny, little cups. You can wear this bra two ways; with the little lace cups covering half of your breasts, allowing the top (and most likely the nipples) to be revealed, or you could wear it with the lace going under your breasts, creating a completely cupless look. I prefer to wear it the second way, as the first way makes my breasts look weird.

The bra does have underwire, so you do you get a smidge of support here. Don't expect a lot, though, as you won't get it here. Also, the bra has the basic hook and eye closure system, and adjustable straps.

The garter skirt combines lace and satiny material, creating a very sexy look, especially as your bum peaks out from underneath it. The back of the skirt is adjustable with lace. The garter straps feature beautiful metal gems, which unfortunately are not durable. The straps are, thankfully, removable from the skirt, so you have the option of replacing the straps with more durable ones, or simply wearing the skirt alone.

The g-string is basic with no real detail worth mentioning -- except that it does feature a cotton pantyliner.

Quality:
Disappointing, really. The quality is this pieces downfall. As you'll read in the experience section below, this piece just started falling apart on me. My main issue is with the way the little metal/gems are attached on the garters -- it's just not done well, hence why one of the metal bits has completely snapped off on my garter skirt.
Experience
I was a little unsure of this set when it first arrived. It just looked a bit cheap, but I figured I'd give it a shot anyway. Trying it on, I had mixed feelings. The garter skirt was incredibly cute (and definitely my favorite part of the set -- at least at first), but the included stockings were simply throwaways. I really do think that they included the stockings just as an afterthought. Anyway, the bra was nice enough; it fit me okay, but it kind of shaped my breasts in an awkward way, and the g-string wasn't anything impressive. Overall, I thought the set was okay at first.

Then, I curled up with my boyfriend on the couch, wearing this set. Just simply curling up against him to cuddle and kiss him... nothing major at all! Then... suddenly... I heard a snapping noise. I looked down at my garter skirt, and I noticed that the cheap metal had snapped somehow. Now, I had barely moved in this set and no pressure was being applied to the metal, so I'm unsure as to how this happened... but it did. The broken clasps meant that the included garters were pretty much non-functional.

Thankfully, however, I can still use the skirt without the garters, as the garters were designed to be removable anyway. I can also use other garter straps with the skirt, which is nice. I'm still totally disappointed though.
This product was provided at a discounted price in exchange for an unbiased review. This review is in compliance with the FTC guidelines.

Thank you for viewing
Black jeweled garterbelt set
– bra and panty set review page!