Show Some Skin
As you might imagine, this piece bares all. If your self conscious about just about any part of your body you'll want to pass on this garter set. If you want to show some skin, this will show nearly everything. The cupless bra displays breasts and the garter skirt is barely there. I have a few quality complaints with this in terms of seaming and the beading on it. The cups on the bra also shape my breasts in the oddest way.
Published:
Pros:
Pretty lace design, Ribbon tie up in back, Shows a lot of skin, Comfortable to wear
Cons:
Cups shape breasts oddly, Some quality issues with seaming and beading, Hanging loops are large
Escante's Black Jeweled Garterbelt Set is certainly not for the shy girl. It has a cupless bra and a very tiny garter skirt with a barely there G string. If you don't mind showing some skin, this is a pretty sexy little set. It comes with the bra, garter skirt, G string, and stockings. Not surprisingly, this skin baring number was one of my husband's picks.
PACKAGING
The set comes in a plastic baggie with everything done up on a hanger. It's not the fanciest way to present something, but nicer than a cardboard box.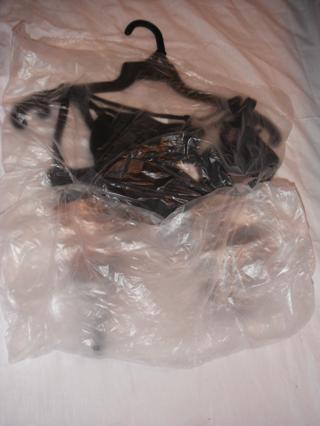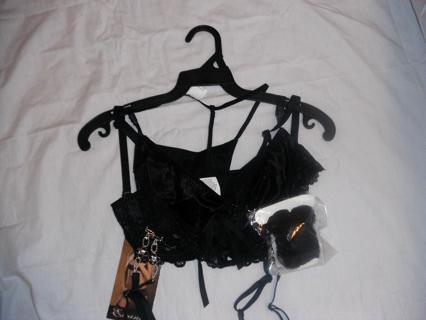 SIZING
I'm in between sizes for Escante. I ended up getting a large because that's what was in stock. For a large, I should be a dress size 10-14. My waist should be between 32"-34". My hips should be between 34"-36". My bust should be a cup size C-D with measurements between 36"-38". My actual dress size is a 6 with a few size 4 items and a few size 8 items. My waist is 28" and my hips are 39" (which actually fall in the "large" range for Escante). My bust is a 34DD/36D.
The bra is 12.5" long. They are 4.25" high at the highest point. Each cup measures 4". The straps are adjustable and the hook has three snap closures in the back. It is an underwire bra. The garter skirt is 14.25" wide. It is 3.25" long. The G string is 13.5" across. It is 6.75" down. It has a 3" lining on the inside.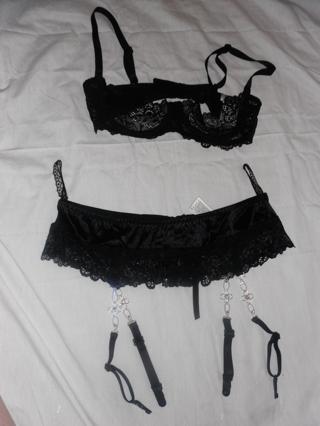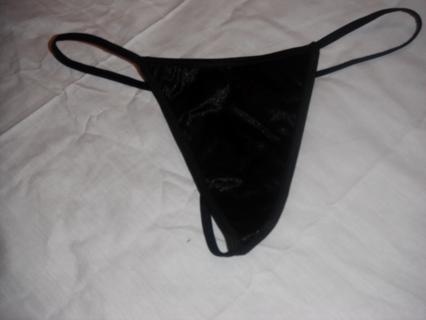 I'm actually glad they were out of stock on the medium. The garter skirt fits me just about right in the hips with a little wiggle room. I think if I would have gotten the medium it would have been a bit tight since on the hip size I fall into the large range. In the bust this is actually still a little tight even though I fit in the size range band wise. The actual cup size shouldn't matter since it's a cupless bra. I would say your safest bet on this one is to order up, especially if you are close to the edge of the size range.
MATERIAL
The bra and garter skirt are 95% nylon and 5% elastane. The G string is 92% nylon and 8% elastane.
The front of the bra looks to me like lace, but I guess that's not technically a material. The lace is pretty strechy, so I assume it's some type of fake lace - a nylon lace blend. It's not particularly soft but it's not itchy either. The back of the bra is done in a shiny material. It feels slick to the touch on the outside and rough to the touch on the inside.
The garter skirt is made of the same materials. The top half is done in the shiny material that's sort of rough on the inside. The bottom half is done in the stretchy lace.
The G string is done in the shiny material.
The shiny material has the most give to it. The seaming is mostly done in the shiny material so the seams have a good amount of stretch to them. The shiny material at the top half of the garter skirt means it will stretch at the hips. While the material feels a bit rough to the touch, it is not uncomfortable to wear. It's not something I would sleep in, but it's not something I minded wearing for a while either.
DESIGN
The design of the garter set is really pretty. It's laced with a beaded accent on the garters. The bra is done in the feminine lace. It's a floral looking lace which is noticeable if you inspect it closely. The bra is cupless, meaning it will cover about half of your breasts, leaving the rest exposed.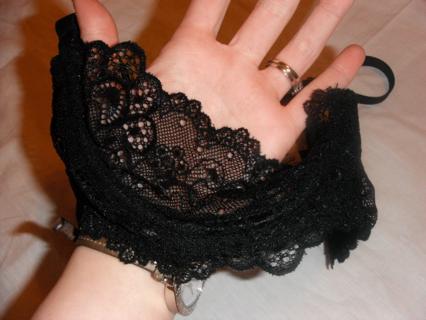 The garter skirt is done in contrasting materials - the shiny material against the feminine lace design. The skirt is very short and won't cover much of anything. Then again, the bra doesn't cover much of anything either. None of this piece really covers anything. The back of the garter skirt is laced up with ribbon in corset like fashion.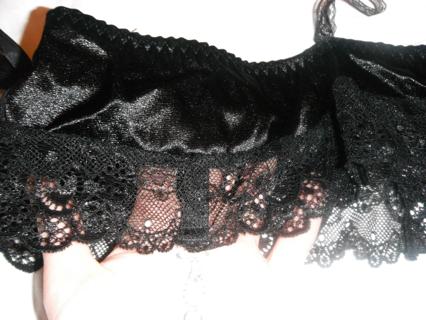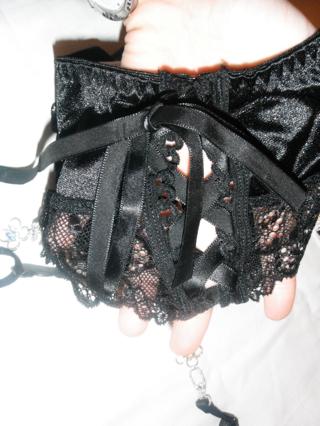 The garters are removable. They are plastic and not metal. Instead of being plain black, they are beaded with silver flowers that have blue crystal accents. The beading is pretty cheap looking, but from far away it looks okay.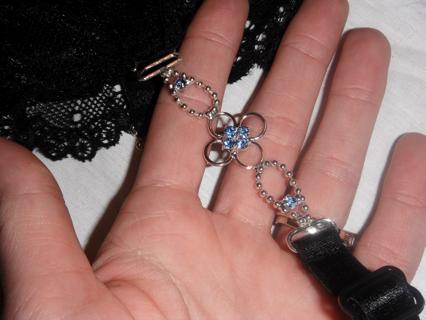 Experience
QUALITY
I forgot to take pictures and I apologize! The seaming doesn't meet up in most places. Instead of coming together nicely, the seams stick out where they come together. This is a pet peeve of mine. There is some light fraying going on around some of the seams. The stocking came with runs in them.
On a random note that I suppose pertains to quality, the garter skirt has two lace straps that function as loops so you can hang it. They are large - 2.5" long to be exact. They hang out of the skirt and are hard to get tucked in. I'm not sure what the thought process was on this, but it looks awful.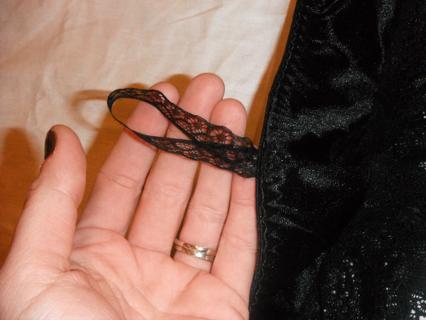 CARE
You should hand wash this in cold water. It should be line dried. It should not be placed in a drier or ironed. It should not be bleached.
EXPERIENCE
I'm usually a chemise girl, but I wanted something cupless with a little more skin showing. My husband picked this out of a lineup of items as his favorite. I didn't realize quite how much skin this would show. The garter skirt is almost non-existent. The cupless bra I was prepared for but the less-than-mini skirt threw me off a little. I don't mind showing skin though so it wasn't an issue.
I found that this did look quite sexy on. The extra skin was a big hit with my husband. It wasn't uncomfortable or itchy which is always a plus.
Now, onto the things I wasn't as big of a fan of. The quality is okay. It's not the best. The little loops for hanging the garter skirt drive me batty and look silly coming out of the skirt. They don't tuck in right because they point upward.
What you can't really see in the pictures (since I had to put clothes on underneath this so that I wasn't posting porn) is that the cups do weird things to my boobs. They sort of push them forward and into an odd shape where they're no longer rounded but...oblong is perhaps a good word. Like, kinda of pointed outward and not exactly the shape breasts should normally be. My husband, of course, didn't notice this because all he saw was the fact that my breasts were exposed, but it really bugged me.
Also, the beading is super cheap looking and I'm not sure how long it will hold up, especially if this sees any rough use.
This gets a four from me. I would give it a three, but my husband really is in love with this and I suppose I have to take his opinion into account at least a little.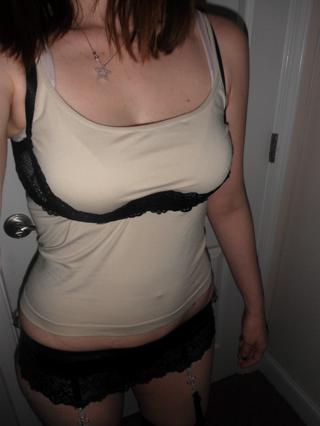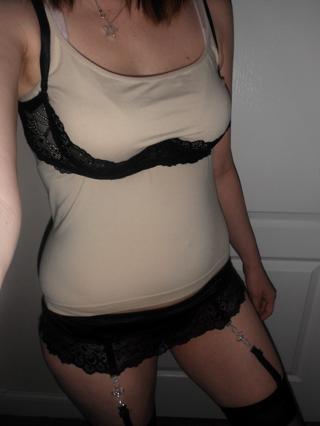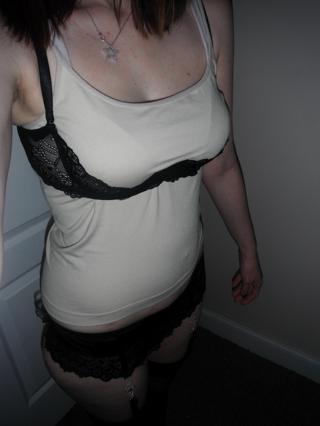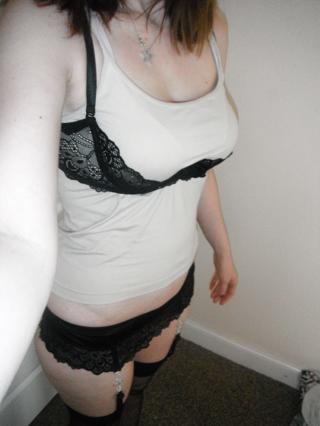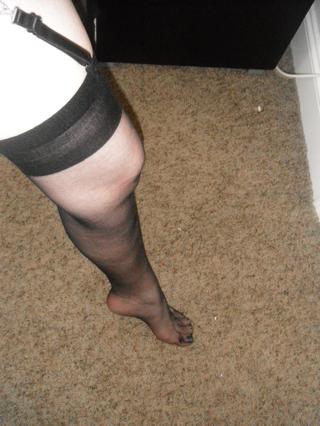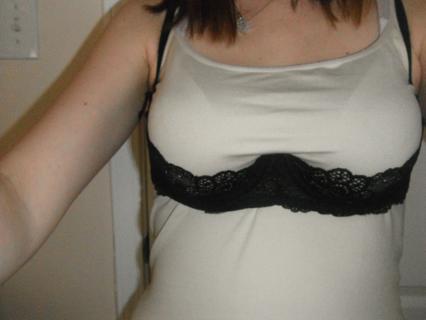 This content is the opinion of the submitting contributor and is not endorsed by EdenFantasys.com

Thank you for viewing
Black jeweled garterbelt set
– bra and panty set review page!