It's hiding my boobs, but I still love it!
Lace halter mini dress by Coquette is not perfect, but it's so well-made and looks so great, that you'll probably forgive it everything. You can wear it like it is or combine with lots of different accessories to create your perfect sexy style.
Published:
Pros:
awesome quality;
unique design;
height-friendly
Cons:
one size;
no much breast support;
underbust strap is too tight
My decision to order this mini dress was easy and difficult at the same time. I fell in love with it at first sight, but the only
review
(yet being amazing) boded nothing good for a small breasts' owner like me. However, I'm pretty stubborn when I really like something, so I took the risk. Now, when I have been regularly wearing this lovely dress for almost 8 months, I can say without any doubt: it's one of my favorite lingerie articles so far!
Design and construction
The dress can be visually separated into two parts.
The bottom part
is a sheer mesh mini skirt with ruffled hem. It is 9.6" long including both a trim and a single layer of ruffles. The seams on either side of the skirt are visible through mesh, but are neat and well-sewn.
The upper portion
consists of two 22" long pieces of gorgeous lace which are connected to the skirt and come all the way up to cover the breasts. The lace is incredibly well-made, with floral pattern, shiny silver inclusions and scalloped sides. This lace pieces narrow down from 5.5" to 1.57" as they go towards your neck. Where they cover my boobs, their approximate width is 4.7". There is also a narrow spandex ribbon vertically sewn into a middle of each.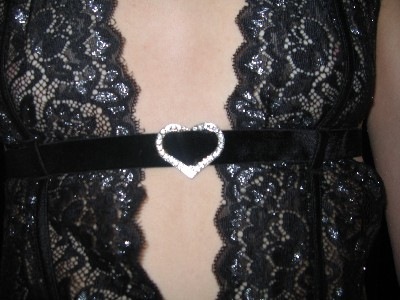 As you can see, there's also a thin (0,78" or 2 cm) underbust strap with a cute rhinestone heart in the middle. The strap has velvety texture and is quite stretchable, but still might be a problem for some. There are hook and eye closures in the back, so the strap might be from 24.5" to 25.5" long depending on which of three clasps you will close it. If stretched to the limit, it is almost 34" long, but in reality it will more likely cut into your body than actually stretch. Both the heart and the strap are removable if needed.
The top is halter-style, so these lovely lace pieces are connected with a 1.37" wide and 12.5" long satin ribbon each. You should tie these ribbons behind your neck.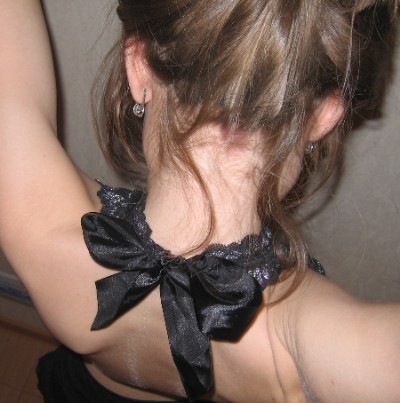 Materials and care
Lace halter mini dress is 82%
nylon
, which makes it quite easy to care for, because nylon is sturdy and resistant to oils and greases. The other 18% are made of
spandex
, which is used to make lingerie stretchable and enable it to recover its original shape. Spandex is also quite sturdy and durable material, but
lace
details require some delicacy if you want to keep them as good as new. I would recommend to wash it in a soapy water and avoid scouring powder and bleaches.
Personally, I store it on a hanger, but I would probably just put it in a drawer if I had one.
Sizing
Lace halter mini dress is one-size-fits-most dress, which is probably its main disadvantage. According to Coquette, "one size" fits a 4-14 dress size, 34-40" bust, B cup, 26-32" waist and 36-42" hip. I weight 120 lbs and wear US 4/6 clothing size, which would be a size 8 in UK, size 34 in German system, sizes 42 or 44 in Russia and, most likely, 38 in Italy (went through all of my clothes to figure that out). On the whole, this lingerie piece is amazingly comfortable for me and fits quite well. Except for the strap. I usually wear 32A bra and my underbust measures slightly more than 28", but still after a while the strap starts bothering me being too tight.
Of course, this dress doesn't look as great on small boobs as it would have with C or D cups, but I'm not complaining. I don't really care about making by breasts look bigger, so as far as they look great without any lingerie at all, they look great in this dress, too!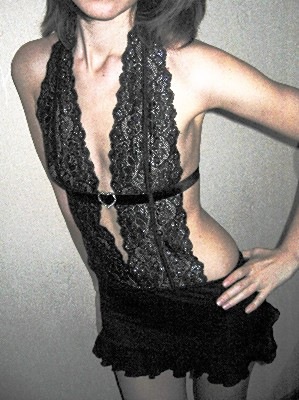 My hips measure 36.5" and look quite wide in comparison to my very skinny upper body. I think that might be the reason for the skirt to rise up all the time. But overall, Lace halter mini dress fits my bottom nicely.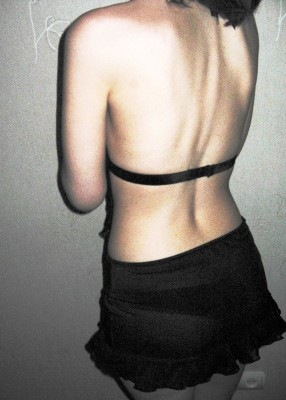 Considering all the features of this dress as well as its weak points (like this quite tight underbust strap) this is most likely
for you, if
:
- your underbust measurements are under 32" OR your boobs don't require much support and you can go without this strap;
- you've got 34-40" hips;
- you love your body and don't mind showing your belly and waistline.
Experience
Key features and best use
- Can be worn during intercourse -
The construction of this dress allows easy access to breasts. It's also comfortable and sturdy enough to keep on during intercourse. You can do whatever you want and get wild as much as you wish, because the underbust strap doesn't let the dress move around. But if you need, it's also quite easy to take off.
- Height friendly -
Halter-style top lets allows you to somewhat adjust the dress according to you height. This also solves the problem of having boobs not big enough to fill in the top portion of the dress. You just fasten the ribbons behind your neck a bit tightly, and the lace will hug your bosom nicely.
- Works with lots of accessories -
In my opinion, this mini dress is already pretty much complete by itself. It doesn't really need any accessories except for a thong and some nice shoes. If you wish to keep emphasis on the lace, you should probably choose simple open black ones like these: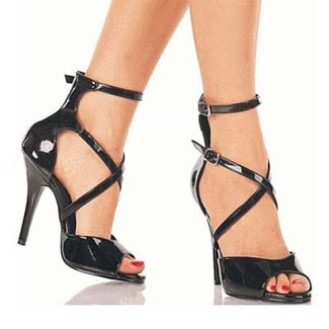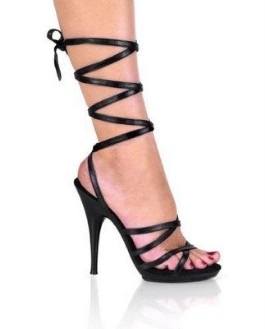 Or go with something more complex to support the details of the dress: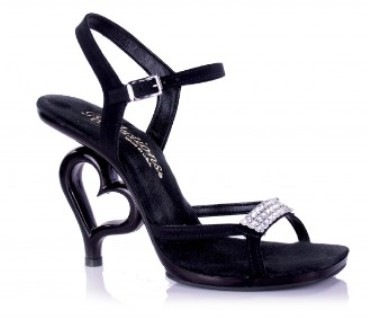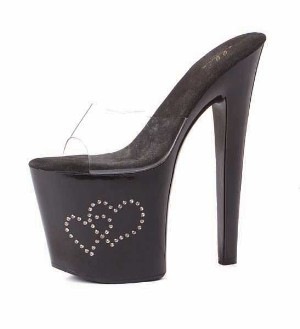 A thong should probably be as simple as it can be: bikini thong or g-string without any decorations that can potentially harm the mesh.
Eden Fantasys doesn't carry the ones I would prefer, unfortunately, but these may work as well:
Crotchless panty with bow
and
Strappy back thong
.
However, you can also combine it with lace gloves and stay-up thigh-highs. Also, being black, this dress always puts me into kinky mood. It looks great with some restrains, black leather whips and handcuffs. So mix and match and enjoy!
Conclusion
I would have loved to give this lingerie piece from Coquette 5 stars, but its obvious faults convinced me to go with 4. Of course, one-size articles never fit everyone, but the underbust strap restricts this dress to only a few body types, so it's not really a one-size at all. Also I understand how many people with small breasts may dislike the way it covers them completely and doesn't create any cleavage whatsoever.
This content is the opinion of the submitting contributor and is not endorsed by EdenFantasys.com

Thank you for viewing
Lace halter mini dress
– gown review page!