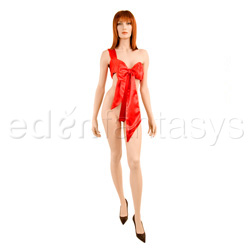 Naughty knot
Costume by Entrenue
It's Like A Present!
This product fits most people, including those on the larger size, and that's a good thing. It also has very good (if not slightly confusing) instructions. Try it out, it's enjoyable.
Published:
Pros:
That it fits larger women as well, it came with detailed instructions on how to use it.
Cons:
Instructions are slightly confusing.
The
Naughty Knot
on Eden Fantasys has a secondary text, "Restraints by Entrenue". I don't like the restraints part, because it's not like you're using it to tie up ones self, it's more like a couple ribbons that are supposed to turn you into a present!
Now, before I go on to the rest of the review, I'd like to note that this product says that it fits a 4'11" to 6' (four feet eleven to 6 feet tall, for those who want that written out less complicated, like me) height and AA to DD in bust size. I am a 5 foot exactly and 44D, I'm also on the large size, in terms of weight. I wasn't sure if it would fit me because the model on the cover of the box was probably a size 4. But... don't judge a book by its cover, it never works out.
I rather liked trying it out to see if would fit me, because I was curious if it would fit a larger woman. My only complaint was I had trouble understanding the instructions. I tried it out the evening I got it, and didn't get past step 3. So I just packed it up, and waited a few days until Friday, and then tried it out. I figured out the instructions, and was able to wear it. I say "wear" because it is ON your body, but it certainly wouldn't be anything near clothing.
I do like that this product also has a "strap" (I'm calling it that) for the right side, called a "loop" in the instructions. It certainly helps with a fear of it coming off at some point prior to when you untie it. With my experience, my breasts (which are larger, and by consequence, somewhat saggy) stuck out from the bottom of the ribbons with this item on, but, really? How is this a bad thing at ALL? I see it as amusing, because this is a product that's essentially designed to come off in a matter of seconds, and if I don't care, do you?
Overall, I think it's a good product. I gave it full stars because it does live up to its "One size fits most" size entry on this site, and that's very nice to me. I'm certainly willing to use this with a future partner, seeing as I didn't have a partner to play with me this time.
Experience
With my experience of this product, my breasts stuck out from the bottom of the ribbons, but I don't see why that's a bad thing, because this is supposed to come off.
This product was provided free of charge to the reviewer. This review is in compliance with the FTC guidelines.

Thank you for viewing
Naughty knot
– costume review page!