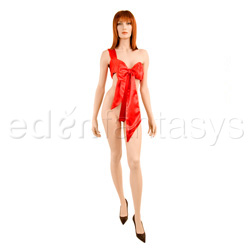 Naughty knot
Costume by Entrenue
The Gift That Keeps On Coming
I've tried various methods of "wrapping" myself up, and this is easily the most effective one I've seen. It sets up quickly, it looks great, and you can take it off in a few graceful motions. Well worth the money.
Published:
Pros:
Looks great and feels good. Easy to assemble.
Cons:
Not very stable once on; you may have trouble keeping a straight face
When the
Naughty Knot
arrived, I was delighted to find that it was much nicer than I expected. It came neatly packaged in a small silver box, rather than a clear plastic wrap. The satin fabric is lovely – soft and smooth and shiny and a gorgeous bright red, perfect for Christmas and Valentine's and other gift-giving occasions. The construction is good, without any of the minor irregularities and lopsidednesses that often plague cheaply-constructed lingerie.
The Knot itself consists of a wide satin sash, with a smaller strap attached near the center, and a long tail dangling down from the center. The strap goes over your right shoulder, providing support for the Knot to keep it from falling down to your waist. The tail is pulled between your legs and up to your chest. The tail is constructed with a double layer of fabric, leaving multiple openings between the layers. You pick an opening that's the right height for your body, and then poke the sash through the opening, forming a bow that is held at the right height to cover and decorate your breasts. It's fairly simple to assemble, and simple to adjust as needed to get the right effect.
The Knot went on easily, and it felt good against my skin. It even stayed together fairly well, though I did have to periodically tighten it. (I suspect the shoulder strap was a little too long for me, so shortening it with a couple strategically-placed safety pins could have helped.) It looked pretty awesome. I wouldn't have wanted to stay in it for a long time, or try to move around much (a walk down the hall was fine, but a sexy dance would have been difficult) but it was fun to wear and it looked great. (I should mention that it gave the breasts no support at all. Not a problem for me, but it might be for some.)
When I went to show my husband, however, I discovered that I could not for the life of me keep a straight face. In fact, I very nearly fell over laughing, which somewhat spoiled the sexy effect, as you can imagine. So we had a good laugh together, which was all to the good.
Getting out of the
Naughty Knot
is even quicker than getting into it: you just grab the free ends and pull, and it all falls off. It would be an incredibly sexy presentation.
All in all, if you can keep a straight face, the Naughty Knot is definitely worth the money. And if you can't, you'll still have some sexy fun.
Experience
The instructions are overly complicated. Don't bother with the Chinese fan folding, just poke a section of the sash through the "pocket" from each side. Makes a gorgeous bow and you don't need five hands that way.
This product was provided free of charge to the reviewer. This review is in compliance with the FTC guidelines.

Thank you for viewing
Naughty knot
– costume review page!