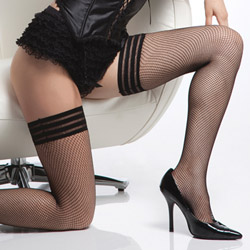 Fishnet stockings with elastic top
Stockings
by Coquette
Left Something To Be Desired
I really wanted to love these stockings, but unfortunately I was left wanting more. The elastic top will be incredibly sexy on the right person, but sadly I wasn't that person. Instead of looking sexy, these just gave me major muffin tops. The quality was also dreadful, even for such a low price.
Published:
Pros:
Sexy in theory, Two colors available
Cons:
Hand wash only, Only in one size fits most, Gives me major muffin top, quality is lacking
I really had high hopes for these stockings, but sadly I was let down. Between the poor quality and the major muffin top that I got from these stockings, I was definitely disappointed.

Basics:
This pair of fishnet thigh high stockings comes to us from Coquette. The stockings feature an elastic band top, which helps to keep them up. The stockings are available only in one-size-fits-most, but they are available in two colors: red and black. I, personally, chose the black pair.

These stockings are fairly versatile, as you can wear them both in and out of the bedroom.

The stockings feature a diamond net pattern. The heels and toe are not exactly reinforced, though the netting is a bit tighter on the toes; it's enough to keep your toes from slipping through the holes, but not quite enough to count as being reinforced.

Garter belt, or no garter belt?:
Ah, this is always the question when it comes to thigh high stockings (beside, of course, the question of "will they make my thighs look like muffin tops?"). I, personally, always wear my thigh high stockings with a garter belt, as I think that there is nothing sexier than a garter belt and a sexy pair of stockings.

For these particular stockings, whether or not you need a garter belt is going to depend largely on how the stockings fit you. The elastic top is, in theory, supposed to hold the stockings up, and I do believe that it would if it fit your thighs right. If your thighs are a little too thick, though, you're going to find that the elastic band rolls (and makes your legs look like they're being forced into a too small pair of stockings, of course).

Material & Care:
These stocking are made out of 100% Nylon, according to the packaging.

The fishnet portion (the main body of the thigh highs, of course) is very stretchy. The elastic band, however, has a much more limited stretch to it.

I have mixed feelings when it comes to the feel of these stockings. On the one hand, the fishnet is comfortable on my skin. It's soft, although slightly cheap feeling, and it doesn't itch at all. The band, however, is rather itchy and stiff. The stiffness of the band is probably required to keep the stockings up, but it didn't feel pleasant at all.

Both the band and fishnet look cheap and like they'll fall apart quickly. Before I even wore these fishnets I noticed little bits of fraying on the fishnet material, as well as little holes on the band. If you're going for the trashy look (and sometimes I am), these stockings are great. If you're looking for a more classy look, these stockings are not going to give it to you.

As for the care, you're going to hand wash them, and then allow them to line dry. For storage, I would recommend placing them inside of a Ziploc bag; doing so will prevent them from getting snagged on something in your drawer.

Sizing:
These stockings only come in one size fits most, and sadly, I don't believe that these stockings will really fit most. at the very least, these stockings didn't fit me well.

To help you get an idea of the fit, I'm going to give you my measurements. I'm 5'6", with an inseam of 33". My thigh measures 26" around at the thickest point. The stockings give me major muffin top, so I would say that these are best suited for someone with much smaller thighs.

Length wise, these are okay. They come up to about mid-thigh length on me.

Quality:
In a word, lacking. The stockings appeared to be falling apart before I even wore them, and I doubt that they will hold up to many wears -- that is, if I were to wear them again, because I really don't think that I will.
Follow-up commentary
1 month after original review
These never worked for me, unfortunately. I ended up giving them to a friend of mine with much smaller thighs, and even she does not seem to be pleased with them. She says that the quality is just not that great, which I agree with.
This product was provided at a discounted price in exchange for an unbiased review. This review is in compliance with the FTC guidelines.
Thank you for viewing
Fishnet stockings with elastic top
review page!