Leggings To Die For (OSFM)
These leggings are nowhere near any other plain Jane legging that I have seen. At first I thought they were a pair of pants until I went to the product page and had a look at them. These truly are sexy and even sexier if you can get into them. I took a big leap and decided to grab these to go out with. I was kind of scared but I tried them on and all was well. I love them and they make my booty look luscious.
Published:
Pros:
Sexy, Stylish, Cute lace design, Comfy if you are a decent size
Cons:
Only available in one size this could be a problem for some.
The Wet look leggings are made by Leg Avenue. These leggings can be used for role-play, Bdsm, camming, or just to wear out on the town. You can put it under a skirt or even wear a corset or nice bustier with it. I plan on wearing mine with a bustier when I go out.

The leggings only come in One Size Fits Most. This is a scary thought for most people because half the time One Size does not fit most. You would be really taken a chance in ordering these. On the tag that comes with it, it does say Size S/P and we all know S means Small and P means Petite. Well that is what I got out of it. I did not find a size chart for Leg Avenue on the product page I even tried to look thru different pieces of lingerie to find one but could not. So I will give my sizes as usual. My sizes are as follows Size 9-10, Bust 38b, Waist 40-41, Hip 42, and Weight 146 lbs.

The leggings are made of 93% Polyester and 7% Spandex. They look like a real good pair of leather pants. Beware that these are see thru. The panties I had on when I tried them on were visible because of the color they were. The tag on the leggings said to wash before wearing. Hand wash in warm water only and to use non-chlorine bleach when needed. It also says to drip dry, and do not iron.

The leggings are very cute they are all black even down to the elastic lace in the back. The pants feel very smooth and have a silky touch to them. They are comfortable I kept them on for about a half hour and they felt good. I did say I will be going out with these on so dancing they may get a little warm in wearing but that will not be a problem since it is cold out it will keep me warm. The only way to get in these is to untie the top lace notch and stick your feet in. There are no zippers and no buttons. I loosened up the top then did a few loosening in the bottom ones as well so to as not make the lace come all the way out but to get enough room in order to get my legs in there. Once you have them on tie them back up.

These came in a clear plastic bag and they were folded up neatly so they would not wrinkle up. It also came with a cardboard tag that shows the model wearing them from the back side. On the other side of the cardboard it shows the company who made them the size the material and the care instructions. This would be easy to travel with because you can just fold it up and stick it in a bag or suitcase. I will be hanging mine on a hanger in my closet for storage.

I gave these leggings 4 out of 5 stars. The reason for this is because I wish there was just more size options available.
Experience
I did not have any issues with the fit of these. It is weird because the bottoms of my legs are tiny and the top of my thighs are big. I did kind of get scared in ordering these because of the OSFM. Then I thought hey if they did not fit thanks to Eden's wonderful exchange policy I could return them back. I did not have trouble getting them on and I had no issues with bunching either. I just pulled them all the way up till they were comfortable and got the bunching out by fiddling with it. I also thought it would not fit over my butt. I do have a little booty back there. It sat perfectly fine on my butt. It also made the curves in my thighs look nice I thought it would make me look bigger than I was but it did not. I just hope the leggings hold up when I am out popping it down to the ground like I normally do when dancing. Or they do not rip that would be embarrassing. I will let you know how it goes in my follow up review. Also the length of these fit me perfectly for being 5'7" they sat right at my ankle.
Here are a couple of pictures. Sorry about the lighting but you can still see a good shot of them from front to back: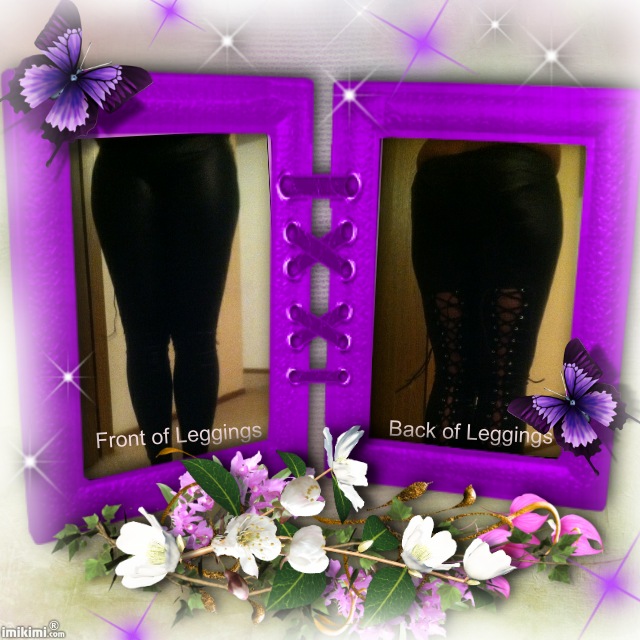 Follow-up commentary
3 months after original review
I still love these leggings. They are wonderful for camming. I wish they had more of them in different colors I would so snatch them all up. I also wish they came in my sizes as well that way my booty won't show when I am dancing they are cute for club wear as well.
This content is the opinion of the submitting contributor and is not endorsed by EdenFantasys.com

Thank you for viewing
Wet look leggings
review page!