Unless you have skinny model legs, you will look like a tin foil wrapped sausage casing!
I originally hesitated on purchasing these leggings, as they only came in a size small. I should have known that I don't wear a small, and won't any time soon. On top of that, with the wet look, it just made my legs look fatter. If you have nice slim legs, these will look amazing on you, but if you have a little extra junk in your trunk... you will want to hold off on this purchase!
Published:
Pros:
Stylish, sexy, fashionable, alternative to plain boring leggings.
Cons:
Small fit, not flattering for bigger legs.
Use
Are you looking for a legging that adds a little fun in your wardrobe? Are you tired of the regular traditional boring black leggings? Well, Wet Look Leggings by
Leg Avenue
, might be what you're looking for! They're a sexy version of the black leggings, but with a wet look sheen to them. In the back, they also feature an elastic lace up, similar to what you would find in a corset. Pair these leggings with a skirt, dress, or over-sized shirt or sweater, and you'll be sure to capture people's attention.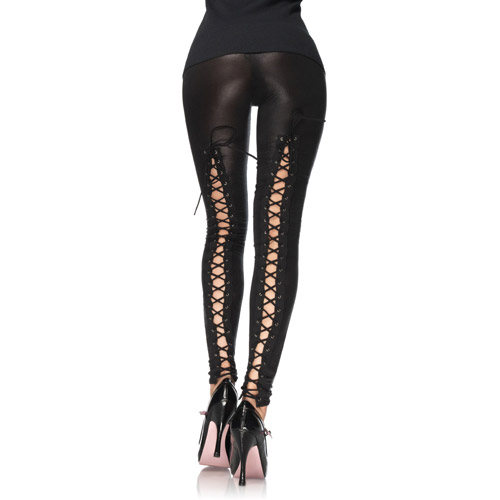 Material / Texture / Design / Shape / Size
The leggings contain one tag that's sewn on the inside leg, which state the size, washing instructions, and fabric breakdown. The pants are made up of 92% polyester, and 8% spandex. The color of the leggings are black, with a wet sheen to the fabric. They look shiny, as if they're wet on your skin. From far away, they can even have the appearance of leather. The fabric is smooth to the touch, and has a slippery feeling when you rub your hands against them.
The leggings are only available in size small on the Eden Fantasys website. The pants are meant to fit skin tight, as that's the style of leggings. Starting from the top of the leggings, it contains a thin elastic that measures 1/4" in height. The waist measures 23" around without it being stretched, but can be stretched out to roughly 34" around. From the waist down to the crotch, it measures 7.5" in length, so for some these may fit low. The measurement of the legs at the thigh is 13" around (without stretching or adjusting the corset at the back).
The length of the legs measure 34.5" long, and the widths will vary depending on your leg size. The corset portion that laces up at the back, have a total of 22 metal holes all the way down. The corset portion is nicely lined with black fabric, of a canvas like texture. The metal ring holes are securely attached, as they can take quite a bit of tugging. The laces are black in color as well, and ties in a bow at the top of the leg in the thigh region.
Putting the leggings on, you will want to untie the corset bow at the top, to give yourself enough leg room that's needed. Once the leggings are on, tie the string on both sides into a bow, and admire your legs!
Care and Maintenance
With the nature of these leggings, you will want to stay away from the washer and dryer. You will want to hand-wash them in warm water, with a light soap. Hang them up to drip dry, to keep their shape. Make sure not to add any bleach, and stay away from ironing.
Packaging
The leggings came in a clear plastic bag, that was sealed. The leggings were nicely folded and wrapped around a plain piece of cardboard, to help keep their shape. The leggings had the original cardboard tag that was attached to the top of the pants. The front of the tag has a model wearing the leggings, which show the back view. On the other side of the tag, it has the title, washing instructions, fabric breakdown, and the companies information.
With the packaging being minimal, everything is fully recyclable!
Experience
With Eden Fantasys only offering a size small, these leggings didn't fit me properly. I would normally purchase items of clothing that are a large or extra large. I decided to take a chance on these, as I was looking for a legging that was a bit different. The wet look does absolutely nothing for me, and actually made my legs look bigger. The shine shows every flaw that you may have, so unless you have model legs, these won't be for you.
I was able to get them on, however, they looked horrible. I looked and felt like a tin foil sausage casing... with the meat ready to pop out any minute! So it wasn't a look that I could pull off, but that doesn't mean that it wouldn't look amazing on someone else. If you got a great body, with thin legs, these would look HOT!
Follow-up commentary
18 days after original review
If I had model legs, I probably would have loved these. But since I don't have gorgeous model legs, I will continue to hate these! I ended up giving them away to my cousin who is a size 0!
This product was provided at a discounted price in exchange for an unbiased review. This review is in compliance with the FTC guidelines.

Thank you for viewing
Wet look leggings
review page!