Long on Elegance, Short on Fit
This garter-slip set is a beautiful, soft, well-made, and very seductive outfit. Its sizing runs differently from the size chart's recommendations, and didn't work for me; if you have the right figure for it, though, this satiny, lacy, underwired slip set with its strategically-placed sheer panels could be just the thing for your next special occasion in the bedroom.
Published:
Pros:
Quality fabrics; Rich color; Underwire cups; Detachable garters; Stretchy; Luxe lace trim.
Cons:
Not true to size; Not fitted through waist; Cups need more support.
The Basics
The Dreamgirl Gartered Slip and Thong Set in Plum is composed of shiny stretch satin and sheer stretch mesh, and is lavishly trimmed in scalloped black eyelash lace. The slip features slim, black, adjustable bra-type straps; unlined underwire cups with stretch mesh for the outer two-thirds and stretch satin for the central third of each cup; black lace trim along the top of each cup; a strip of stretch mesh extending down the body of the slip on each side of the front, aligned with the mesh part of the cups; corresponding stretch mesh strips down each side of the back; silvertone metal, non-adjustable, 22 hook-and-eye back closure; adjustable and detachable garters; and wide, scalloped eyelash lace trim at the hem. The set is completed by a g-string panty (not thong) in matching stretch satin, with a dyed-to-match cotton(?) gusset.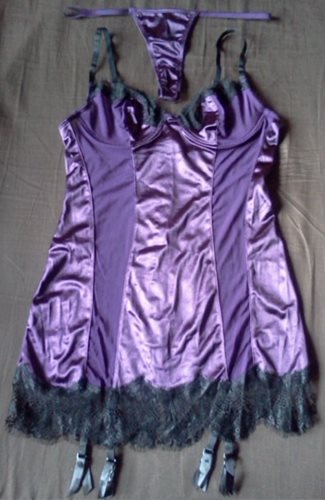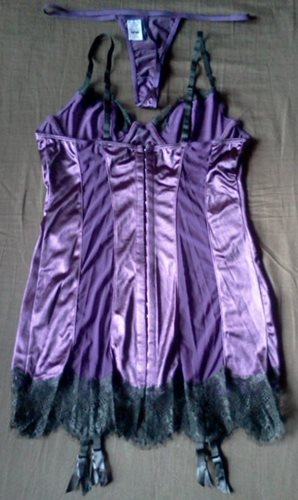 The Fabric
The stretch satin on this set is 92% nylon and 8% spandex. It is good quality fabric: it feels fairly substantial, has a shimmery look, and is slick and silky to the touch. The content of the stretch mesh is not noted, though it may be the same as the satin; it is quite sheer, very stretchy, and feels soft and smooth. Inside the slip, between the cups, a small panel of a sturdy, sheer, non-stretch fabric is sewn in a double layer, for added durability and support. The lining panel in the panty looks and feels like jersey-knit cotton, though its content is not listed on the garment tag either. The set is manufactured in China, and the care instructions recommend hand-washing in cold water and line-drying. If you aren't in possession of a clothesline (or a back yard, for that matter), you can hang the set on a snag-free hanger in your bathroom to dry.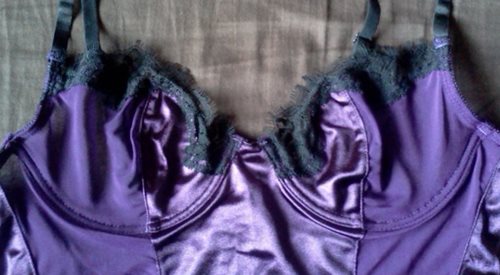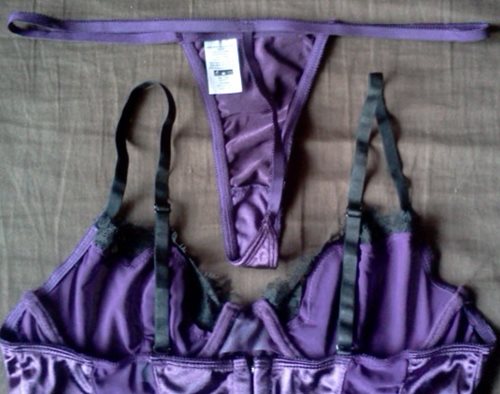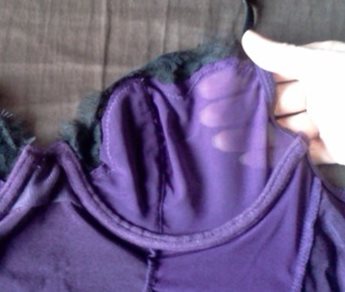 The Fit
I ordered this set in a Medium, based on Dreamgirl's size chart, which says Medium should fit:
Clothing sizes 6 - 10
Cup sizes B - C
Bust measurements 34" - 36"
Waist measurements 26" - 28"
Hip measurements 36" - 38"
Weights of 120 - 140 pounds
Technically, my measurements fit into those for the Large size on their chart: I wear a size 34C bra, with a 37" bust, 28" waist, and 40" hips, and I weigh closer to 145 pounds (at 5'5"). However, as my clothing size is 6-8, or Small - Medium, I went with the Medium. The fit of the hip area and of the g-string panty is about right. However, the overall fit is not right for me: the cups are okay, just slightly big, but the entire upper torso area is much too roomy. If it wasn't for the non-stretch lace around the hem, I could probably fit into a Small.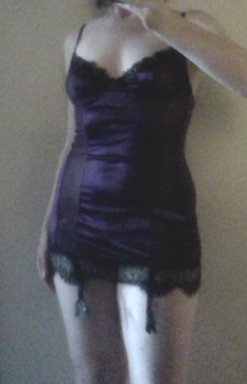 The actual measurements of the Medium set are:
Slip - cups measure 5.5" across tops of underwire; underbust measures from 30" to 38", waist from 30" - 40", hips from 36" to 44"; lace hem (at top of thighs) measures 37" - 39"; length down the center of the front measures 17.5", plus 3" of lace; length down the center of the back measures 16", plus 3" of lace; adjustable garters measure from 4.5" - 7"; fully adjustable straps measure a minimum of 9" to a maximum of 17".
G-string panty - waistband measures from 30" to 44"; rise measures approximately 7.5".
Because the bust and waist are larger on the slip than what is listed in the size chart, and because the hooks in back are not adjustable, the fabric did not hug my waist at all. On the contrary, it stretched straight down from my upper back to my derriere, making my waist look much thicker than it is.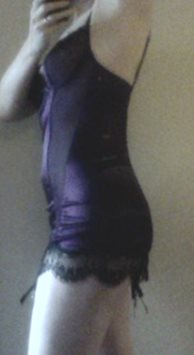 This photo shows what a better fit would look like: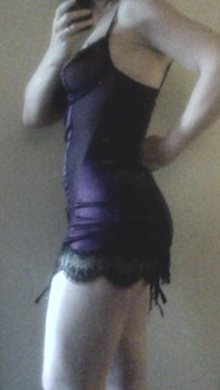 While I recognize that I have a smaller-than-average waist in comparison to my hips, it still seems that this slip should have a little more tapering at the waist in its design.
Experience
What I Like:
- The color of this set is a really luscious deep plum, which I think would complement most skin tones and could be worn any time of the year. This classy color gives additional elegance and sensuality to an already-beautiful set.

- The stretch mesh used in the cups and body of the slip is soft, fine, good-quality fabric with a lot of stretch, and is very sheer--your nipples will show through.

- The stretch satin fabric is good-quality, not too thin, feels silky, looks shiny, and seems fairly strong and durable (though you'll still want to be careful to avoid snags).

- The panty is also of decent quality, with a very stretchy, bra-strap-type elastic waistband, and is sized to match the babydoll instead of being "one size."

- The overall use of soft, stretch fabrics make this slip very comfortable.

- The ribbon-trimmed garters are removable.

- All of the hardware is metal: no plastic adjusters, garter clips, or hooks-and-eyes; all hardware but the hooks-and-eyes are coated with a black enamel.

- The eyelash lace, especially the type used at the hem, is simply gorgeous, and really sets the tone of luxury and class for this set.

What I Don't Like:
- The sizing is not true to the manufacturer's size chart.

- The back hooks are very difficult to close, partly because there are so many, and partly because they don't grab tightly and can come undone again while you're trying to hook the rest.

- The back hooks have only one row of eyes to connect with; there is no adjustability.

- The cups are not very supportive, being made of single-layered stretch fabric.

- The shape is cut too straight in the waist area.

- The wide band of lace at the hem is tight in comparison to the fabric above it, causing the slip to "ride up" with movement if garters aren't attached to stockings.

I reluctantly made the decision to return this set, mainly because I'm not skilled enough with a sewing machine to alter its fit through the top and waist. It does, however, have a considerable number of good points, and would look stunning on someone with the right figure for it (larger than 34C and/or very firm breasts, more proportionate waist-to-hip ratio).
Follow-up commentary
1 month after original review
After writing my review, I tried this garter-slip on again to see if I could make any adjustments that would create a better fit. The style, fabrics, and color are just so beautiful and sexy, I hated to give up on it! However, it just wasn't right for my body type, so I went ahead and returned it. I hope others will find it to be a better fit!
This content is the opinion of the submitting contributor and is not endorsed by EdenFantasys.com

Thank you for viewing
Plum gartered slip and thong
– chemise review page!