Longest Mini Dress Ever
I just love the pothole effect, it's very sexy. It doesn't come off as too unflattering even though the material is one of the clingier ones. The stretch is enough to accommodate a range of sizes and I think the size chart given is fairly accurate. However, as an average height girl this came down to my knees and I had to push it up for it to look like it does in the picture. I also found a few slight flaws that I'm not so thrilled with. Other than that, this is a great dress.
Published:
Pros:
Pothole effect is very sexy
Comfortable to wear
Will accomodate a range of sizes
Cons:
Will be very long on short to mid height
Some flaws in dress
I used to have this great outfit a few years back that had circular cut outs to it. My husband decided it would be fun to rip it off, so that outfit is gone now. This pothole dress came out and looked similar to that dress I had, so I jumped.
The Pothole Tube Dress comes in pretty standard lingerie packaging. It's a box with a picture of a model wearing the outfit on the front and back of the box. The box includes the care instructions and some information on what "one size fits most" means for Music Legs. The tag also includes the care instructions, so you don't have to keep the box.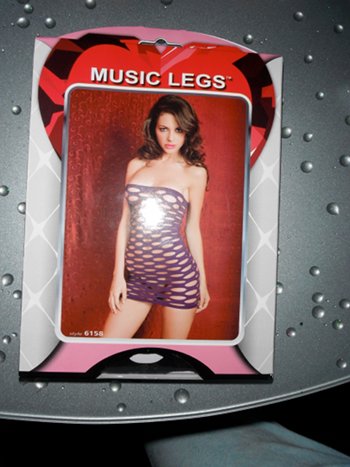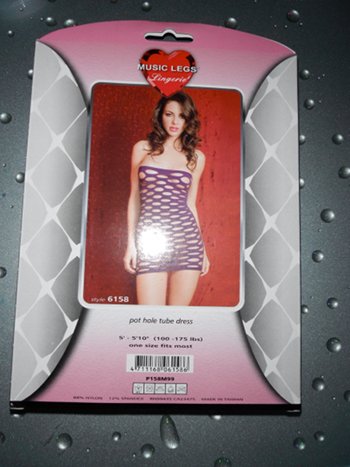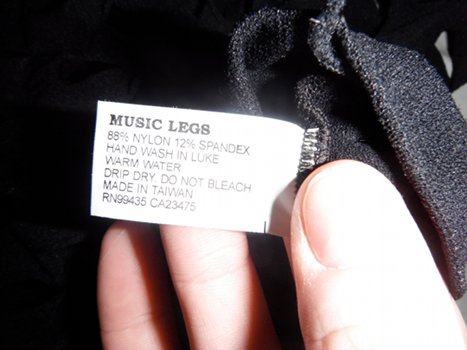 When I took this dress out was that it had a slight off-putting odor to it. It was fairly strong and smelled on the sour side. It has since gone away after only a few days.
The Pothole dress is made of 88% nylon and 12% spandex, giving it a ton of stretch. The material feels like a T-shirt mixed with spandex. If you imagine a T-shirt combined with some spandex tights, you'll get the feel of this material. It's smooth and comfortable to wear, more on the T-shirt side than the spandex side in feel. It's a thinner material, not thick and plushy. While I wouldn't call this comfortable enough to sleep in, I was able to wear this for quite some time without get uncomfortable or itchy at all.
Music Legs says this outfit should fit heights from 5'-5'10" and weights from 100-175 pounds. I'm 5'6" and weight 130 pounds (28 waist, 39 hip, 34DD/36D), so in the range, and this fit me fine with a room left for stretching. However, since the material is stretchy it will not hide flaws. It will cling to areas you probably don't want it clinging to. While I think the size chart is pretty accurate, those that are uncomfortable with a clingy material showing off every lump and bump may want to pass no matter what size they are.
Un-stretched, the dress is 21 inches long. It's 6.5 inches wide at the top, 9.5 inches wide at the bottom, and 5.75 inches wide in the middle. It looks a bit little when you lay it out, but since there's so much stretch to it, it will stretch to accommodate above the doll sized measurements.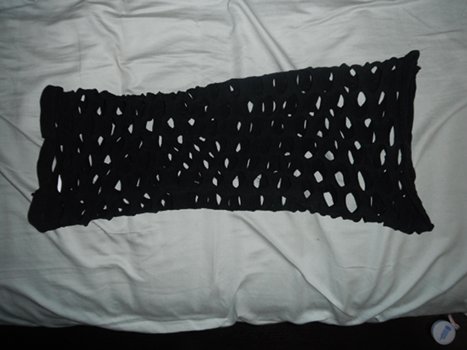 An odd thing about the sizing is that if you look at the picture, it looks like it's a mini dress. However, when I stretch this all the way down it ends up to my knees. Since they're trying to accommodate up to 5'10", I guess that's why it's so long. I think I'm pretty average height and I was hoping this would look like it's pictured, but it doesn't. I was able to pull it up and it still looked fine, but I was really thrown off when I put this on.
The dress offers no bust support as it's just the dress without underwire. As a larger busted girl, this is always a little disappointing since my boobs don't end up where I'd like them to be. I've gotten used to this in lingerie, but if it's something you don't like and you're a bigger busted girl, this won't be for you.
The seaming is stretchy, made of the same material as the dress itself. The seams at the bottom extend pass the dress, which I find terribly annoying because then it doesn't look seamless. The stitching itself seems to be fine though and I suppose that's more important. It bugged me anyway.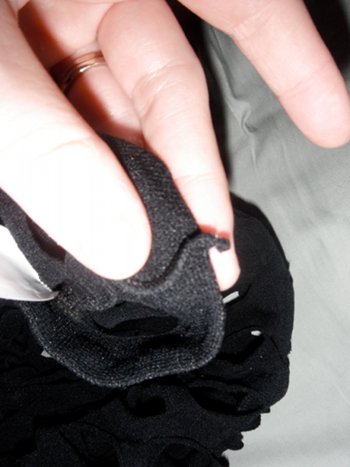 The only other thing I noticed in terms of quality is that there was a hole close to the seaming in the dress. I know, I know, it's a hole dress. I'm not talking about the on purpose holes. I mean an actual hole. This is always a potential issue as the hole could grow bigger and destroy the dress. Since I can't sew, I can't exactly fix it and even if I could, it would create an imperfection in the dress.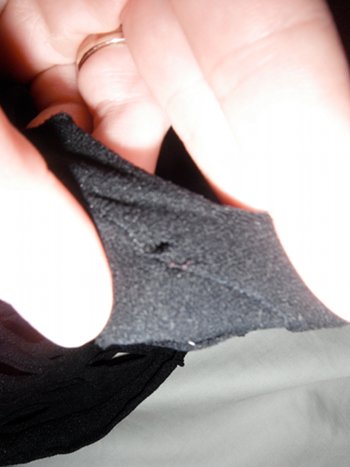 Experience
CONTINUED...
The dress' main selling point is the pothole design. On the front and back are big hole cut outs. There are a few smaller ones near the very top of the dress, but the rest are about the small larger size. This creates a very sexy effect when worn because you can see pops of skin through it. This is my favorite part of the dress and the whole reason I bought it.
For care, you should hand wash this in luke warm water and drip dry. Honestly, I'll probably throw it in the washing machine on delicate, but if you want to keep it in good condition you should probably listen to the care instructions. You should not bleach this. It doesn't say not to iron, but you probably shouldn't.
EXPERIENCE:
Even though the seams and hole drive me absolutely nuts, I really am in love with this dress. I can push it up and make it not so long and then it looks great. The pothole effect is incredibly sexy. The holes don't get stuck on my barbell belly ring like some net dresses will do. I found it was comfortable to wear for extended periods, though I wouldn't want to sleep in it because the potholes would bother my sensitive breasts since there's no support. The oddest thing is that during sex it wants to ride up, which you would think is impossible because of the length of it. When you walk or sit it doesn't do this. It doesn't ride up that bad during sex, but it just surprised me that it did it at all given that it was down to my knees when I first put it on.
Here you can see the original length of the dress, which is the longest lingerie I now own. I'm sad I have to scrunch this up to get it to look right.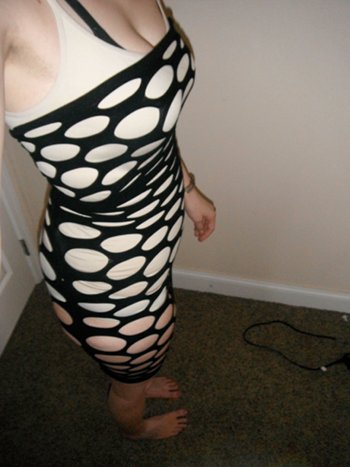 Once I pull the bottom up, the dress still retains the original look for the most part. I didn't really notice that I lost too many of the holes or that the overall look was messed up by having to scrunch up the dress. After doing this, I like the dress a lot more.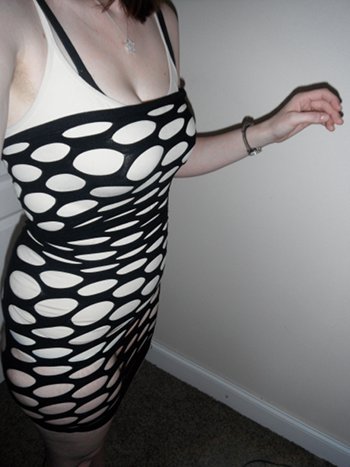 My husband says this is his new favorite outfit. I don't know if I'd say it's my favorite because of the seams and how it rides up during sex, but it is a very sexy little number. I love the way this looks on. The pothole effect is one of my favorites in lingerie and since he destroyed the last pothole dress I had, I hadn't been able to find another one. I'm thrilled to have this in my collection, but a little concerned about that hole I found (the not on purpose one).
This content is the opinion of the submitting contributor and is not endorsed by EdenFantasys.com

Thank you for viewing
Pot hole tube dress
– mini dress review page!