Looks sexy, feels painful
I think that this set would work well for being photographed in or for a performer. It's just not something that I'm in love with for the bedroom. I have little to no desire to wear this again. If you know someone who loves latex then this may make a nice gift since it comes in a pretty box with packaging and everything that you need to wear it.
Published:
Pros:
Well made, nice packaging, great colors, includes all of the necessary accessories.
Cons:
Uncomfortable, pasties are tricky to apply and can be painful to remove.
Deciding on this Set
I was able to choose this outfit as my free monthly assignment because it's on clearance. Even with a 50% price cut it is still close to $50. This is definitely something to consider when making your purchase. This is my first experience with latex. I've seen models wearing it but other than that I haven't thought much about it.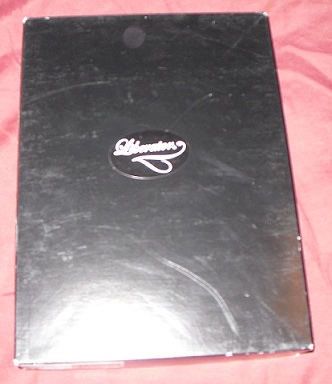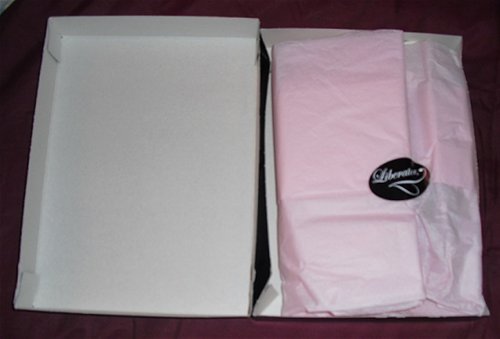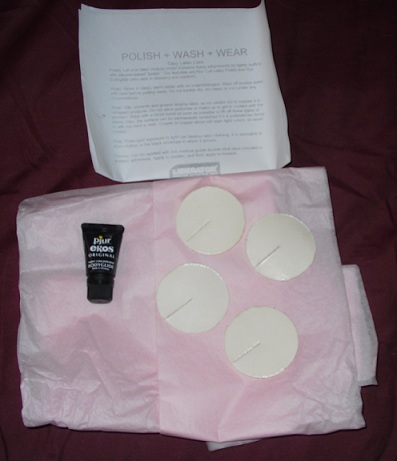 Packaging
This pasties and thong set comes in a classy black box. The outside of the box has a Liberator sticker attached to the lid. A UPC code, the product name and the size are listed on one edge of the box. When you open it this set is nicely presented in pink tissue paper.
You will receive a thong, set of pasties, a small tube of Pjur Eros Bodyglide, medical grade double stick tape cut into the size of the pasties and a sheet of paper that tells you how to care for and apply this outfit.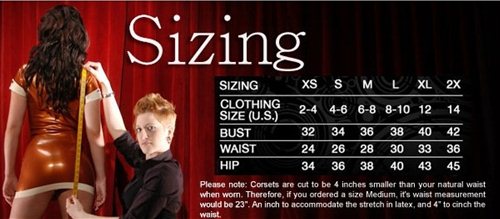 Sizing
I wear a size large or 10-12 in women's clothing with a size 36C bust. Depending on the company I usually opt for a size large or XL in lingerie.
This set comes in sizes small, medium, large and extra large. I was able to find a size chart for Liberator on their official site. I think that I could have gone with a large but due to the fabric I wasn't keen on seeing any bulges so I went for the XL instead.
The pasties measure about 3" each way, both wide and high. The panties measure 32" at the top unstretched (I wouldn't call it the waist as you would wear it lower).
Material & Care Information
This set is made of latex. According to the enclosed directions you can make your latex look great by lightly buffing it with the accompanying bodyglide or Pjur Cult Latex Polish.
To wash this outfit you can rinse it in warm water without any soap or detergent. Then wipe off the water before you put it away. Do not dry it, dry clean it or iron it.
Latex shouldn't be exposed to oils, solvents or grease. Don't let your makeup or perfume get on this outfit. If this happens then quickly wipe it off with a damp towel.
Latex clothing can be destroyed with exposure to light. Liberator recommends storing this outfit in the black box that it comes in.
Experience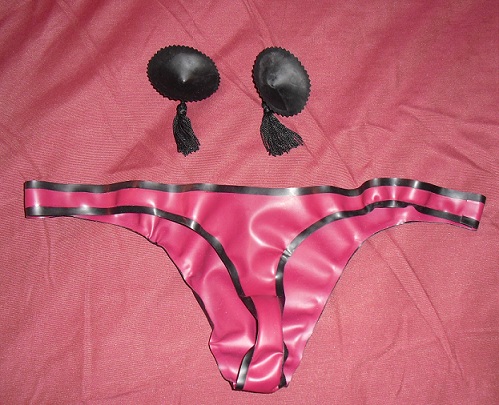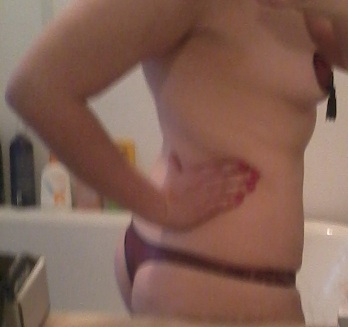 I have not had the best of luck with this set. The first I put it on I simply applied the pasties with saliva because I was just snapping a quick camera phone pic (as seen above) to send to my boyfriend.
The first time that I tried to wear it for him I couldn't quite figure out how to open the pieces of double stick tape. I could only get to one side of the stickiness. So I tried doubling them over and attaching the pasties that way. That was a huge failure. Then I tried applying them with some of that body tape that you can now buy at basically any department store to keep your clothes in place. They wouldn't stay on that way either. So I gave up that day.
Recently I tried again. I actually got the double stick tape all of the way off of the plastic so that I could apply it directly to my nipples and then top them with the pasties. After that I was just thinking that my man would like it. When I showed him him yanked one of them off. Ow! That is not fun and I like a bit of bdsm. He says "I didn't know you had them glued on". I removed the other one myself and that hurt almost as much. Maybe you had been sweating from already having sex or something they might come off more easily.
This product was provided free of charge to the reviewer. This review is in compliance with the FTC guidelines.

Thank you for viewing
Throb pasties and thong set
– panties review page!