Rubbery Appeal
The Throb latex thong and pasties set by Liberator is a nice little number to get your partner's motor going if they enjoy latex or rubber style clothing. Once polished to a high shine the thong is easy to slip on for some sexy wearing but be sure you don't have any oil based products on your skin or hands that could possibly come in contact with the latex and destroy the material. If you take care of your latex properly it should last you a good long time!
Published:
Pros:
Latex/rubber fetish, Doesn't stink, Stretchy and comfy, Nice colors and construction.
Cons:
The cut of the crotch could be a little wider, some folks may be allergic to the material.
What Is It?:
The Throb pasties and thong set by Liberator is an outfit comprised of latex pasties that have black tassels (with separate adhesive pads) and a latex thong that come in black/raspberry and sizes Small, Medium, Large and X-Large. For some reason the "model" on the product page is wearing the thong inside out, the black accent lines should be showing on the outside.
This interesting little set could be worn in the privacy of your own home, to a convention where this style of dress is common or to a play party. The thong could be worn underneath clothing for an extra sexy or naughty feeling but it's not suggested for women to wear these for long periods of time due to them not breathing at all. This could cause a yeast infection or just plain old discomfort depending on how hot it is.
To use the pasties, apply the double sided adhesive included in the packaging onto the pasty and then apply the pasty onto your breast. Eyelash adhesives can also be used to apply these pasties in the future when you run out of double sided adhesive.
Included with the set:
4 double sided adhesive tape circles
0.34 fluid ounce bottle of Pjur Eros Original Bodyglide
Polish, Wash and Wear Instructions for latex
Material:
The Throb set is made from latex which has a safety rating of 4 out of 10 so it's pretty porous. It's high porosity makes latex very flexible and easy to manipulate when making clothing but it doesn't help with cleaning the material.
The latex is very smooth and rubbery feeling but it does have a bit of stretch to it too. It really picks up hairs and lint like no one's business so washing before and after use is necessary. It also has a slight rubbery smell to it which is common with this material but it isn't overbearing, even when first opened.
Design:
Thong:
The latex thong measures 13 1/2" wide at the waistband and it will stretch up to 19" very easily, quite possibly a bit more with some extra effort. From the center of the waistband down to the front of the crotch measures about 7" long and the back of the waistband down to the back of the thong strap measures about 6 1/2" long. Each hip strap and the back strap measures 1" wide while the front up near the waistband measures 5" across and tapers down to about 2" across on the crotch area.
The thong has three seams that are glued together; one on each hip and one on the crotch strap. There is black trim around all the edges and it measures a little less than 1/4" thick. This trim is also glued onto the red colored latex, which is normal for latex clothing construction.
Pasties:
Each pasty measures 2 1/2" wide and has a black tassel sewn through the middle of the latex material that measures about 2 3/4" long. The middle of each pasty where the tassel is sewn also puckers outward about 1/2" to be more contoured to the nipple.
Each pasty is comprised of a circle of red latex that is glued to a circle of black latex which has a kind of scalloped edging to it to add some texture to the design. Each latex layer has a straight seam down one half of it to make the puckered shape. The tassels are black and somewhat shiny with a smooth feel to the touch. They dangle and shimmy whenever moved around like tassels should.
Sizing:
True to size with a snug fit
Liberator's Size Chart for their Latex Clothing (in inches):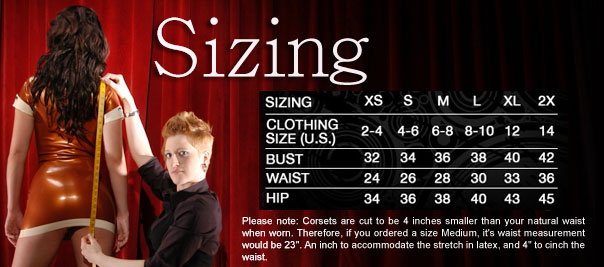 My Sizes:
Size ~ 4
Waist ~ 26"
Hip ~ 32"
Rise ~ 7"
Weight ~ 118 lbs.
Surprisingly comfortable despite its snugness the thong fit me well and was stretchy enough to accommodate my curves. It never rode up or irritated but then again I never wore it long enough at a time to end up sweating in it. It's not advisable to do this anyway since the material doesn't breathe at all. The pasties fit fine once I finally was able to get the double sided adhesive on the backs of them properly. My nipples were completely covered; no peeking with these pasties.
Experience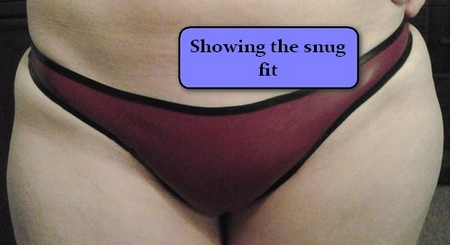 After applying the pasty with the double sided tape: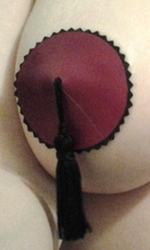 Pairing Suggestions: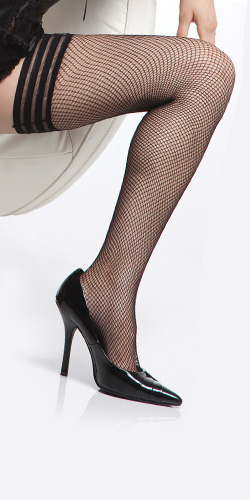 Fishnet Stockings with Elastic Top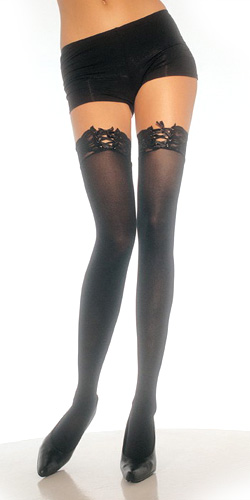 Opaque Thigh Highs with Lace Up Top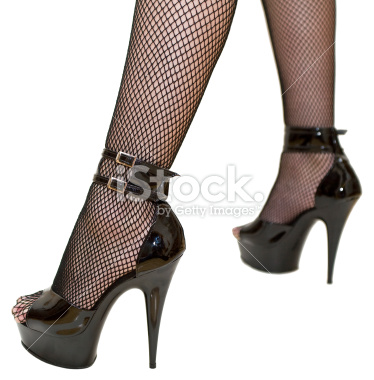 Sexy Black Heels
Storing, Care & Packaging:
Latex has very specific care and storing instructions but these are included in the packaging so no need to fret. To store your latex clothing just keep them in the black box/bag they came in to keep the light out. Prolonged exposure to the light will damage the latex material so storing properly is very important.
To wash your latex rinse in clean, warm water with no soap or detergent. Wipe off the excess water carefully before storing away. Do NOT tumble dry, dry clean or iron under any cirumstances!
Polishing your latex gives it that high shine everyone loves about it. To do this lightly buff with silicone-based lubricant like Pjur Cult Latex Polish or Pjur Bodyglide. Doing this with your latex will also help with putting the items on and comfort while wearing them.
When wearing latex be sure to keep it away from oils, solvents and grease as they can destroy the material. Do NOT allow perfumes or makeup to come in contact with the latex and wipe with a moist towel as soon as possible to lift off these types of stains. The surface of the latex can be permanently scratched if it's polished too hard or with too rough of a cloth. Also, copper or copper alloys will stain light colors of latex so avoid contact between them.
The Throb thong and pasties set came wrapped up in pink tissue paper inside a black cardboard box like those used for gifting clothing. The top of the box contains the Liberator logo and the side of the top has a sticker with the name of the item and the size. It's pretty minimal packaging but it works for the latex to keep the light out. If you so choose you can pick up a completely black envelope or bag to store these items in instead.
Here is everything inside the box: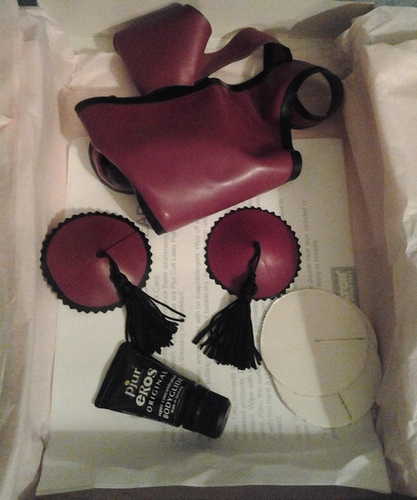 The thong and pasties shown separately:
Here is what's included with the set: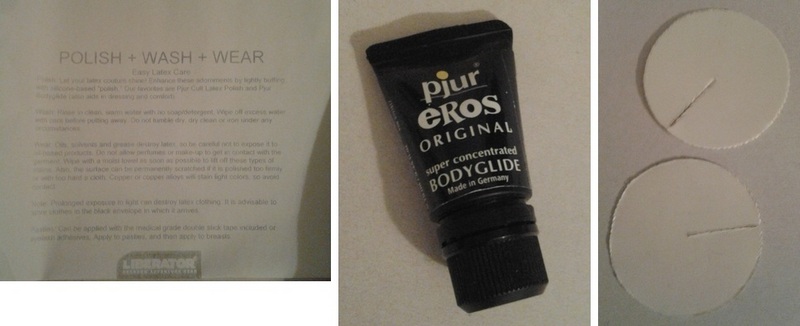 And here's the packaging: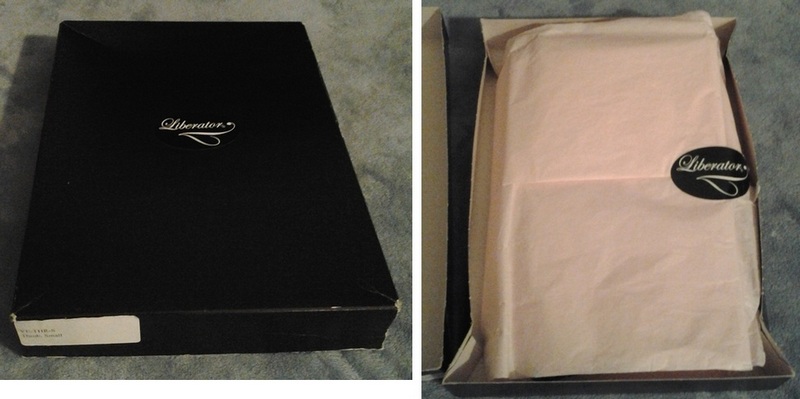 Follow-up commentary
3 months after original review
It's too hard to get the pasties on properly every time and they're just something I'm not really into to begin with so I never use them. Also, the thong is cute and all but I really don't like red so I haven't worn these since reviewing them. They are still stored in their black box in my closet to keep light away from the material so it doesn't mess up the color and all that.
This product was provided free of charge to the reviewer. This review is in compliance with the FTC guidelines.

Thank you for viewing
Throb pasties and thong set
– panties review page!