Looks so hot, can I give you a shot?
This costume is definitely a must buy. It could be a Halloween costume and the bedroom lingerie could consist of two parts. The pasties and the crotchless panties as one and the dress with the accessories as another. Overall, this outfit is worth the money and the quality is wonderful. It will be around for many years in my lingerie chest. I am glad that I purchased this product. It gets two thumbs up!
Published:
Pros:
Sexy ,sleek
Cons:
None
So, I received the Darque Nurse costume that I had been very excited to receive. It arrived in a plastic pouch with snaps at the top just like a typical Halloween costume is sold in. Upon taking out all of the pieces there were a dress, a headpiece, cuffs, pasties and crotchless panties. I purchased this costume in a 1x/2x size because of my breast size but I could have gotten away with a L/XL sizing. This seems to run true to size. The dress is made by Coquette and the tag is underneath the arm and not on the back at the top, which makes it more comfortable to wear without being bothered by a tag all night. The dress/costume is made of 80% Nylon and 20% spandex. It states to hand wash only and hang to dry. It's made in China.
Please check out Coquette for the sizing chart.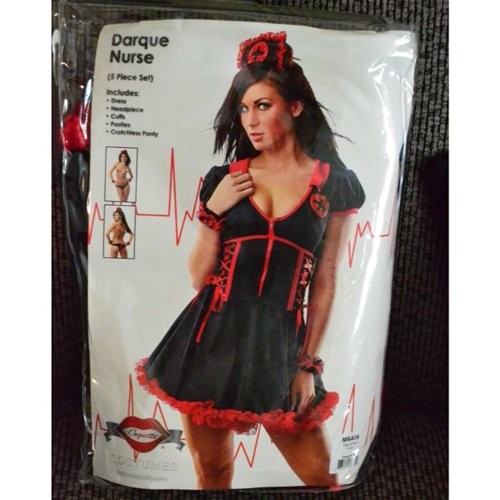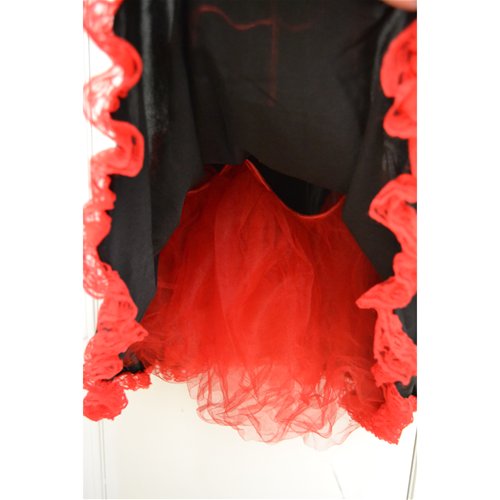 The dress had a skirt underneath that was a pure mess, maybe that is why the model is not wearing it in the photo.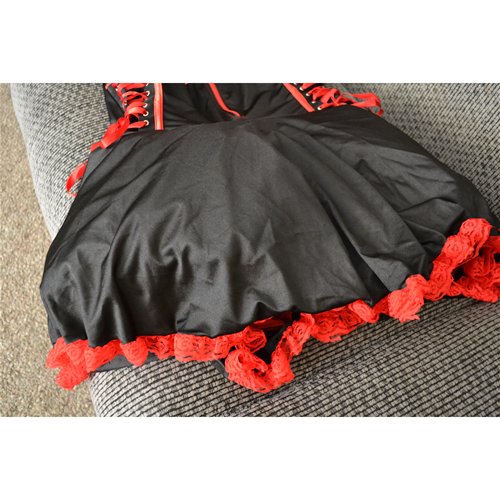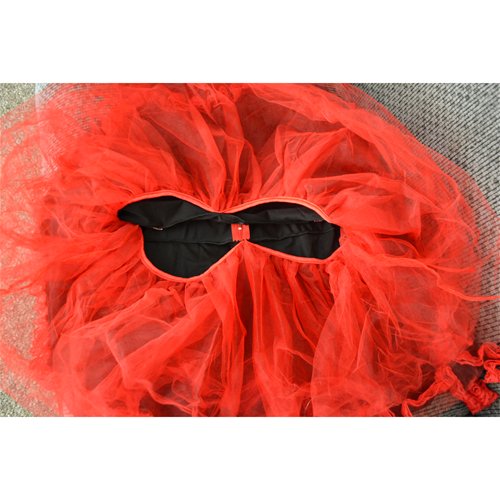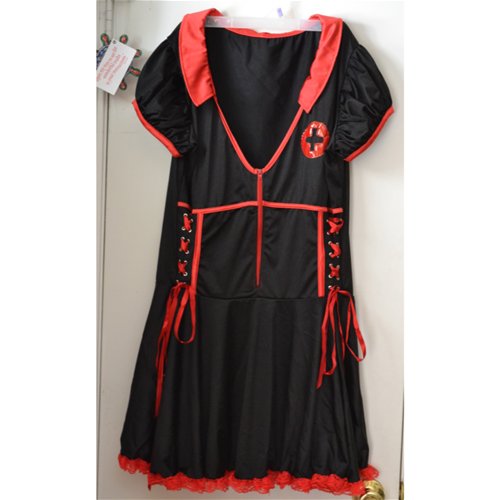 I liked that it zipped up in the front, it is actually very comfortable. It has a detail on the left area that is a plastic red piecing that has a cross cutout. I always find myself adjusting things on my previous costumes. This was a pleasant surprise.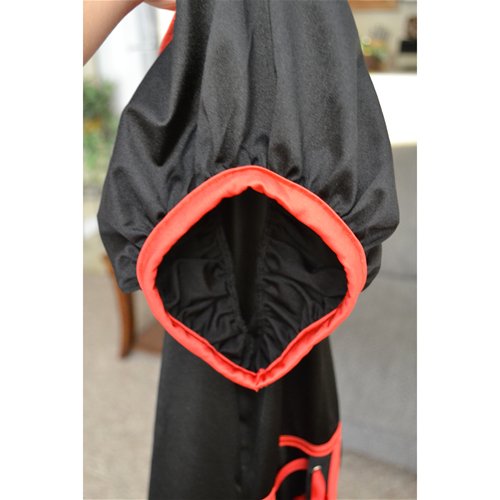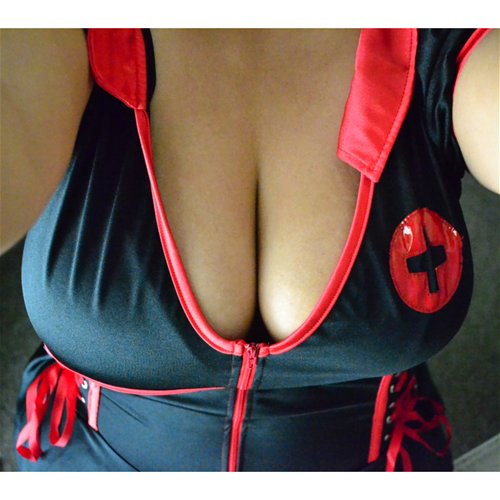 The length of the 1x/2x is about 33 inches and comes down to mid thigh, pretty close to my knees and I am about 5 foot 2 inches.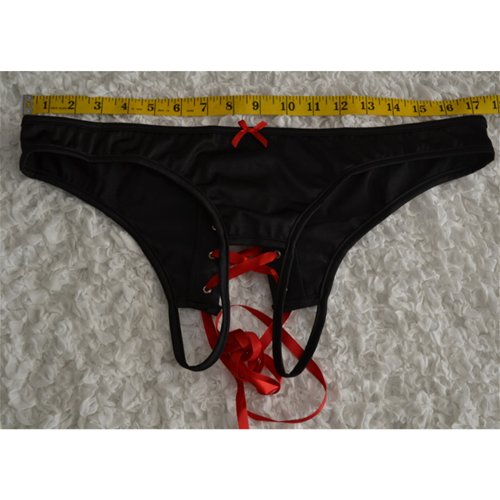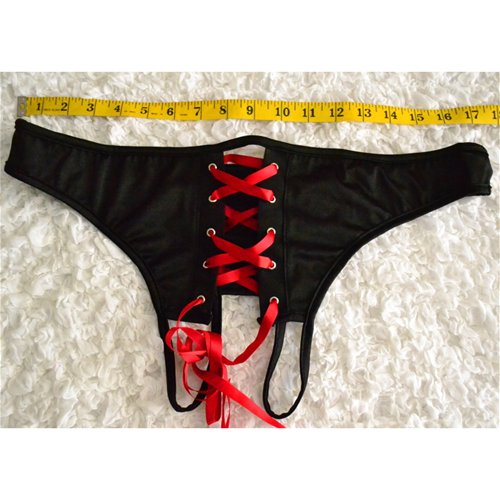 The next accessory is the headband/headpiece. It's basically a clear headband with the square piece and lace sewn around it and the same cutout as on the dress sewn into the middle. The square of fabric measures 6 inches across and 4 inches vertically. It is floppy so one may want to starch it or put a piece of vinyl or another fabric that can hold this up. In the package picture the model's hair looks teased, maybe as to keep it standing up for the photo. If you are crafty this will be a breeze to fix.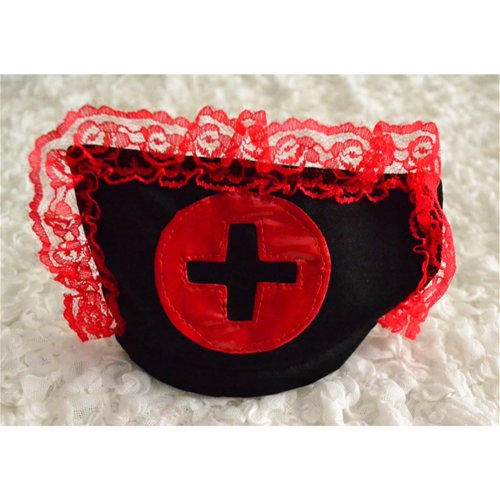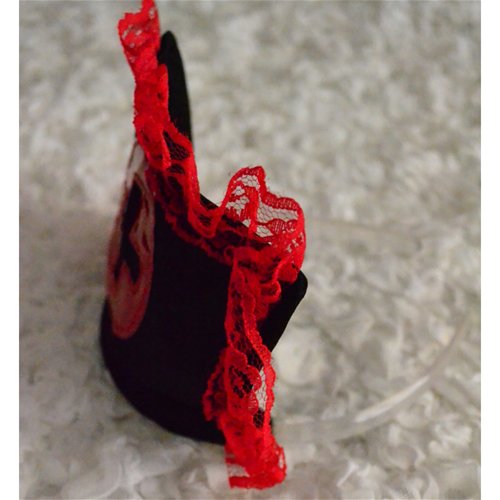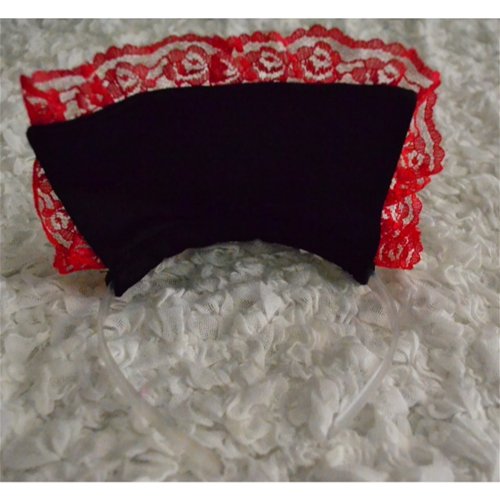 It also comes with 2 lace cuffs for the wrists, they are black and red. The black used on the part that is to be closest to the skin is the same as the dress and the lace is the same as on the trim of the dress and the hat. These can also be placed around the ankles if you can fit them. The size stretched out to max is 14 and a half inches around. My wrist measures at a little over 6 inches around and these were loose on me. They do not itch or rub, I can wear them without being bothered by them.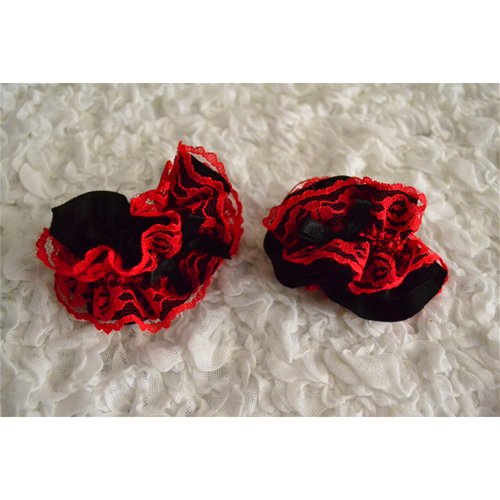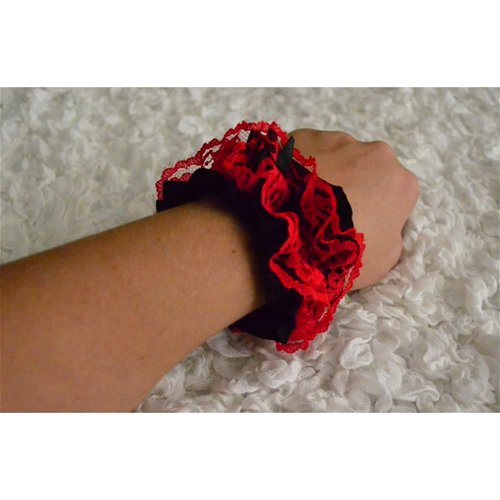 The last part of the accessories are the pasties! These were a hit right away, even before being worn. My lover picked them up and acted as to put them on each nipple and he acted as to get the tassels spinning. He then kept urging me to put them on so I did and they were very sexy. When lights hit them, they become so much sexier because of the sequins on the front. The sticky substance that is used to stick on does not do a very good job at holding them on for a very long period of time. They do sell other materials that can help these stick much better in the long run. The tassels are black and are soft. There is no way that you would be able to wear them under the costume unless you would be revealing these. They show through the material and don't look good. Just keep them for the bedroom.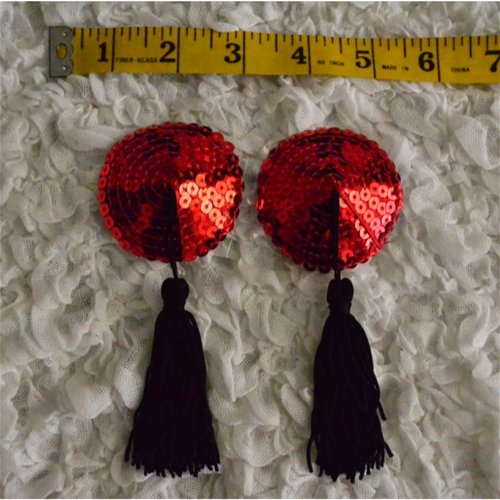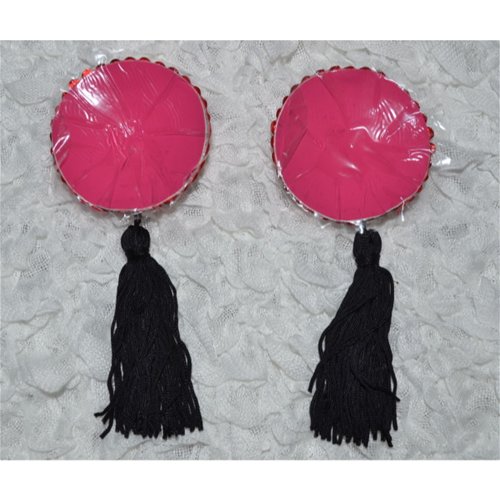 Experience
I give this dress a 9 on a scale of 1-10 because it looks fab on but I am just a little too short as this seems to be a bit big on me in length and around the waist area. The breast area fit me good! I could not believe it because I read that some people had major spillage. This was not the case for myself.

I first inspected the dress part and noticed that like many other reviewers of this item, the petti skirt type skirt underneath had to go. It arrived under the dress bunched up and totally out of shape. It will work for other costumes, but this particular one just doesn't work.

The bust fit great as I am about 38 F average. I have been losing weight so my bust may be a bit smaller but as you can see from the photo, it does look good. It is very stretchy and I would say that a bigger 2x would probably be able to fit as well. My sizes range from 13-16 depending on the cut or how well that it fits my behind which is wider. Measuring around my behind is 44 inches and there is plenty of room left.

I proceeded to snip out the red fluff mess and I did that with a quickness after trying it on. It was not flattering to someone who is curvy and with a bigger bottom. There are 4 points on the skirt that you can easily snip without damage to the dress or skirt. I snipped all 4 and then tried it on and it looked so much better. It sit a lot flatter and was more slimming.


The dress is well made and the seam stitching is sewn very well. There were minimal strings hanging from the dress, but they were very small and they were easy to cut. The laces on the sides had to be pulled all the way in for me. They are of a satin material and very soft. Near the waist area there are plastic boning on each side of the dress but it gave me no problems. The sleeves are comfortable and do not have anything scratchy on them. The bottom of the dress has a red lace ruffle that follows the length of the full dress.


The crotchless panties are just plain hot! They fit well and are made of the same material as the dress. I again had to adjust the strings as tight as they could go and I am going to snip the excess ribbon. Take a lighter and seal the ends very quickly so the ribbon does not unravel if you in fact must snip too. They fit comfortable and did not cut into my legs. Perfect fit, this is a first. I haven't tried them in the bedroom yet but will update when I do to let you know if they served their purpose well.
Follow-up commentary
4 days after original review
I tried it on tonight with the crotchless lace up panties and the tassels...it looked very hot! Two lingerie outfits in one with this nurse costume!
This product was provided at a discounted price in exchange for an unbiased review. This review is in compliance with the FTC guidelines.

Thank you for viewing
Darque nurse
– costume review page!