Love the Romance Chemise
Overall, I would suggest this piece to someone who was wanting something simple or looking to try lingerie for the first time. If you aren't into corsets but like something that flows over your body, this is a great choice. I didn't really find anything disappointing about this piece other then it recommends that it should be hand washed.
Published:
Pros:
Many sizes to choose from
Hugs all the right places
Easy to care for
Cons:
For some the polyester
Flammable
Hand wash
The Romance Chemise and G-String by Seven Til' Midnight comes in
many
different sizes from
SM,ML,1X/2X and 3X/4X
this was one of my first pieces of offline lingerie, I really liked it and had to have it. I was just praying the size would work for me. I ordered the 3X/4X which below you can find Seven Til Midnight's Sizing Chart compared to my measurements. I love that a wide variety of people can wear this piece given that it comes in an array of sizes.
~Seven Til Midnight's Sizing 3X/4X
Dress Size
:20-22
Cup Size
:D/DD
Bust
:46-40 inches
Waist
:40-44 inches
Hip
:50-56 inches
~My Measurements
Dress Size
:22
Cup Size
:DD/DDD
Bust
:42-44
Waist
:40
Hips
:42
Seven 'til Midnight
Cup Bust Waist Hip
Small 2 - 6 A - B 32 - 34 24 - 26 34 - 36
Medium 6 - 10 B - C 34 - 36 26 - 28 36 - 38
Large 10 - 14 C - D 36 - 38 28 - 30 38 - 40
XLarge 14 - 16 D - DD 38 - 40 30 - 32 40 - 42
Sm/Med 2 - 8 A - B 32 - 36 24 - 28 34 - 38
Med/Large 8 - 14 C - D 36 - 38 28 - 30 38 - 40
1X/2X 16 - 18 D - DD 40 - 46 36 - 38 42 - 48
3X/4X 20 - 22 D - DD 46 - 50 40 - 44 50 - 56
One Size 2 - 14 A - D 32 - 38 24 - 32 34 - 40
One Size Plus 16 - 22 C - DD 40 - 50 36 - 44 42 - 56
~Material
So what is this Chemise made of you ask? Well let me tell you it is made of
Polyester
and
Spandex
, a little about each
Polyester
in this case it is a sheer polyester, which has a very low absorbency and is combustible so I wouldn't recommend using massage candles or any kind of flame around you while wearing this piece.
Spandex
is known for being very strong and durable, this is able to be stretched many times and still return back to its original shape. Spandex is also resistant to body oils, lotions and perspiration.
For me the material was wonderful, very light feeling, and just flowed over my curves, which I have many. In the photo of the model it shows that the cups are not see through, in fact this whole piece is
VERY
sheer and you can see through the whole thing. If you prefer some things being left to the imagination, this would not be a piece for you. Some people think that polyester would equal itchy for me, it was not; this piece didn't cause me to itch at all. Around the bottom of the chemise and the top around the breast is a lace accent with a ribbon between your breasts.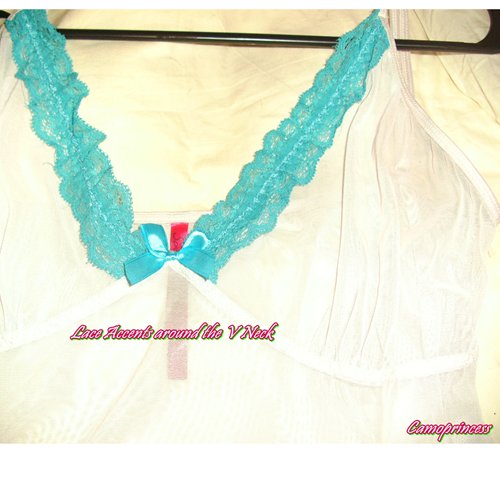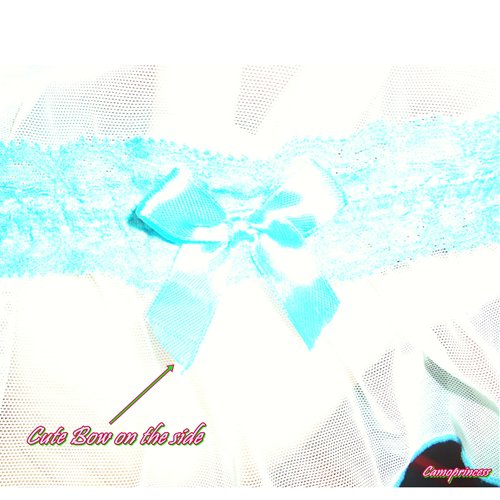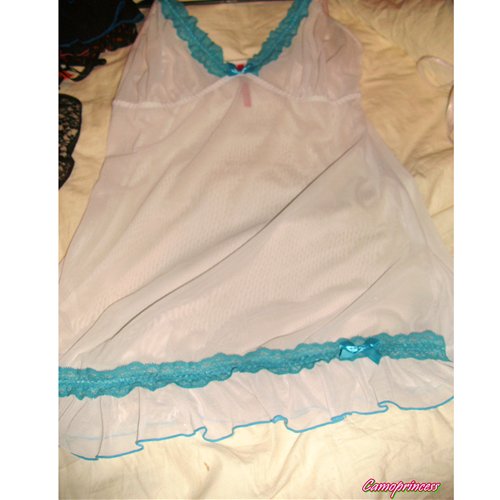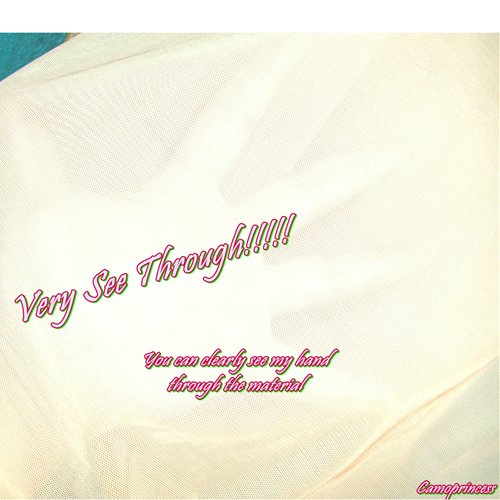 ~G-string Material
The g-string that comes with this number is also made of the same sheer polyester and spandex as the chemise. The g-string is really simple. It has no liner in the crotch which could be a drawback for some, for me it didn't change my thoughts on the piece. You can clearly see through the g-string as well so there really isn't much mystery behind what is inside.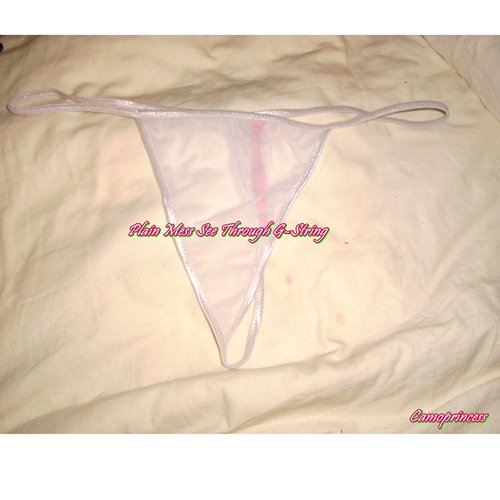 ~Support
I found with this, being a larger breasted woman (DD/DDD depending on the bra or lingerie) that there is
NO
support at all. With this piece there is no under wire, so if you don't want your breasts to just hang around, this wouldn't be for you. There are defined "cups" so you can place your breasts in them but again, it doesn't provide much of a support system for the ladies. Personally, having no support doesn't bother me since I am in the chemise for comfort and to feel sexy.
~Smell
There was a lite odor but mainly was a "new smell" scent that comes with most clothing articles no matter where you get them from. It's nothing that stopped me from throwing it on and wearing it right away, I just simply spritzed it with a perfume I had also just gotten which took care of the scent.
~Packaging
I will say there was
NOTHING
fancy about the packaging, this beautiful chemise came tucked away inside a little clear plastic bag which a lot of lingerie pieces tend to come in.
~Caring for Your Romance Chemise
It is recommended that you hand wash this piece in tepid water with a gentle detergent. Since spandex can't withstand high temperatures, it is not recommended that you soak, boil or bleach this piece. Simply hang to dry or lay flat to dry.
Experience
Where Can You Wear This & When?
I personally would only recommend wearing this chemise in the comfort of your own home. If you live with others this isn't a piece you could strut you stuff in through the house, unless you don't care who would be seeing your goodies. Can this be easily worn while having sex?! Yes, it can very well be easily worn during sex. When I first wore my piece, surprisingly it was left on, only because it was easy to access my breasts as well as I could pull it up over my ass and my partner had full access of my body. Since this is very stretchy you can easily pull your breasts out an let them hang for your partners access if you are into breast play. I have also just worn this to prance around in my room when I was wanting to feel sexy while taking a few pics.

How to Store?
Right now I have all my lingerie in one of my dresser drawers, you can also easily hang this piece up if you get the hangers made for tank tops. I prefer my lingerie to be in a drawer tucked away but, everyone has their own preferences. If you hang your lingerie and you use the hangers made for tank tops you could easily hang your g-string on those same hooks so your panties are always with the right piece. I mention the panties with the right piece for the simple fact that I was going through lingerie showing a friend and had panties that I didn't know what they went to. I was told, "I needed to start pinning my panties to their lingerie piece." Usually I just toss it all in the drawer, recently I have been trying to organize all my lingerie so I have been folding it up and tucking the panties inside.
Follow-up commentary
8 months after original review
This piece is still holding up almost a year later. It has went through the washing machine several times,has been worn during intercourse,during masturbation as well as for sleeping purposes. I have to say that I didn't misrate this product at all. If I had the chance to buy it again if something were to happen to the one I have I probably would purchase it.
This content is the opinion of the submitting contributor and is not endorsed by EdenFantasys.com

Thank you for viewing
Romance chemise and G-string
review page!