Lovely bra but not supportive of busty ladies!
On la la Cheri's Annabelle Boutique lace bra really wasn't my personal 'cup' of tea due to the fact that I have a large bust and it left marks and hurt me.It got only 2 stars because it's not made for ladies beyond a C cup. However, the bra overall has a beautiful classy design that does provide light padding that gives great 'umph' to your jubilees. If you're under a C cup and are looking for a bra that's sexy and under 30 bucks this one's for you.
Published:
Pros:
Gives great cleavage, lovely pattern, silk like material.
Cons:
Side boning, for smaller bust ladies, must be hand washed.
I can't help but continuously look at this bra on the floor and think 'what a lovely piece' and I was ever so annoyed when it gave me absolutely no support at all and was horribly uncomfortable. When I received the Annabelle Boutique lace bra I thought I'd scored big time, I mean look at it.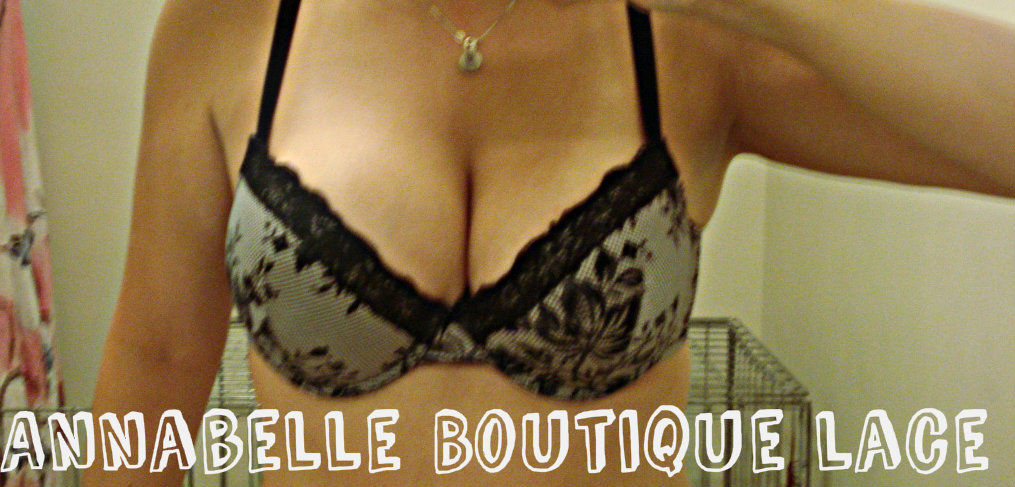 Annabelle Boutique lace bra by Oh La La Cheri
So lovely! And really gives some serious cleavage to my ladies. But, reality is after a day of wearing this thing I was more than happy to rip it off an throw it in the corner. If you happen to be one who is gifted in the bust like myself (36 DD to be exact) don't be looking to this bra for comfort and daily wear. This bra is more for looks than for comfort for a busty lady like myself. The Annabelle Boutique lace bra is made of 85% nylon and 15% spandex, the fabric does give the bra it's ability to stretch but it also means the bras material doesn't breathe very well. So, if you plan to wear this all day and you happen sweat in the slightest, the sweat won't go very far.
Also due to it's material the bra has some very specific washing instructions: hand washed in cold water . Do not bleach- hang dry only. Which means that the material will most likely wear down and end up being a rag rather quickly if you wear an wash it often. On the bright note, isn't it pretty! I mean really if you're under a C cup and looking for some sexy cleavage I would suggest this bra an say it's safe for you to wear. However if you're bigger than a C cup it's best you pass on by this pretty little number because this bra is not supportive of busty ladies.
So, I'm going to be 100% honest, I'm bloody frustrated and annoyed. I think this is just SUCH a beautiful bra, and that's the frustrating part is I could see me really enjoying the piece if my tits were 2 cups smaller. The Annabelle Boutique lace bra does have a really nice lace detail in a v pattern lining the top of the cup that adds a very classy look to my jubilees. Not to mention the bra really does make your cleavage come together, there's a lot of 'umph' force for your fun bags, I mean look at that cleavage provided by the light padding. The saddest part was though I adored the beautiful black an silver floral design with the silk like feel, the material didn't breathe at all and trapped my sweat in it like an angry sponge.
So what made this beauty really just hit the trash can for me (literally). Well first, there was the shoulder straps. Now any busty lady knows that straps will either make you love or hate a bra, in this case I hated this bra because it's straps were satan. They were too thin an dug into my skin like little knives of evil. After an hour of wearing this bra the straps left angry red marks, no matter how much I loosened them. Secondly the bra had this weird side boning part that dug right into my side an drove me bat shit crazy.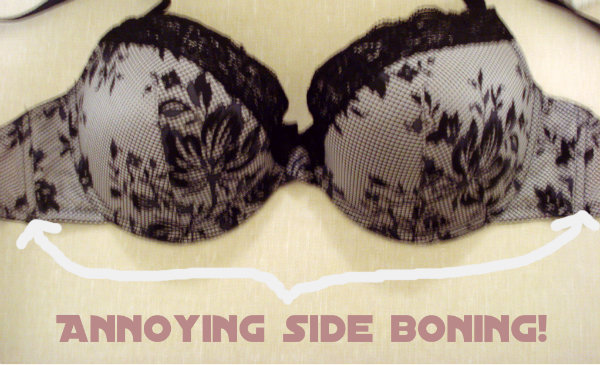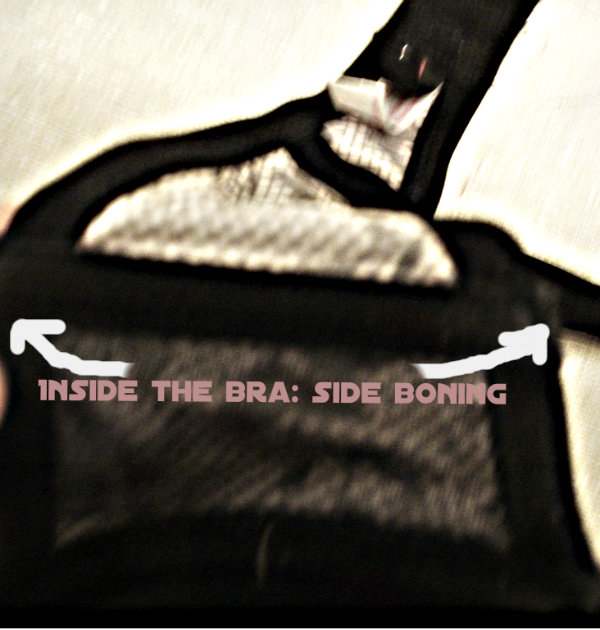 When I actually removed this bra the day I wore it, there we these huge red marks on my sides because of the side boning. So, I thought 'oh I'll just wear it on the last notch on the adjustable back strap, that should make it lose enough so the evil side boning doesn't stab me to death.' Ladies, I was wrong it still stabbed me in the rib mercilessly the entire day I wore it. So, my helpful suggestion to those who are interested in this pretty piece to go up a size in your circumference (For example: I'm normally a 36 DD, for this bra I would purchase a 38 DD)
The bra comes to you in a plastic 'Oh la la Cheri' bag on a black hanger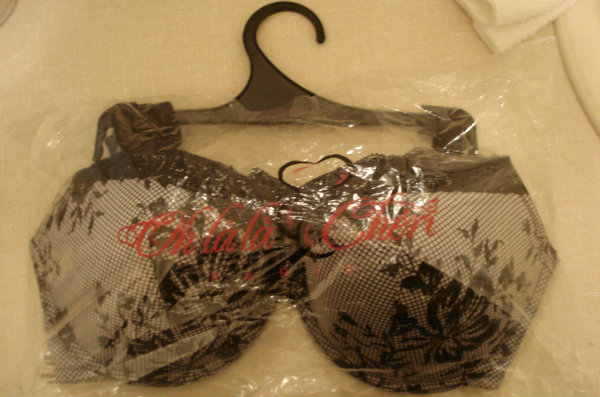 So, as you can see it could make a really lovely gift for someone. I mean really if you're a looking to get your girl something nice for under 30 bucks that makes her jubilees look fabulous, why the hell not just grab this pretty number? The Annabelle Boutique lace bra would make a lovely gift/purchase for any lady who isn't busty, but if she's over a C cup it's a bloody torture device.
This product was provided free of charge to the reviewer. This review is in compliance with the FTC guidelines.

Thank you for viewing
Annabelle Boutique lace bra
review page!