What a Shame
This bra doesn't do it for me. I was unsure about buying a bra online, and this confirmed why. It looked nice in the pictures, and the reviews for it made me want to try it out with the promise of a push up that provides nice cleavage and a comfortable fit. For me, this bra provided none of those things. I'm returning it, I don't like it and don't feel comfortable in it at all.
Published:
Pros:
Underwire, some padding, comes in many sizes, lace edging is cute
Cons:
Uncomfortable fit/straps, no cleavage, not "push up" enough for me
I wear a 38 C or D, depending on the bra; I was a bit wary of ordering a bra online, especially because of this. Some brands I will wear a C, others a D, and some I will wear are C or D. Also, I only wear push-up bras that have good lift to them, otherwise I feel totally uncomfortable in the bra. I read the two reviews for this and felt that it was a safe enough bet; I had some points to spare and needed a new bra anyhow.
It came in a plastic sleeve that had the Oh La La Cheri logo on it, and looked as though it should come with a hanger, as it had and opening on top of the sleeve, but no hanger. It has one tag attached to the side of it.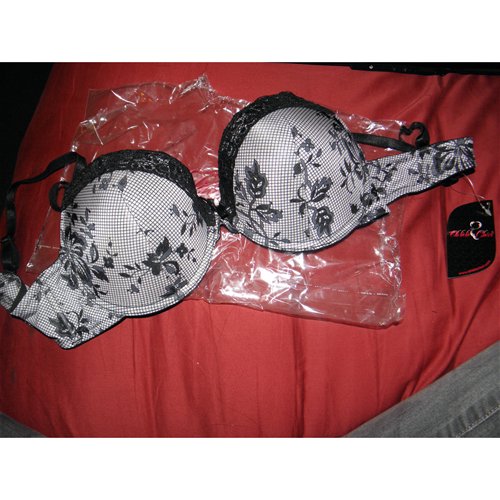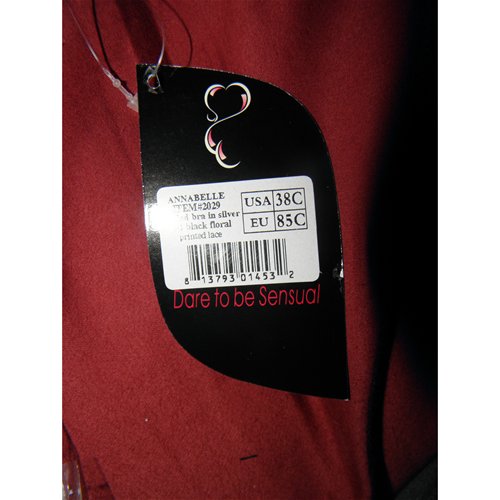 I tend to like lace and lace designs, so this bra has that going for it. However, when I took it out of the box, I kind of frowned when I saw the design. I like lace and lace things, and this has lace edging on the cups and lace PRINTED cups. The cups have a lace design with a net-looking print in the background. Often, I find lace print to look tacky. I looked at this thinking if this is something I liked or disliked, and I don't love it, at best I'm indifferent to the design in person. Between the cups there is a small black bow, located right between the lace edging of the cups. The lace is smooth, not itchy or bothersome, and is stitched on well.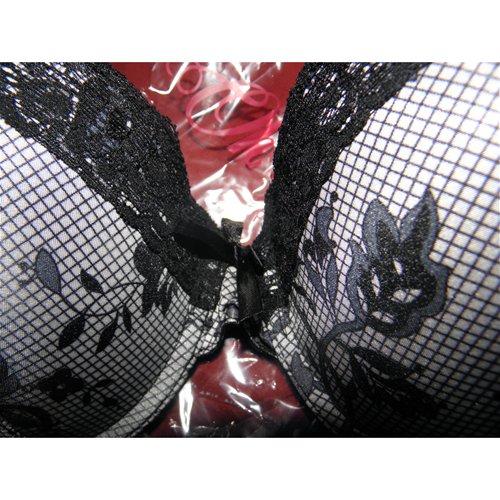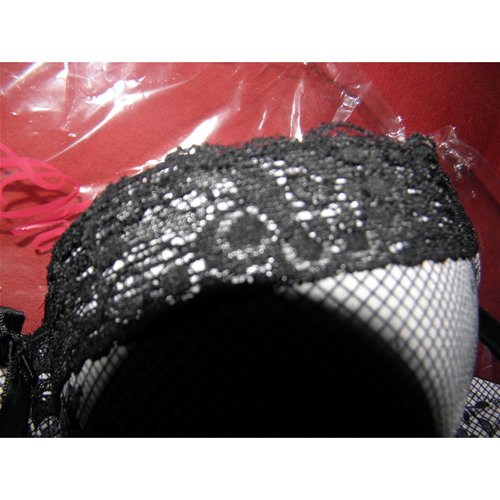 The inside of the cups is black, silky, smooth fabric. If you have nipple rings, or sensitive nipples, there are no seams on the inside for anything to brush of snag against, the inside of the cups is totally smooth and seamless.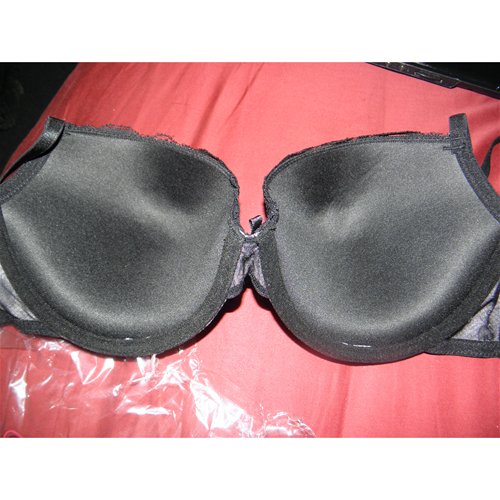 This bra has standard hook and eye closures, 3 rows of them. They are easy to do and undo, as long as you are familiar with bras.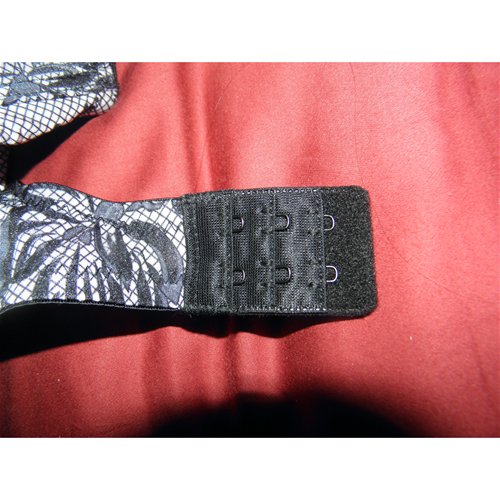 It is made in China, and the care tag says to hand wash in cold water and hang dry only, do not bleach. However, if you wanted to throw this in the washing machine, you could do it without a problem I'm sure, as long as you put it in a lingerie bag first. This bra is 85% nylon, 15% spandex.
The cups fit well enough, the straps feel awkwardly placed to me. I thought that maybe the straps just needed some adjusting, so I made them as long as they can get, and adjusted the hook and eye closure on the back as well, still the bra felt uncomfortable to wear. Something about the straps, where they are located, does not sit well with me. The straps can be lengthened to about 18" at most. The adjusting bits and parts that attach the straps to the bra are made of black plastic. I think that perhaps the straps are too close to my armpits for it to feel comfortable on me, all of the bras I wear have the straps attached to the cups further over, and higher up, near the top of the cup. Like the cups are more teardrop-shaped, almost? Here is a pic of a black bra that I wear frequently, compared to this bra. See what I mean about the cup shape/straps?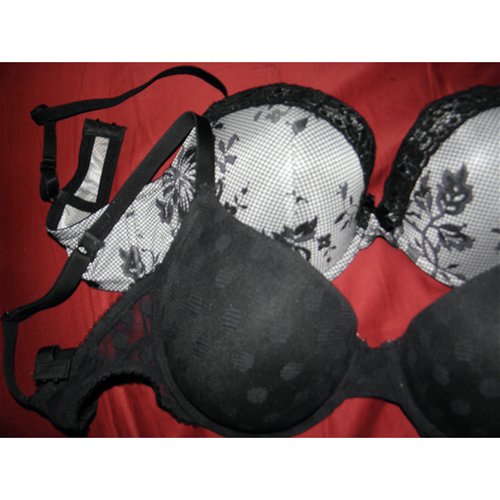 Experience
It looked okay enough on when I looked at myself in the mirror, but it doesn't look amazing. It doesn't give me the cleavage that I like my bras to give, it doesn't have enough of a "push up" factor to it for my liking. Because of all of this, I feel that is just doesn't give me the right support that I need. As I had said, I only like push up bras, with full-coverage and comfortable padding. This bra doesn't quite give me what I want. I looked at it for a while, wondering if I could get used to the fit of it. I just can't, it's not comfortable enough, and I'd hate to be walking around pulling at my shirt and trying to adjust my boobs constantly, and I know I would be with this bra on for a full day. I couldn't imagine wearing this comfortably for an entire day, I wanted to take it off within 10 minutes of having it on. It didn't look very flattering, and most importantly didn't feel right on me. I ended up deciding within 5 minutes of having it on that I'm sending it back, I'm not going to exchange it for another size. The size is not the issue, I know that if I went with a 38D in this the cups would likely be a bit loose and it would only make it feel more awkward. I'll be skipping on any other Oh La La Cheri bras that I see in the future, since they all look to be the same sort of fit/style. If you are comfortable in this style of bra, then you might like it. Also, it comes in a variety of sizes, which is one nice thing.
Follow-up commentary
2 months after original review
I ended up returning this, nothing about the fit of it worked for me. The shape may work for some, but for me, the cups and strap placement made this unwearable.
This content is the opinion of the submitting contributor and is not endorsed by EdenFantasys.com

Thank you for viewing
Annabelle Boutique lace bra
review page!