Lovely Lace for the bedroom OR cut off the garters and wear it out! (OSFM)
It continues to amaze me how it seems sometimes it's the pieces that are easy on your wallet that have better craftmanship and durability than some more expensive items.. thats the case with this set! For under $20 dollars you get a cute, comfortable, durable, sexy, and functional piece of lingerie and I would recommend it to anyone within the size range!
Published:
Pros:
~Soft lace
~No obvious flaws in craftmanship
~Hides your unwanted stomach imperfections
Cons:
~One size only
~No toe reinforcement on thigh highs
~Thong
This is another one of those drool worthy items that has been out of stock for awhile and as soon as I got the email saying it was back I had to add it to the cart! Out of all the "mini dress & garter" pieces and cami-garter sets out there this one has always stood out to me and I think it's because I see the great potential with it!

Music Legs are the great creators of this piece and they package it in a small box woth their name printed on it and the model from the product page donning the piece. Oddly enough though on the side they call it a bustier and stockings set instead of Lace mini dress and thigh highs, but who cares!

This 100% nylon set is so soft and beautiful! It is more of a mock neck than turle neck because it has a short piece that goes over your neck opposed to being long where you have to fold over. There is a large keyhole in the back and at the back of the neck is two small snap buttons for closure. The black lace is mostly see through besides where the flower, leaves, and vein pattern are and that does give some covering if you have some insecurities in this area. The pattern is medium sized and enlarges as it is stretched. The long sleeves are tight and cling to your arms all the way down to where they end at your wrists. There is a small hem where needed on the "dress" giving it a finished look. I am uncertain why lingerie companies continue to call something that is more like a top a mini dress! It falls alittle shorter on me than the model and only covering half of my booty...but I have a big butt so it probably takes up more material! The whole purpose of me getting this is to actually wear it as a top so it really doesn't matter!

There are thick attached garter straps going from the "dress" to the thigh highs that are a black lace as well. The garters unfortunately don't detach or adjust besides for the stretch in the lace. Made from the same material and having the same pattern as the top makes the thigh highs unique and absolutely adorable. The top of the stockings are a different lace design with a small strip of elastic between the two different laces. Unfortunately there is no reinforced toe on these so a toenail might leave these snagged without caution.

The g string that comes with it is ..ehhh...alright. It is a basic one that you get with most lingerie sets so there is nothing grand about it. There is a small lace triangle in the front to give your lady parts a bit of coverage I guess and the rest is black elastic. Inside there is no small lining which makes it pretty much unwearable to me.
Experience
This garment is a OSFM piece and while it is the only size available there is a large size range it could fit. On the back of the box it states from 100lbs. to 175lbs and from 5'0 to 5'10". The nylon has a great deal of stretch so I believe it should fit up to this weight as long as it is not all focused on your stomach area or have very thick arms. I am 5'5", 160ish pounds, curvy, size 38 D-DD, size 10-12 clothing and this fits me perfectly.
As I had mentioned I have drooled over this for awhile with images of cutting the garter pieces off and wearing the dress as a top with a cami underneath and the thigh highs solo. While this is still my plans I actually like what it looks like as one piece for the bedroom. Having no breast support besides for the tightness to hold my breasts in place, I wore a black bra underneath and was impressed with how sexy it actually looked. Unfortunately though with the massive amount of lingerie I have I will get more use out of it wearing it as casual day wear, over a cami and with a skirt or even dark jeans. The "dress" can take something simple and dress it up instantly. The added bonus is that the nylon it is made out of holds in heat so during the cold winter months this can still be worn AND you will still be warm! The thigh highs could also turn a bland skirt and blouse into something playful and sexy. They stay up on my thighs (possibly because I have thick thighs) on their own without actually needing garters.
I have no regrets in purchasing this piece unlike somethings I have gotten in the past and would grab another in a heartbeat!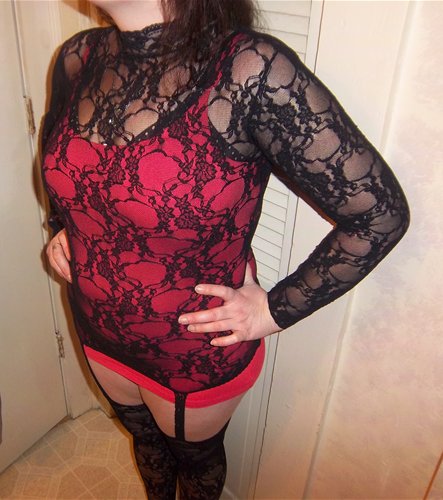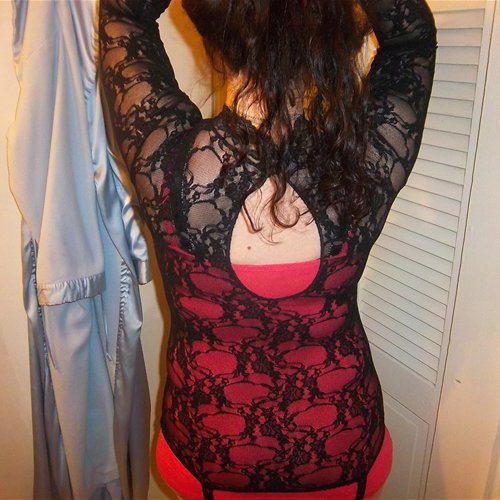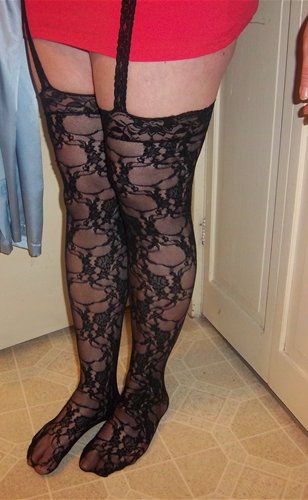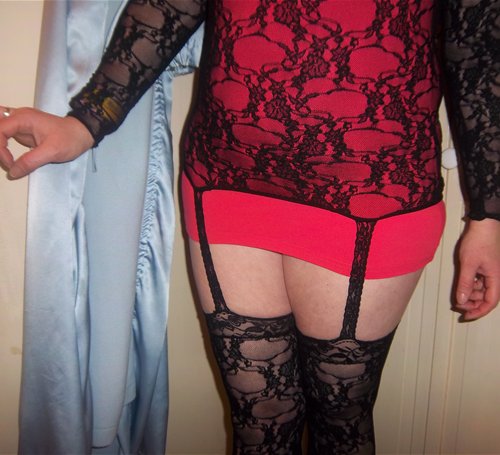 This product was provided at a discounted price in exchange for an unbiased review. This review is in compliance with the FTC guidelines.

Thank you for viewing
Lace mini dress & thigh highs
– gartered mini dress review page!