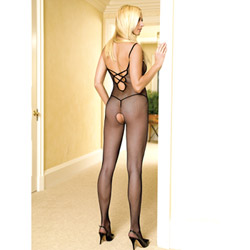 Lace-up fishnet bodystocking
Crotchless bodystocking
by Leg Avenue
Made for a woman, but great on everyone!
Looking for an inexpensive, easy way to surprise your partner? This is the bodysuit you're looking for - covering just enough to make someone want to tear it off!
Published:
Pros:
Simple, easy fun - no smell, soft, and looks great!
Cons:
Sizing can be tough - one size may not fit all!
I love this bodysuit, plain and simple! That's the best way I can put it. No product is without its flaws, however, but here they are few and far between.
I am a huge proponent of clothing that obscures without obscuring. There-but-not-there, you know what I mean? This nylon bodysuit obviously doesn't cover much, but it's just enough to add that bit of intrigue and excitement that many couples strive for.
Now this review is coming from a man, not a woman. This product is obviously geared towards a woman, but again, I'm a fan of blurring the line of feminine vs. masculine, and I do think that many feminine products can look absolutely outstanding on a man - this is one of them.
Bodysuits can have a smell as strong as normal sex toys - but this one does not. In fact, it doesn't have a smell at all, which was very pleasing, considering the other fishnet product I reviewed, the
torso jumper
, is one of the highest-smelling products I've ever owned, and scent is a big part of sex! You don't want to be overwhelmed with a sickly-sweet smell every time you use it.
On to the feel. Again, compared to the
torso jumper
, this is much, much softer. Is it a better quality nylon than in the other? I'm not sure, but this feels much better against the skin than the scratchy fishnet of some other catsuits. For both men and women, the soft material will tug and brush against some of your most sensitive areas. The straps over the shoulder don't cut into your skin as there is ample stretchy material in the bodysuit itself to avoid that.
But how does it look? On a woman, fantastic. On a man? Just as fantastic! I'm slim, but tall (6'4"), and the one-size-fits-most model fit me perfectly. It may be a bit more stretched in some areas if you have say, longer legs than most, but when you're wearing it, there's no place that's stretched to the point of tearing. The lace along the edges and the lace-up back leave your shoulder blades exposed, ripe for pressing up against or kissing - plus it looks great!
I will say that because this is geared towards women, the crotch opening isn't really fit for showing off everything on a man - your cock will most likely be at the top of the front crotch opening, keeping the whole opening from exposing your ass, whereas women would have nothing for the hole to 'hook' onto, leaving everything exposed! It's not a big deal, honestly, as it simply requires a bit of stretching in the back to somewhat 'widen' the crotchless hole, but again, it's just a nitpick from a guy wearing women's clothing.
Overall, I give my stamp of approval for this one. It's soft, unscented, looks and feels wonderful, on a man or a woman. Wearing it under clothes is a great way to surprise your partner, and adds that bit of spice you may be looking for.
This product was provided free of charge to the reviewer. This review is in compliance with the FTC guidelines.
Thank you for viewing
Lace-up fishnet bodystocking
– crotchless bodystocking review page!