Made him go RAWR!
This panties are terribly sexy and fairly inexpensive. This panties can be worn underneath clothing to give you a sexy little secret as well as worn solo in the bedroom. I promise, you in these panties will make his heart go bang bang and have him aching for you.
Published:
Pros:
Sexy panties that are also functional. Plus sizes fit plus sized ladies.
Cons:
Very slim crotch, may ride up into vaginal lips on many girls.
So listen, don't freak out when it comes to your house in a cellophane bag labeled "OS/XL". I started to before my guy explained that probably meant it was plus size. After trying it on and it fitting, I thought about Coquette maybe not wanting to call a girl plus size and I thought it was nice of them. Though, previous things I have gotten from Coquette were labeled plus size. For the price, these are some awesome panties.
According to Eden, this lacy red thong is made of polyester which is terribly soft and comfortable. The material is also pretty durable. When I opened the cellophane bag,(skeptically) I pulled the waist part around me while still in my jeans, just to check if they would fit. And surprisingly enough there was easily enough room, waist wise, for me or even someone a bit bigger. The band of these undies are a thick lace that wraps around your hips, this band is about 2" thick. In the front the thongs crotch is 5" wide at the very top and tapers down to a little under an inch at its smallest point and goes up to 2" where the thong meets back up with the waist band. The length of the thong portion from where it meets waistband in the front to where it meets in the back is 12 1/2". The Queen Size One Size, or OS/XL, is made for pant sizes 18 - 26 and hip sizes 48" - 56". The thong part of these panties is mostly mesh, but at the sides there is a silky or satiny seam that keeps the mesh from tearing or fraying. At the crotch of these panties there is a piece of thicker fabric that feels like t-shirt material. This piece is only 2 inches long and probably won't do any good for anyone.
Something I thought was pretty cool about the panties was the tag was connected by a safety pin, not the normal plastic piece you have to tear or cut off. No chance you could tear your panties. The tag itself is pretty simple. The left side of the front of the tag is labeled Coquette and tells you the panties are red, OS/XL, and that they are a "Mesh thong with lace waist". The left side has an image of woman from her navel to her ankles wearing the thong in black. The reverse side of this tag is even more simple. Two images of a woman, again from the navel to ankles, wearing the panties in white. The left side of this side is also labeled Coquette with the frontal image. The right side is a rear view of the girl in the white thong.
As for irremovable tags on the actual panties, this pair has 3. A pretty high number for a thong, and all are attached to the lace waistband in the back. One of these internal tags is black and only says Coquette in white or gray lettering. After you lift this tag up, you reveal the second of the three, this one being white with "OS/XL" in black letters. The third and most important tag is white and contains the cleaning and care information in black lettering. This tag states that the undies are made of 100% nylon, which contradicts what Eden says(they say it is made of polyester). The tag tells you to "hand wash only" and "hang to dry". Another fun fact found on this final tag is that the panties are made in China.
While I have not found anything on Eden as of yet, lingerie wise, that would match this well enough to create a set, the simplicity of this thong would make them an ideal match for any red bra or baby doll. I have been wearing my pair with a simple red bra that I have had forever but have seldom worn due to lack of a match. If I were more of a skirt girl, these would be awesome for easy access, simply slip the thong part to the side and wallah! he can enter you. But, I am more a jeans and t-shirt kind of gal and I'm impressed with how well this thong did under a pair of jeans. Since the waistband is lace, I worried I might tear or fray them, but happily I did not.
Front view: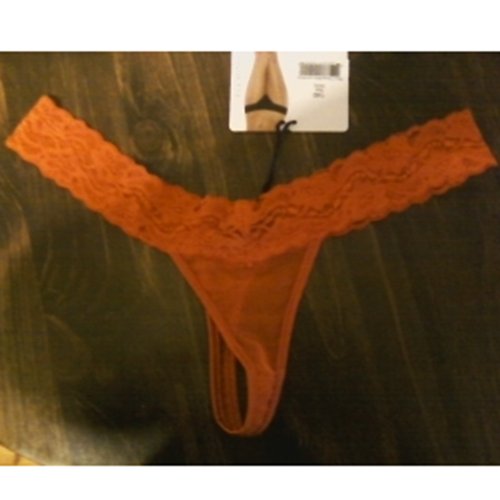 Rear view: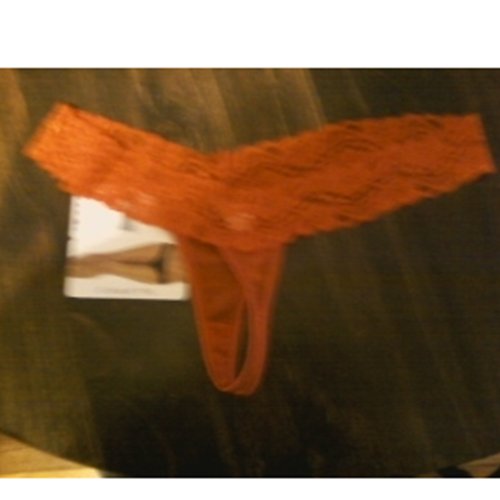 At the thongs slimmest point, it is a little under an inch.: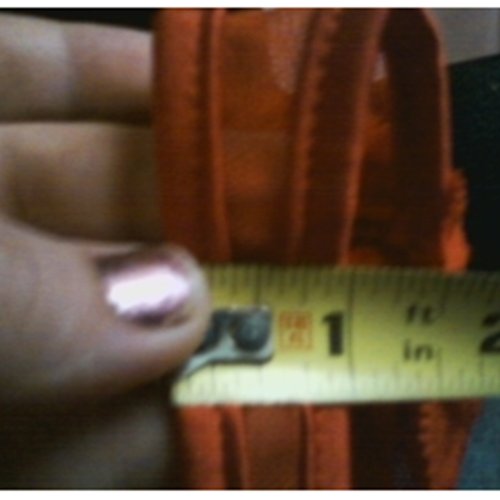 Small piece of t-shirt material in crotch: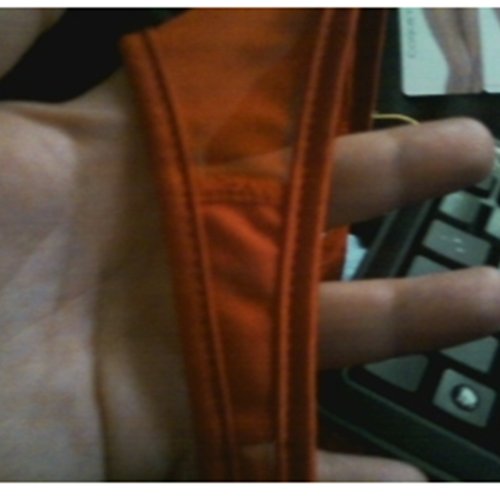 Front view of tag attatched: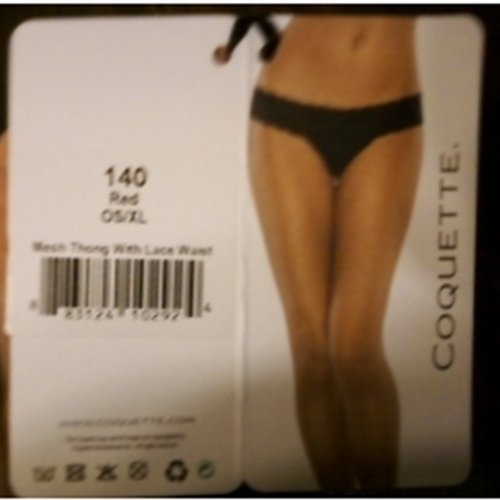 Rear view of attatched tag: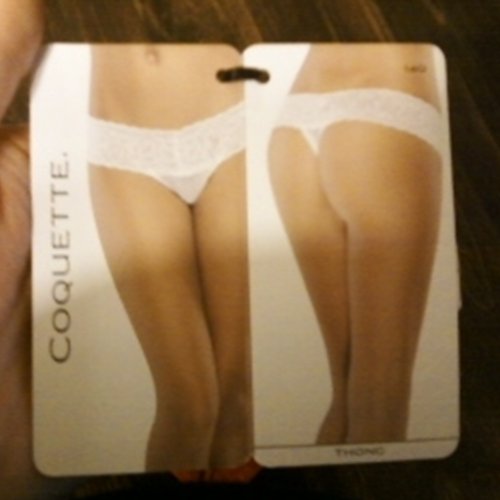 Safety pin that connects tag to panty:
Irremovable tags: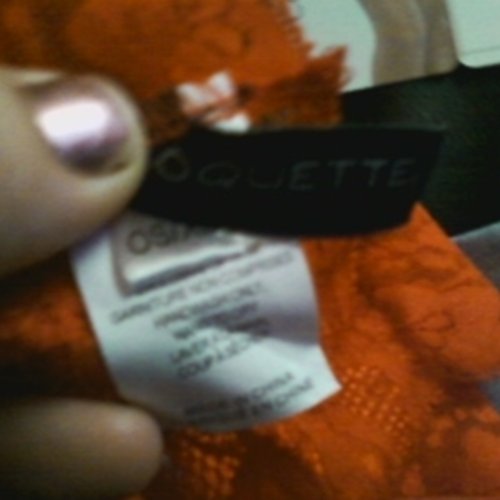 Inside packaging: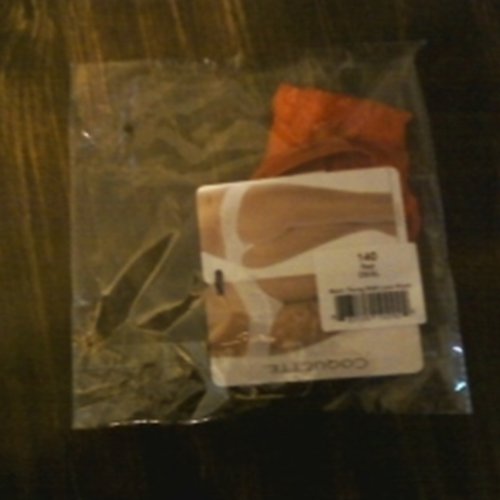 Close up of label on package: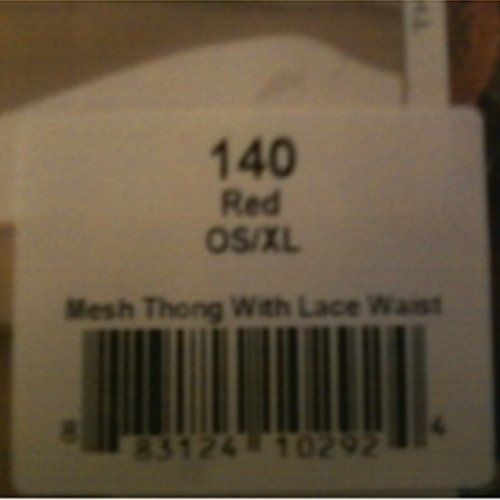 Experience
The one thing I didn't really dig was that the crotch of this thong is very slim. Sometimes when wearing not only is the thong up my bum crack, it ride up into my vaginal lips. When this happens it is quite uncomfortable and I need to go to the bathroom and fix my undies. Not exactly what you want to be doing when you are trying to get in the mood.
My partner loved them and thought they looked amazing on me. A happy new addition to my undies collection.

As I mentioned before, these undies need to be hand washed and hung to dry. I am a badass and do not follow rules. I put the undies in my washer with everything else colored, and then hung them on a shirt hanger to dry. While I recommend you do follow the instructions on the tag, if you accidentally put them in the washer they will be okay. After their trip through my gentle cycle, I could find no frays nor tears. These undies passed my tests and we will see in a month or so how they are doing then.

Personally, I am a size 20 in jeans with a hip size of about 50 inches, give or take an inch or two. I measured myself with a construction style measuring tape, and if you know anything about them, you know this tape doesn't like to bend. But this is relevant to you so that if you wear a size 20, you KNOW they will fit you well. Coquette's size chart says these one size panties can fit up to a size 26, and given the amount of stretch this pair has I believe that. These panties fit me well without being tight or loose enough to fall down. What I would worry about if I were a size 26 is the thong part of the panties. Since that part is only 12 1/2 inches long, if I were much bigger I could see this being a very annoying issue.
Follow-up commentary
2 months after original review
I still think these panties are pretty awesome. Sure, it is a thong and will ride your bum, but it is all in the nature of looking sexy. I've had them for 2 1/2 months or so now and they have yet to fray or tear on me. The only small issue I have had with them at all is that they are now a bit more loose on me and don't seem to stay up on my hips as well as when they were brand new.

I liked them so much, I went ahead and bought another pair in black.
This content is the opinion of the submitting contributor and is not endorsed by EdenFantasys.com
Thank you for viewing
Red mesh thong with lace waist
– sexy panties review page!