MAID for the bedroom?...Not necessarily!
There are so many good things I could say about this costume but not enough room to do so. With the dress being somewhat conservative it makes it a piece you could wear to a costume party or Halloween, but yet the panties and pasties add sexiness to the costume so it also can be used for role play in the bedroom.
I would recommend this to anyone looking for a cute, sexy, multifunctional maids costume!
Published:
Pros:
4 piece set, use in & out of bedroom, great quality,soft & comfortable material, price
Cons:
no plus sizes, lacks breast support
I have started to get more interested in costumes lately for the option of role play and thinking ahead for possibly a Halloween costume. With all the ones available I decided that I would start with a classic costume, and that being the maids costume. With many different versions out there of maid costumes it is hard to know which one to pick. Coquette alone has many spins of it themselves counting this one, but if you really look they all have something different about them and some are made for certain uses only. However Coquette made this Naighty Maid costume inmind for bedroom role play wear and for possibly a costume party and or Halloween.
Coquette packages this costume in a clear, plastic bag that has snaps to keep close and the product safe in delivery, it is a bag that you would get when purchasing a good quality Halloween costume. Inside there is a sheet that has the product page model wearing the costume. It also states the size and cleaning instructions.This package would be ideal for storing the costume between uses since it has a hanger built in and the plastic is sturdy.
The Naughty Maid is a four piece set that includes the dress, headpiece, crotchless panties, and black pasties. I'll describe each piece seperately.
HEADPIECE:
The headpiece is a basic thin headband covered in white, silky nylon material. It is well sewn together with no exposed spots of the plastic headband underneath. Sewn onto this is a black one layer piece of material that has white lace trimming it. This piece measures around 10" inches long( hard to get exact measurement with my tape measure) and 2" inches wide. It covers most of the headband leaving 3 "inches on each side. The piece easily stands up on its own on your head once you fold it up. Spot clean if needed.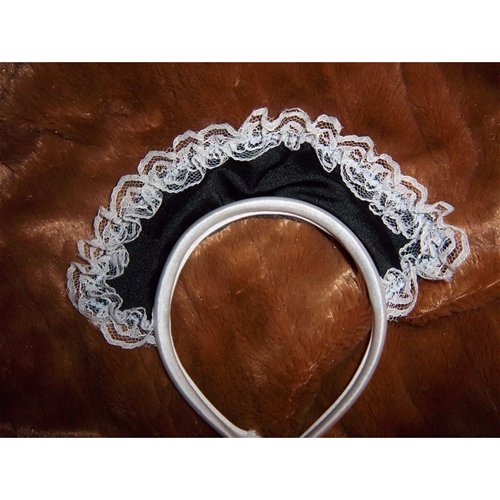 PASTIES:
This is something that I won't be using and forgot to include in the pictures so I apologize for that but I will describe them the best way I can. They are black, circular sequined pasties. Each pasty is 2 1/2" by 2 1/2" inches, of course in a circle shape. The sequins cover the whole outside of the pasty with an overlay of them on the otherside. I have never worn anything like this before but I am assuming they would be a one time use since there is just a thin layer of stickness on the other side.
CROTCHLESS PANTY:
These are adorable and cover most of my big booty in the back which is suprising! Having only a small tag stating the size I am assuming that these are also made from the 80% nylon and 20% spandex(exclusive of trim) like the rest of the costume. The front has a black panel with a small white bow in the front top. That panel is 1 1/4"inch wide on the hip and goes to 4 1/2" inches wide in the middle (from waist to end of panel), and stopping right above my cooch. The whole panty is outlined in a white trim. This white trim is 1/4" inch thick and continues past the panels and goes down around your legs. The back also has a black panel that is 5" inches wide in the middle (from waist to end of panel) and ends well past the crack of my booty. In the middle of the back there is a heart trimmed with white lace. The heart is 3" wide and 3" long and is a cute embellishment to the panties. The M/L size that I got is 15"inches long and 9"inches wide from top to bottom of the trim that goes around your leg, unstretched. The biggest part of my body is my hips and ass and these fit comfortably without digging into my skin. I also like how these are completely open in the crotch so you don't have to worry about a hole that isn't lined up. Hand wash in cold water to avoid color fading.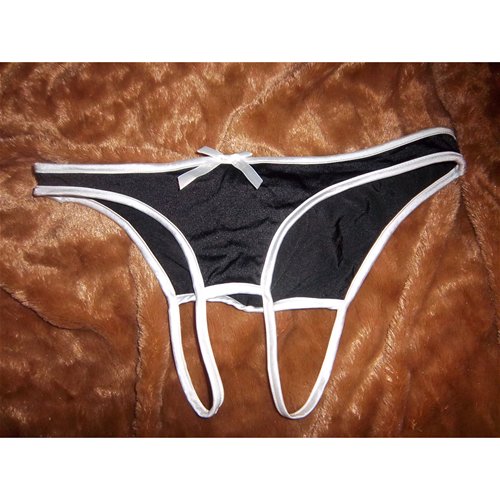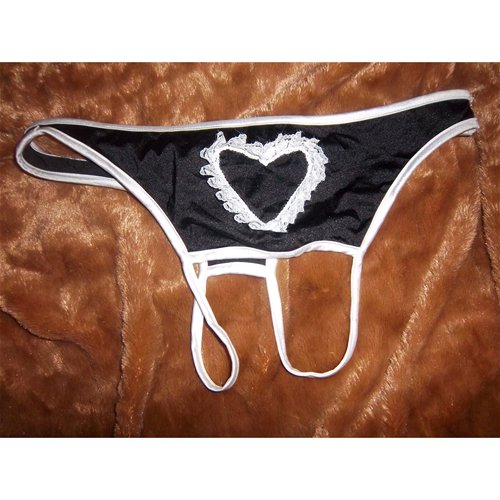 THE DRESS:
The dress is of great quality with no loose threads or open seams. The material being made from 80% nylon and 20% spandex( exclusive of trim) is soft and comfortable and does have some stretch. It is black with white lace and trim throughout it. It is recommended to hand wash the dress and to let it air dry.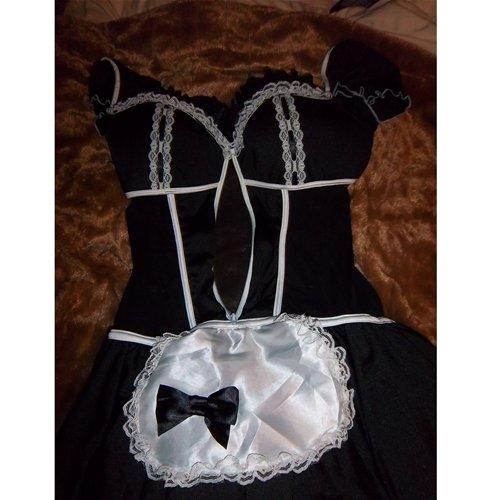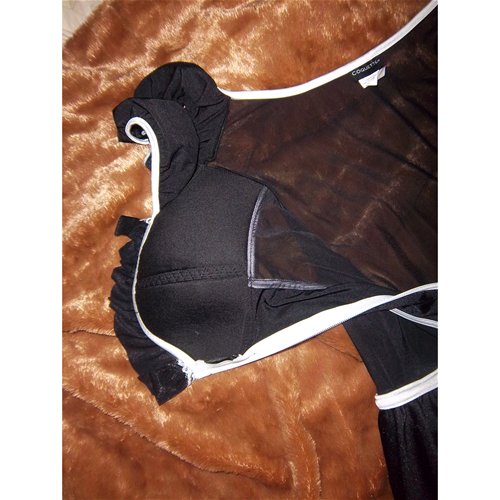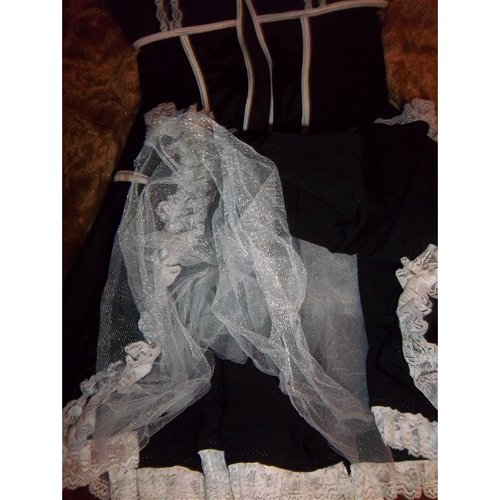 There is alot of detailing on this dress for me to go over but not enough room to write it all down, so if anyone has any questions feel free to message me!
Experience
DRESS CONTINUE...
The dress has cap sleeves and they don't offer much support for holding up breasts. Having NO underwire but padded areas for your breasts make it so you don't have to worry about nipples showing, but instead your breasts sagging. The padding is thin and runs to right under your arms instead of being formed into a cup. I'll have to wear a bra with this because without one my breasts hang over overlapping the dress making me look ridiculous. Inbetween the bust lays a white zipper (10"long) that goes down the middle of the dress and ends at the waist for easier access for taking the dress on and off. On each side of the zipper there is black, opaque panels with white trim that also end at the waist. I love how these panels hide some of my stomach imperfections! From those panels around including the entire back from the waist up is a see-through mesh. A strip of white trim seperates the top from the bottom, and from there down the dress flairs out into an "A" shape. This cut is flattering to most body types. On the front of the skirt section is a built in white apron that is outlined in white lace and donns a black bow off centered to the right. There is no ribbon going around to look as though the apron wraps around the dress, but in the back there is a white bow to give the tied on apron affect. Soft, white lace runs along the very bottom of the dress. Two layers of material (crinoline) that acts like a petticoat is attached inside at the waist and fluffs out the skirt section. However, if this is something you would prefer to not have it could be easily removed since it is only stitched in five spots.
This costume is available in two sizes currently on EF and that being S/M & M/L. I ordered the M/L since I fit within the measurements on Coquette's size chart besides for the cups. Suprisingly though my breasts fit well inside the cups and still could of allowed for a bigger cup to fit in!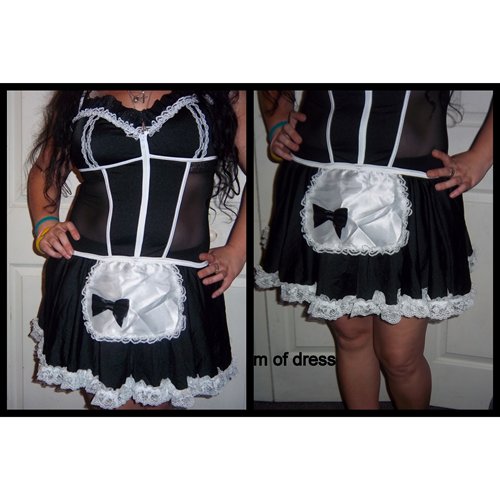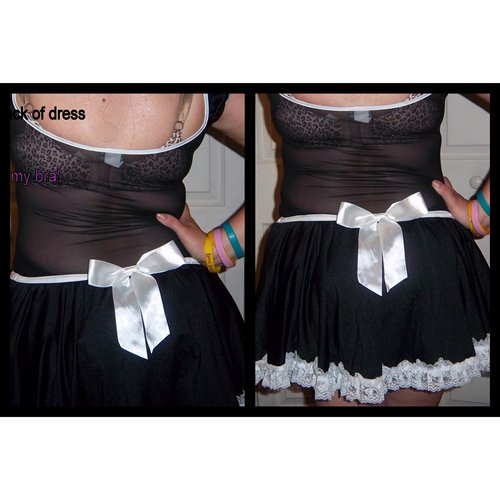 My sizes:
10-12 clothing
155lbs. & 5'5
38D-DD
29 1/2" waist
Coquette's size chart:
Cup Bust (in) Waist (in) Hip (in)
Sm/Med 6 - 10 B 34 - 38 26 - 30 36 - 40
Med/Lg 10 - 12C 36 - 40 28 - 32 38 - 42
Dress measurements( taken with dress unstretched and layed out flat):
Under bust width 14"inches
Each cap sleeve is 7"inches long and 5 1/4"inches wide at the top but taper down to 3"inches wide
Middle of torso is 13"inches wide
Waist at white trim is 15"inches wide
Bottom of dress is about 30"inches wide
From top of sleeve to bottom of dress is 31"inches long
Apron is 9 1/4"inches wide and 6 1/2"inches long
Padding for each cup is 9"inches wide and 5 1/4"inches long
Follow-up commentary
10 days after original review
Even though I've come to learn that my boyfriend isn't quite interested into role play, I thankfully can still use this costume for Halloween if I want and won't be arrested for indecent exposure! I don't plan on using the pasties but I can use the panties with other lingerie pieces that I have, as they could go with alot of things.
I recieved this for a free assignment but now that I know it is of great quality I would definitely pay the price for it without hesitation!!
This product was provided free of charge to the reviewer. This review is in compliance with the FTC guidelines.

Thank you for viewing
Naughty maid dress
– costume review page!