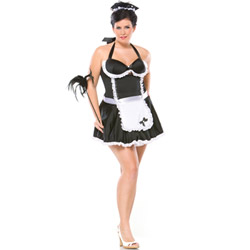 Retro french maid
Costume
by Coquette
May I Please Clean Your House, Sir?
The Retro French Maid Costume by Coquette is just what I needed. If you are into the 1950s kind of relationship where your hubby goes to work and you stay home to clean and cook, this is the kind of costume for you. It will spice up any cleaning experience and make your lover have the sexiest smirk you have ever seen once he gets a good look at you. The costume won't stay on for long, he will make sure of that.
Published:
Pros:
Fits Remarkably Well, Two-Piece Set, Sexy, Made of Stretch Material
Cons:
Headpiece is a little high on my head, I don't personally like that part too much.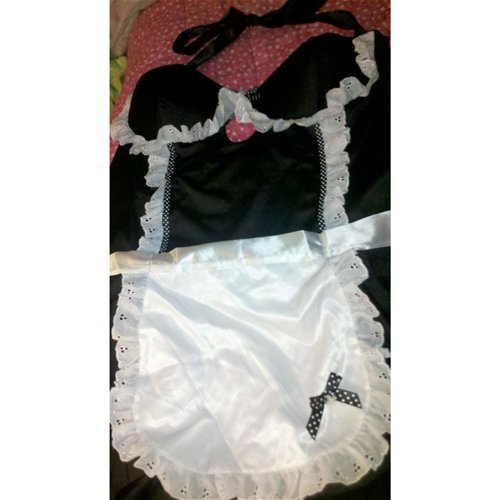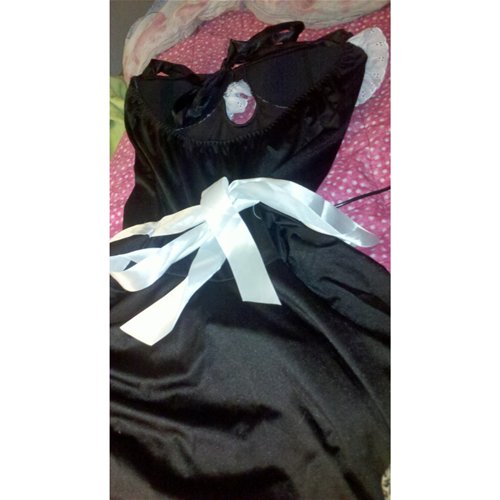 Use :
Have you ever wanted to dress up as a sexy maid for your lover? I know most of us have this fantasy of being the sexy maid or our lover has the sexy fantasy of screwing the maid. I am definitely in that category and really into the domestic housewife kind of maid pounding. I ultimately ordered this costume because I wanted to surprise my lover with it one day when I was cleaning house. Now that I have tried this costume on and wore it a few times.. It also goes good with some role playing. It goes great with a nice scene and really turns me on. It looks beautiful with all the ruffles and polka dots.
Name : Retro French Maid
Made by : Coquette.
Included in the package : Maid outfit and matching maid headpiece.
On the packaging it says "She might be coming over to clean the house, but not much gets done when this naughty French maid shows up in a lycra halter style dress with polka dot trim, eyelet ruffle detail, and headpiece. Feather duster not included." That pretty much describes it perfectly. The actual costume is extremely beautiful. I feel so sexy in it. I have seen in other reviews that this costume is made for "taller" people. I myself am only 5'1" and it fits really good for me. It is still short on me and if you bend over.. you get to see my ass under the maid outfit.
Sizing and Material
:
It feels extremely comfortable on me. The sizing chart is pretty dead. I got a 1X myself because I am a big girl. It fit like a charm and makes me look really nice. It shows my curves off and my DD38 breasts in a really seductive way.
There really is a size for anyone if you like this costume.
Sm/Med : 6 - 10; Cup Size : B; Bust Size :34 - 38; Waist Size :26 - 30; Hip Size : 36 - 40.
Med/Lg : 10 - 12; Cup Size : C; Bust Size :36 - 40; Waist Size : 28 - 32; Hip Size : 38 - 42.
1X/2X : 18 - 22; Cup Size : D; Bust Size : 46 - 50; Waist Size : 38 - 42; Hip Size : 46 - 52.
The material is actually made out of Lycra. Lycra is the most popular brand of the material spandex that is often used in exercise clothing, leggings, bathing suits and socks. Lycra is known for its elasticity and form-fitting nature. Lycra is usually combined with other fabrics such as cotton and polyester to complete the article of clothing. Lycra is more often used in women's clothing than men's, due to the form-fitting nature that appeals more to women.
Packaging :
The packaging just came in a plastic bag with a cardboard background showing the maid outfit. It wasn't anything special. It didn't even come on a pretty hanger. I always love those plush hangers that most lingerie come with. The packaging isn't discreet. People may think that this is some kind of Halloween costume.. you so may get away with having this out in the open. I know when I wore this around and someone came to the door, they asked me if I was getting ready for Halloween. It kinda made me giggle because I forgot that I had it on and the mailman is pretty much a pervert.
Care and Maintenance :
It isn't hard to clean Lycra. You can hand wash this item if you want to be really delicate with it but I just throw mine in the washer on regular and it washes just fine. It doesn't get ruined or wrinkled. I haven't destroyed my new costume. I love to keep my items in tip top shape. I washed it like every other costume I've ever had.. in the washer. Lycra is very strong and durable material, able to be stretched repetitively and still recover original length. It is resistant to body oils, perspiration, lotions, and detergents with no static or pilling problems. Lycra can not stand high temperatures so never soak, boil or bleach this material. Wash in tepid water and allow drying in an airy place.
Apparently, Lycra can't withstand hot temperatures. I guess my dryer isn't that hot? It didn't ruin it. I don't think it would have a problem in the dryer but if you want to keep it on the safe side, just air dry it.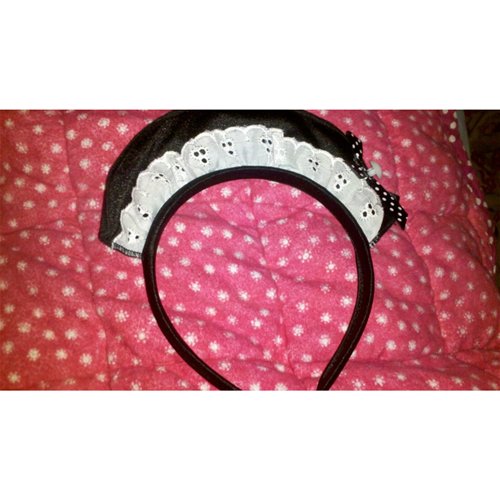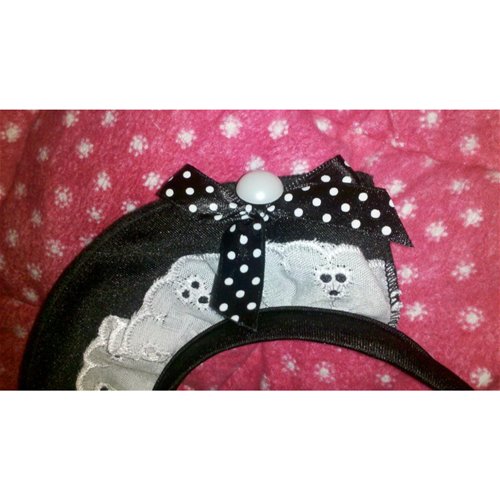 Experience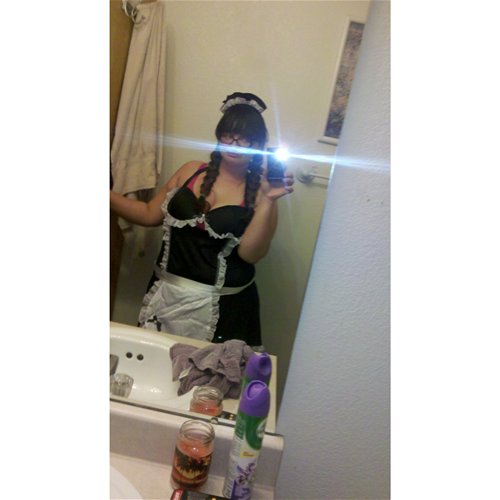 Other Ways To Dress It Up :
I personally dress up this outfit with some sexy black or red fishnets and put on some high heels. You can really wear tights of any color with this outfit and look really sexy. You can wear sandals or high heels, to each their own. I did wear thigh high boots with this costume and it looked tremendously sexy. For hair styles, I usually put my hair up or in braided pig tails. It looks really cute and innocent looking. I usually curl my bangs as well and wear some bright red lipstick. It looks really nice with brighter makeup since the costume is black. It has a nice contrast. You can experiment and try all kinds of ways to dress up your new costume.
Experience :
I loved my experience with this gorgeous costume. It really fit my curves nicely and made me look even sexier. It made my boobs like BAM. It was all in your face and had really good support even without a bra. As I said earlier, I am a DD38 in breast size and many things don't fit my breasts that well. I was very surprised when this costume fit so perfectly. It has beautiful straps that go on your shoulders that are thick but not too thick. It has beautiful lace and bows pretty much everywhere on the costume. It also has a sexy hole kind of under your breasts and right above your rib cage. It is a sexy hole though. I think it really adds to the costume. I love the white ruffles and literally feel like a french maid. The nice little headpiece is really cute too. I feel it is almost too big on my head and don't always wear it. I did match a nice pair of long black gloves and a feather duster to complete my look. I wore bright makeup and black high heels with rhinestones.
I sent a picture to my lover and he couldn't wait to "play" with my new costume. The costume didn't last long on me. He made sure of that. Overall, it is a very cute costume. It makes me feel sexy and I like wearing it around the house as I'm cleaning. Domestic Servitude, much? I guess I'm a glutton for pleasing everyone else. It does make me happy though. I highly recommend this costume to anyone who wants to spice up their cleaning and make their lovers eyes light up when you wear it.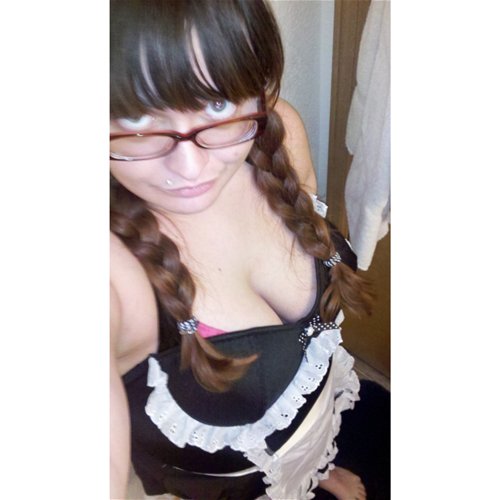 This product was provided at a discounted price in exchange for an unbiased review. This review is in compliance with the FTC guidelines.

Thank you for viewing
Retro french maid
– costume review page!