May I present, my presents.
These holiday pasties will make you look like a ho, ho ho for your partner! They are a fun addition to a Christmas costume or a white or red lingerie set and a santa cap. They are durable, sturdy and well made... and the sticker is the stickiest pastie I have ever used.
Published:
Pros:
Fun design
Reusable
Durable
Cons:
holiday-themed
For some reason I am in the Holiday spirit today! (Don't ask me why - it is the middle of July) This is my SECOND holiday item review in one day! Want to read my other holiday review - check out the
Holiday Thigh Highs Review
- I just love these! In fact, they would go great paired with these sexy pasties!
Packaging:
The Present Pasties – pasties set - by Dreamgirl is an easy way to warm up the house this winter! The 2-piece set comes in a very lovely package. The box is a unique pop-out, multi-level rectangular box. (Okay, it is hard to explain.) It is red and black and has a model on it featuring the pasties. On the other side is a clear plastic peep hole showing you what is inside the box.
Inside you'll find the pasties displayed on a cardboard frame and inside a plastic bag. Overall, the packaging is really nice, but not discreet. It could make a fun holiday gift for someone though, or even a stocking stuffer.
Contents: (2) present pasties
Made in China
Design/Shape:
Now, this gift of boobs is one you should shake before opening! Your partner will never long for a present like this one - and it isn't even his/her birthday or Christmas yet!
These pasties are as cute as can be. They are fully covered in red sequins, with white sequins across the top making a ribbon look, followed by a real ribbon on top of that! They look just like presents! They are glued on with hot glue. They seem sturdy on the pastie. I tried pulling at them and they didn't budge.
On the back you'll find a white cover over the sticker, and when you peel it back - there is the stickiest tackiest sticker ever. The nice thing about this sticker is that it is not sticky in the very center. This is a spot wear your nipple can go.
These pasties are really flexible and pliable. They can bend inward if need be. They are thick, durable and well made. They are reusable, however the sticker on the back only allows for one use.
Sizing:
One Size fits most.
The measurements for the pasties I found:
Length: 2 1/2"
Height: 1 1/2"
Weight: 0.1 lb
These pasties fit nicely on. They don't form a very large point in the middle (or a tent), so they lay fairly close to the skin. These work well for me, and I find I have a hard time getting the right pasties for my 34D chest.
Care/ Maintenance:
I really hope these pasties don't ever need to be washed - I mean c'mon. But if they do get some dirt on them, I would wipe them down with a lightly wet towel and pat dry. Or just throw them out and get a new pair.
I am currently storing these cuties in the original packaging that I love so much. Each is in a separate plastic baggie so they don't stick to each other and scrape of the sequins. They take up very little space.
Material/Texture:
The material would be polyester and sequins. The top is covered in sequins and a small ribbon. The main pastie portion is some kind of fabric (polyester?). The back portion is just a large sticker. The sticker was worn down after the VERY FIRST USE. But I can always use body glue, other double sided stickers or body gum to keep them sticky.
Personal Experience :
I love these becuase I love dressing up for the holidays. They go so well with my Christmas tights or my Mrs. Claus outfit. They are also fun with just plain red or white lingerie and a santa cap. I also love them because they are so unique from my other pasties - which are mainly black and sequins or satin.
Okay sure, the colors of these psties do look like they are Christmas themed. But even if you don't celebrate Christmas you can wear these. Do you celebrate a partners holiday season birthday? Or a different holiday? Or heck, wear them with a black lingerie piece and the red/white colors won't even look like Christmas.
One last thing, I have got to tell you, the pasties didn't cover my entire aerola, but most of it. They looked really, really, really cute on but hurt SOOOOOOO badly coming off! It was just as painful as getting waxed. Or like duct tape on a hairy arm. No joke. These suckers have got some stick to them!
Conclusion: ★★★★★
Experience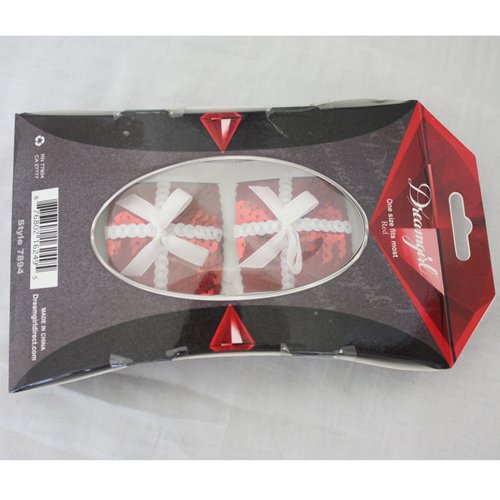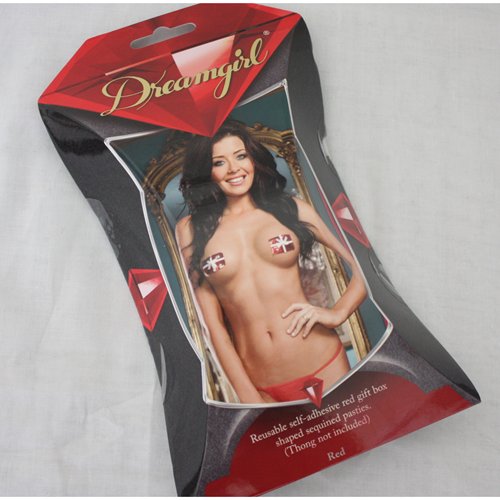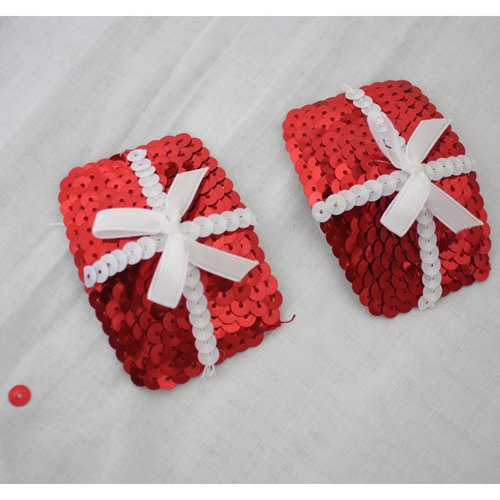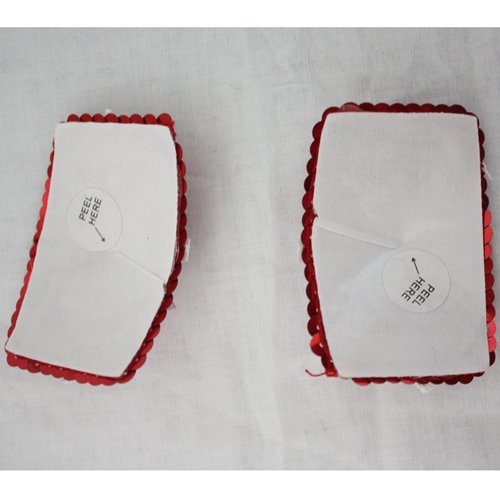 Follow-up commentary
10 months after original review
For those of you that follow my reviews, I have a handful of Christmas-themed ones. (And I am in the process of writing more). I absolutely love warming up the bedroom during the holidays in my Christmas themed attire. I am not sure what it is, but it is my favorite holiday lingerie! Anyway, these pasties have come in handy a time or two. They go great with my santa skirt or my bell tights. They are holding up well and no more sequins have fallen off since I originally got them. I have had to put my own sticky tape inside for them to stick better though. These might just be my favorite pasties, too bad I only wear them in December!
This content is the opinion of the submitting contributor and is not endorsed by EdenFantasys.com

Forum
| Discussion | Posts | Last Update |
| --- | --- | --- |
| pasties | 8 | |
Thank you for viewing
Present pasties
review page!