Maybe there's some blue left in the bra and maybe there isn't. (38C)
Feminine, beautiful, and true to size. Most worthy of note is the huge color difference between the product page and the actual bra. The actual bra is much darker.... The only thing that worried me was the potential scratchiness of the lace - something that turned out to be not near as big a deal to me as I anticipated.
Published:
Pros:
True to size, Good support, Lovely color, Can be worn under clothing, Actual bra sizes!
Cons:
Color SO off from product page, Material is a little scratchy
My favorite bra before my breast reduction was one much like this one: lacy and blue and sheer and fantastic. Alas, for obvious reasons, my beloved blue bra and I are no longer compatible. I was excited to see this bra hit the new additions page, thrilled to receive it on assignment, and curious to try out a brand I hadn't any experience with (Oh La La Cheri).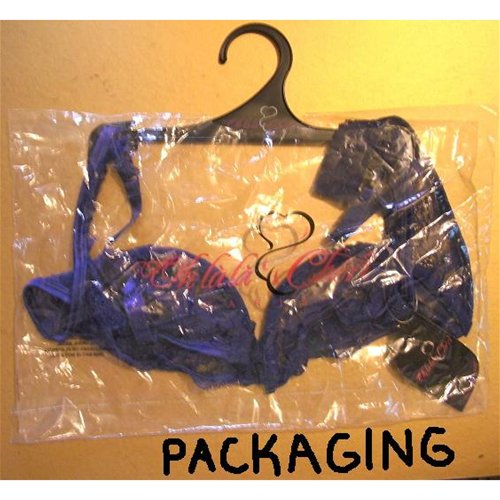 The bra came packaged on a hanger inside some cellophane wrapping....I prefer a hanger to a box any day.
The tag reads: 85% Nylon, 15% Spandex. Hand wash - cold water, Do not bleach, Hang dry only.
The lace looks delicate but feels durable enough, and the construction seems solid and high quality. Any loose strings can easily be taken care of with a pair of scissors (I found two loose strings).
It's obvious that the entirety of this bra (cups, back wings, and all) is but one layer. The lace is not the softest I've felt (though I wouldn't call it "scratchy"), so I was concerned about the comfort level where long-term wear was concerned.
The first thing that came to mind on seeing this piece was HOLY CRAP COLOR DISPARITY. The beautiful medium blue that I saw on the
product page
was instead a (still beautiful) deep midnight blue, almost indigo.
.....this is normally where I would put sizing information, but since this bra is sized like an actual bra, and most folks know what bra size they are comfortable with, that's not really necessary. I'll just say that I normally wear a 38/40C and this bra is true to size. It fits like all of my other 38C bras.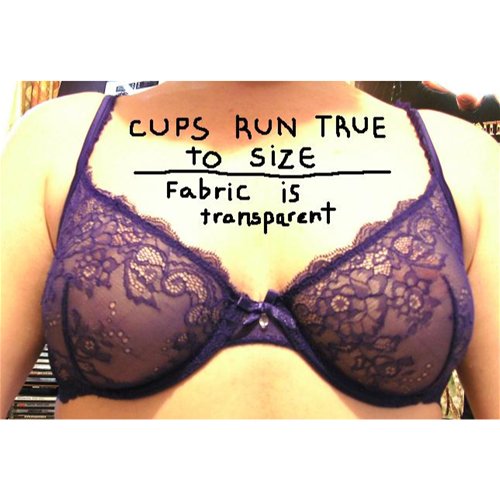 And here we have a front view (in case you couldn't tell). When first I donned the bra, the ruffles on the straps felt like they were going to irritate me, but it turned out not to be an issue. I wore this bra all day both Sunday and Tuesday (I've read that one should not wear the same bra two days in a row in order to give the elastic time to "rest") and was surprised at the lack of itchiness. It also provides startlingly good support, even though the lace is somewhat stretchy.
See the little plastic jewel there in the middle? It's attached to the bow and is easily removable by seam ripper for those who aren't partial to it....the bow is also easily removable.
I would also like to note that the cups aren't too narrow for me, as I have quite a wide chest and this problem presents itself every so often.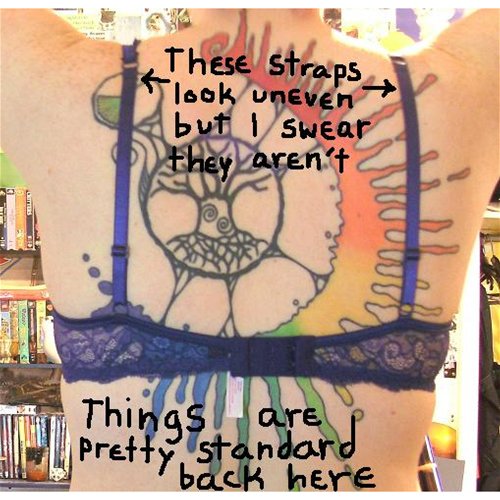 There's really not much to say about this view, but I was obliged to include it. Everything is in order.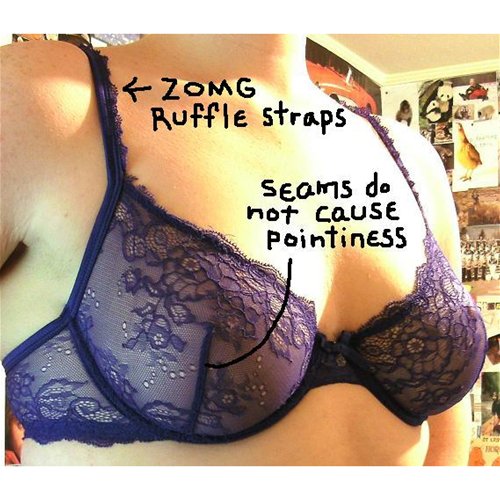 Here's a three-quarter shot. You can't really tell, but I do get some liftage from this bra. You can, however, make out the smooth contour of the cup despite the seam running up the middle. Also, at the top of the cup covering the nearest boob are the two loose strings I mentioned earlier.
This really is a lovely bra and one that will get lots of use. I'm highly considering buying the black one....
Thank you for reading and please feel free to ask questions in the comments....this review seems dreadfully short to me :P
This product was provided free of charge to the reviewer. This review is in compliance with the FTC guidelines.

Thank you for viewing
Beauty Boutique blue bra
review page!